Dubai 2019: A guiding angel for Namibian star Shikongo
Vision impaired sprint star reflects on how far he has gone through lucky discovery by Dutch communications expert and huge sports fan Elisa Ostet 
18 Sep 2019
Imagen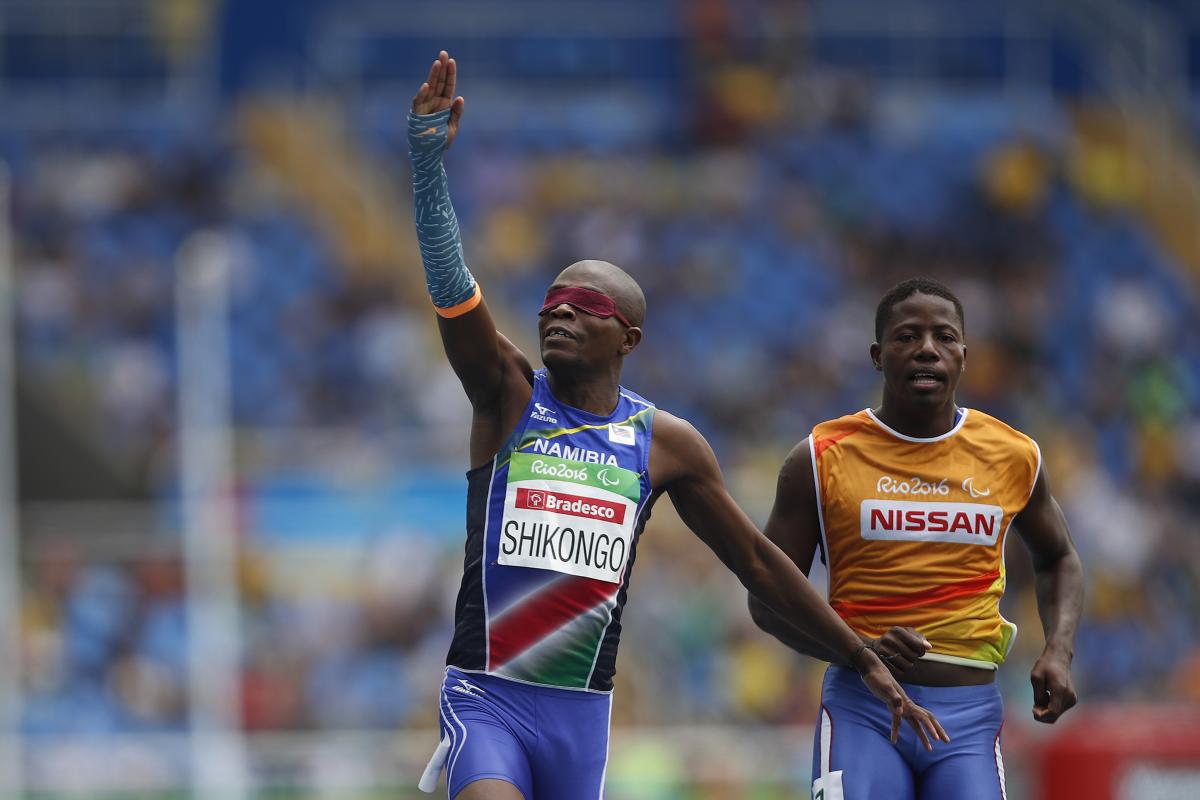 ⒸWagner Meier for the IPC
By Amp Media | For World Para Athletics
Namibia's star Para athlete Ananias Shikongo knows what it takes to battle all odds to become a top-notch athlete.    
Shikongo, who has won several gold medals at the All African Games along with gold and two bronze at the Rio 2016 Paralympics, vouches that opportunity is what matters the most for any athlete. Success would then follow.  
Shikongo lost his left eye aged three in an accident while playing with his brother with a bow and arrow. 
Few years later, tragedy struck again. He lost sight in his right eye after being kicked by a donkey.
It would have left anyone devastated, but Shikongo remained undeterred. He took up Para athletics when he was 14 years old and made his international debut in 2004.
The now 33-year-old Shikongo showed immense promise from the moment he first ran down the track with a guide. However, realities of life as a blind athlete in Katatura, a township within the Namibian capital of Windhoek, took over. 
"When you are talking about life for Para athletes [in Namibia] we are really living in tough situations because if you are not working to bring bread to the table you have no income," Shikongo explained. 
"You need money for transport to get to training and you need money for food and for your rent and water and electricity," he added.
It is something which perhaps must be seen to be believed – as Dutch communications expert and huge sports fan Elisa Ostet found. 
"Conditions are really tough," said Ostet, who first visited Shikongo in Namibia soon after meeting him at the Rio 2016 Paralympic Games and has become a iconic figure in his life. 
"Where he lives there is no water, no electricity, no toilets, nothing. If there is no money for transport, they don't get to the track or they have to walk for two hours. Sometimes they do that, walk two hours, train and walk two hours back," recalled Ostet.
Shikongo struggled through for years, pouring everything he had into his sport. He did make it to London 2012 but was in no state to challenge for a place on the podium. However, soon after those Games, everything changed.
Grabbing the chance to shine 
Through sheer persistence, Shikongo secured the help of a native German living in Namibia. The young man not only started driving the sprinter to training and helping with food costs but he also, crucially, began promoting Shikongo's story on the internet. Ostet decided to step in and help. 
"Ostet has changed a lot in my life," Shikongo said of the Dutchwoman. "She started creating a website for me, looking at creating income. It was a way of supporting me while she was very far away in Europe and I was in Africa."
Ostet's drive and determination to provide Shikongo with the conditions he needed to show off his talent made all the difference. 
This is amazing! Proud of our team that made this happen ❤️ now we are moving closer to @Tokyo2020 ! https://t.co/UG1Gjh7Lta

— Elisa Ostet (@ElisaOstet) May 22, 2019
"I could prepare myself and get ready for Rio because I had enough food, because I could get to training on time all the time. I didn't have any obstacles," said Shikongo.
He went to Rio 2016 in great shape and promptly smashed the 200m T11 Paralympic record, winning gold in the process before claiming bronze in both the 100m and 400m. 
"It was the main target in my life [to win a Paralympic gold medal] and I was so happy when I achieved it." 
Inspiringly, neither the story nor the partnership finished there. 
Overwhelming support
"After Rio the main [drive] was to create a foundation, for the support Elisa and my friends and others were giving me," Shikongo explained. 
"I wanted to create a foundation because it is not only me. My friends, my [training] partners I know they were suffering the same way I had been suffering."
The Sport on the Move foundation has been doing that for Shikongo, fellow Rio 2016 Paralympic medal winner Johannes Nambala [silver medallist in both the 100m and 400m T13] and several others. 
Handed over the donation of sports shoes, clothes & equipment to @NPCNamibia. Many thanks to our Dutch friends! Giving this donation to deserving people is one of the greatest things I have done in my life.

Read more:https://t.co/fHUcX8Tu2G pic.twitter.com/QQ2Vqi3fpH

— Ananias Shikongo (@AnaniasShikongo) February 28, 2019
This summer, for the second year running, Shikongo, Nambala and a guide spent more than a month in the Netherlands, staying at Ostet's house. 
"At my place they can eat well, focus on training and do some local competitions. It has worked out very well for them, to prepare for big events like this," Ostet said. 
"When they come, they have a lack of vitamins and minerals. The first weeks you see cramps and small injuries. It takes at least three weeks to get them ready for a competition."