IPC Athletics Grand Prix in Nottwil is a record breaking success
Nine world and six regional records were broken over three days of sensational competition in Nottwil, Switzerland.
31 May 2015
Imagen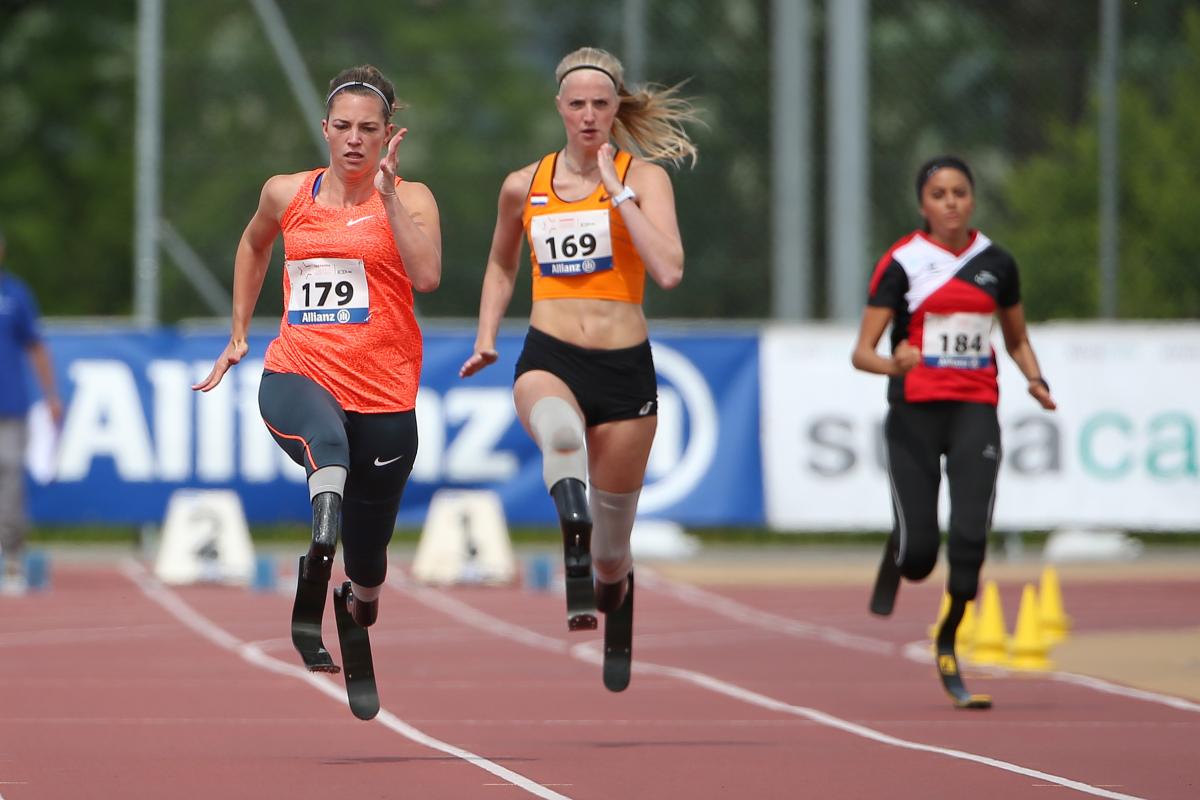 ⒸGetty Images
By IPC
The IPC Athletics Grand Prix in Nottwil, Switzerland, concluded on Sunday (31 May) with a further four world records, bringing to nine the total broken during the three-day meeting.
After both setting 100m world records on Saturday (30 May), the Netherlands Marlou van Rhijn and Italy's Martina Caironi once again rewrote the record books with sensational performances in the 200m.
Van Rhijn lowered her own 200m T43 world record with a blistering 25.66 seconds, knocking 0.33 off her previous best set just two weeks ago.
"I really hoped to run fast as I knew the track was fast and the weather was good so I thought if there is a time to do it then it's probably today," said the 23-year-old who has now set four world records this year. "I really wanted to do it, but it was tough, as I had to do it on my own the last 100m and I got a little tired.
"I was very happy Laura [Sugar] was in front of me at the start because then I could catch-up a little bit and then just run through over the finish line.
"I am quite shocked about this PB as it's quite early in the season."
In the same race, Caironi (32.32) also took 0.32 seconds off her own T42 world mark, to follow up on her 100m record from Saturday.
The 25-year-old was delighted with the time.
"After my training this month I felt like I was in a good position but in this race I was really motivated by the other athletes who were running faster than me," she said.
"Yesterday I did 15.15 and today with 32.32, but then of course that doesn't help with my long jump!
"I am really happy. This is just the beginning of the season. My coach and the organisers of the Grosseto meeting have said I've now got to do it again there where I hope to do even better!
"Here the weather was perfect and the track is very fast so the conditions were perfect for doing a very fast time."
Not to be outdone, Kuwait's Kuwait's Ahmad Almutairi lowered his own 15 month old 200m T33 world record clocking 30.06. This lower the 21-year-old's previous best by 0.28 seconds and helped Great Britain's Toby Gold (32.66) also set a new European record in the process.
After only taking up para-athletics last year, the USA's Rachael Morrison showed why she will be a contender for medals at October's World Championships with a world record in the women's discus F51. Morrison threw 8.71m to add 11cm to her own world record set in July 2014.
The final morning session of the Grand Prix featured multiple 200m races and saw Australia's Angie Ballard (28.95) go within 0.02 seconds of taking a second world record from the USA's Jessica Galli in three days. On Friday (29 May) Ballard broke Galli's 400m T53 world record and nearly did the same in the shorter sprint.
World champion Brent Lakatos (25.55) posted a world lead as he went close to breaking Chris Waddell's of the USA's 11-year-old world record of 25.24 in the men's T53.
The Netherlands' world and European champion Kenny van Weeghel (24.71) was in impressive form as he clocked a world leading time in the men's T54. Thailand's Konjen Saichon (24.95) was a surprise second with Finland's Leo-Pekka Tahti (25.19), who had made a strong start, third.
Van Weeghel's teammate Margriet van den Broek (30.13) posted the fastest time of the year as she won the women's T54 equivalent. Nigeria's Hannah Babaolo (30.71) was second with the USA's Hannah McFadden (31.13) third.
Tunisia's Walid Ktila (27.02) posted a world lead with victory in the men's T34 as he beat the UAE's Mohamed Hammadi (27.520) in to second. Finland's Henry Manni continued his great form with European records in both the 200m (27.80) and 5,000m (12:58.49), his third and fourth regional records of the weekend after success in the 400m and 800m.
Other 200m winners included Great Britain's Hannah Cockroft (31.32) in the women's T34, Switzerland's Beat Bosch (32.09) in the men's T34, Finland's Toni Piispanen (39.57) in the men's T51, Canada's Becky Richter (57.11) in the women's T51, the Netherlands' Luna Jansen (33.93) in the women's T33, the UAE's Yahya Alblooshi (23.86) in the men's T42-46 and the Netherlands' Jelmar Bos (24.70) in the men's T35-20.
The final track events of the weekend saw athletes compete over 5,000m.
Thailand's Tana Rawat (10:30.24) upstaged home favourite Marcel Hug (10:38.28) in the men's T54 in a thrilling photo finish. Rawat led with 900m to go and held on despite a late charge from Hug in second. Japan's Masayuki Higuchi (10:30.35) was third fastest.
The USA's Tatyana McFadden (11.20.97) also looks a good bet for retaining her six world titles in Doha after a win in the women's equivalent, adding to her 100m, 400m 800m and 1,500m victories from Friday and Saturday. Her teammates Susannah Scaroni (11:22.80) and Chelsea McClammer (11:22.84) completed the top three.
Team Canada (3:16.75) won the men's 4x400m T51-54 relay.
The battle of the joint long jump T42 world record holders was won by Caironi. The Italian's best jump was 4.48m, 12 cm short of the world record, but 10cm more than her German rival Vanessa Low. The Netherlands' Iris Pruysen (4.86m) got the better of her teammate Marlene van Gansewinkel (4.73m) in the women's long jump T44. The UAE's Ahmed Alhousani (23.15m/593 points) won the men's discus F33-57.
All the results from the IPC Athletics Grand Prix in Nottwil can be found here.