London 2017: Day 3 morning athlete reaction
Flashquotes from some of Sunday morning's World Para Athletics Championships medallists.
16 Jul 2017
Imagen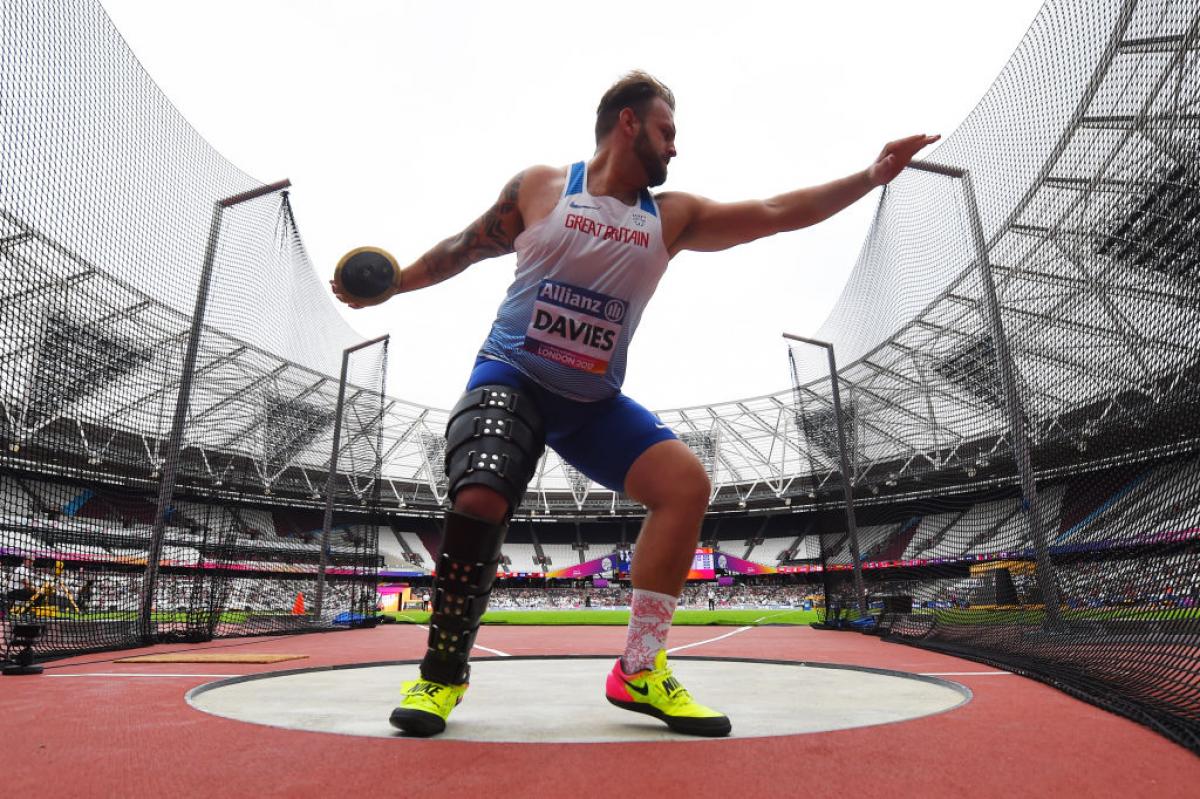 ⒸGetty Images
This page will be updated with athletes' quotes throughout the fourth session of the World Para Athletics Championships London 2017 on Sunday (16 July) evening.
Men's long jump T11
Lex Gillette (USA) - Gold
"I am really happy. It has been a difficult time in the last year but to have a good series of jumps today means a lot."
Men's discus F42
Aled Davies (GBR) - Gold
"This probably wasn't my best performance but it dosn't matter how far I throw it's about putting on a gold medal performance. That is what it's all about. In the British team, we're championship performers.
"I was out there with five guys and as soon as we step into the cage we're all in the same boat, anything could happen, so it's never easy. But I've been here so many times, in this stadium, with this crowd, I'm always confident. Now this is behind me, in the shot on Saturday you will see something special.
"This brought back so many great memories. It was at 10:00 on a Sunday morning here five years ago that I won the discus at London 2012 and here I am again. It's quite overwhelming to be honest.
"Seeing all the kids here is fantastic. I don't ever care what people think of my disability but if these kids think that's a guy who's good at throwing the discus that's all that matters to me."
Men's shot put F33
Kamel Kardjena (ALG) - Gold
"After such a long time I've got my title back. It's been a long time working for this with my coach.
"I'm so happy to get this medal here because I love London. It's my second gold medal here after winning the Paralympics here in 2012. And I love English people.
"I knew I would win gold today. I left my hotel at 06:00 and I was dreaming I would win. I knew it."
Women's javelin F54
Hania Aidi (TUN) - Silver
"If I don't win I consider it a failure so I'm really disappointed. I'm so used to winning, I really don't like to lose. I don't know what happened.
"I usually throw over 18m but today it was red flag, red flag, red flag and I couldn't figure out what was wrong. I was throwing the same way in Rio. The judges were really tough."
Men's long jump T20
Abdul Latif Romly (MAS) – Gold, CR
"It was a hard competition with strong opponents. My main goal is Tokyo 2020 so this was important victory. I prepared for this competition in Malaysia with the support of my family and my friends. This medal was possible only thanks to my coach; he is my big motivation in my career. Now, the season is over and I am planning to start next year again. I hope we will have some celebration with my teammates."
Zoran Talic (CRO) – Silver, AR
"My collection of silver medals is getting bigger and bigger. This time, it was very close – only five centimetres. But I can be happy for the European record. I think I could have jumped even further – but in the second attempt I did not manage it with my take off leg properly. Now, I am looking forward to having a holiday, to swimming in the sea and then I will prepare for the next competitions as usual."
Men's discus F44
Jeremy Campbell (USA) - Gold
"It is nice redemption after Rio 2016 (fourth place). I wanted another gold and it's great to get three consecutive world titles. After Rio, I backed off and focused on having fun. It is a great American duel (with David Blair) and there is a lot more in it for both of us."
David Blair (USA) - Silver
"You take what you can get and I am always happy to get a medal and represent my country. I told him (Campbell) to share it. We are good buddies. If one of us loses, it has to be to the other one. "
Dan Greaves (GBR) - Fourth
"This is heartbreaking. I have been consistent this year and I don't know what happened. Loads of people have been supporting me and this is such a strange feeling. I feel I have let so many people down. It's awful.
"The support has been incredible. And for me not to deliver a performance I know I am capable of is so frustrating. It is gut-wrenching. I want to lead by example and not to fall by the wayside. "
Men's 5000m T13
Youssef Benibrahim (MAR) – Gold, WR
"This is a great birthday present, a little bit in advance. All my preparation was about winning a medal here in London, I did not think about the world record at all. So I am very surprised and blessed. My wife is pregnant so I want to dedicate this victory to her and also to my coach and my mother.
"I will start also at 1500m but I did not focus on this event too much so we will see what comes. During the competition, I just focused on myself and around 1000m before the finish I started to believe I can be the winner. Only after the finish, I started to hear the crowd cheering for me and it was amazing."
Guillaume Ouellet (CAN) - Bronze, AR
"I'm delighted because the Moroccans went off so hard, going 64, 64, or something. I knew they were bound to blow up so I tried to keep the gap. When (El Amin) Chentouf dropped out I thought let's put it out there and give it everything.
"Then when I passed the Kenyan (Henry Kirwa) for a moment I thought it might be possible to get silver, or even gold, but I was lookng behind and in front as well so it wasn't to be."
Heats
Men's 100m T13
Jason Smyth (IRL)
"That felt very comfortable. I think I can beat the world record (set by Smyth at London 2012). Can I do it? Absolutely. But at major championships, it is firstly about crossing the line first."
Men's 200m T36
James Turner (AUS) - WR
"When I heard the words world record I was very confused. I looked up and thought 'What the hell?' It gives me great confidence for the final. I just hope I haven't burned myself out.
"I really didn't think I was going to do that. I thought I would run around 24.9. I slowed a bit a the end too, so I must have been going pretty quick at the start which was my aim."
Live coverage and results from the World Para Athletics Championships London 2017 can be found each day at www.worldparaathletics.org/London2017. Around 1,150 athletes from 90 countries will compete in 202 medal events between 14-23 July.