Craig Spence: How low can the 100m world record go?
After a week of amazing amputee sprinting, the IPC Director of Media and Communications looks to the future.
18 Jun 2013
Imagen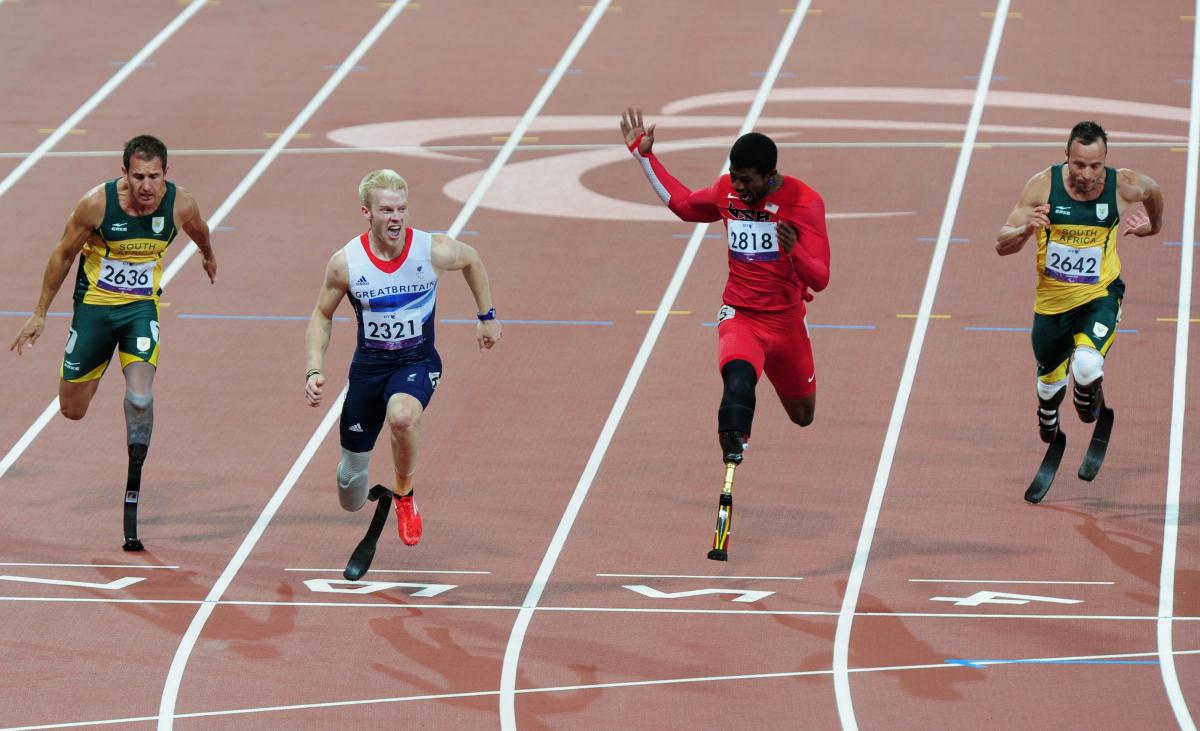 ⒸGetty Images
By Craig Spence
I think 10.5 seconds is certainly possible, maybe not this year, but very likely before the Rio 2016 Paralympic Games.
Has there ever been a more unbelievable and amazing seven days for amputee sprinting?
First, America's Richard Browne runs an unofficial 10.85 seconds to equal Brit Jonnie Peacock's 11-month-old 100m T44 world record. A Peacock tweet then sparks a war of words and, whilst the two rivals are both not looking, Brazil's T43 sprinter Alan Fonteles Oliveira obliterates the history books running 10.77 in Berlin, Germany, to become the fastest leg amputee sprinter on the planet.
Not to be outdone, Dutch sprinter Marlou van Rhijn posts a scorching 12.96 seconds to become the fastest female sprinter on blades of all time.
All of which makes you think, "How fast can this golden generation of athletes go?"
Who knows?
Well, Richard Browne thinks he does.
Last week, I interviewed Browne who broke onto the world scene last year taking Paralympic silver behind Peacock in that memorable 100m T43/44 race in the Olympic Stadium. He was in a superb mood and was a great interviewee because of his self-confidence, openness and sheer honesty.
He told me that he thought the future of amputee sprinting had never been brighter with him and Peacock set to dominate for years to come.
With sprinters not maturing fully until their mid-20s, Browne believes the target should be to run under 10.5 seconds and, after seeing Oliveira's time at the weekend, few should doubt him. He also thinks the long-term target should be to run 10 flat.
This got me thinking, so I started to look at the history books for the evolution of the 100m world records in both para-athletics and the able-bodied equivalent.
At the Athens 2004 Paralympics, American T44 sprinter Marlon Shirley won 100m gold with a time of 11.08 seconds to become the world's fastest amputee sprinter.
Oliveira now holds that title after posting 10.77, which means that the world record for the fastest amputee on the planet has come down 0.31 seconds in just nine years.
It has taken nearly three times as long for the able-bodied equivalent to do the same with the record improving by 0.39 seconds in the last 26 years.
In 1983, Carl Lewis held the world record with 9.97 seconds, whilst Usain Bolt's current landmark stands at 9.58 seconds, set in August 2009.
Clearly, para-athletes are getting faster and faster each season and the world record is improving at a faster rate than the able-bodied sprinters. I'm not stupid enough to think that the para-athletics 100m record will continue to fall at the same rate forever. However, I think it will continue to drop for a while before it starts to plateau out.
You have to remember that it is only in recent years that many of the world's top para-athletes have turned full-time so I think the benefits of such punishing training regimes will continue to be reaped for a long while yet in terms of times.
I also fully agree with Browne. I think 10.5 seconds is certainly possible, maybe not this year, but very likely before the Rio 2016 Paralympic Games.
Just look at the ages of the leading stars – Browne is 21 whilst Peacock and Oliveira are both just 20 – the future looks unbelievably bright.
Others are starting to recognise it too. SportsPro magazine recently named Oliveira, the Paralympic 200m T43/44 champion, as the world's 17th most marketable athlete.
And, should she continue on her current form, then I expect van Rhijn to be knocking on the door of that list very soon.
Van Rhijn has everything on her side.
She is young - just 21 years old - holds the 100m, 200m and 400m world records, is a great media speaker and is nicknamed the "Blade Babe" for a reason.
I suspect her world record of 12.96 seconds will not stand for long. At next month's IPC Athletics World Championships in Lyon, France, she will face her rival Marie-Amelie le Fur, the French T44 athlete who beat her to 100m gold last year in London. With the two of them pushing each other to their absolute limits, I expect van Rhijn to be in the 12.8s by the end of the season.
One thing is for sure, amputee sprinting has never been in better health and with the age profile of the world's leading athletes, it is only going to get healthier.
To finish I'd like to wish Richard Browne a speedy recovery. He's been suffering from a knee injury of late which flared up again at the weekend at the US trials. Sport needs characters like him, and I hope he is fit enough to line up in Lyon next month as the prospect of him, Peacock and Oliveira going head-to-head over 100m is absolutely mouth-watering.
Related Images