Jan Willem Buijs: Inclusive tennis-fest in Rotterdam
The ABN AMRO World Wheelchair Tennis Tournament mixes inclusion and competition, writes Buijs
17 Feb 2016
Imagen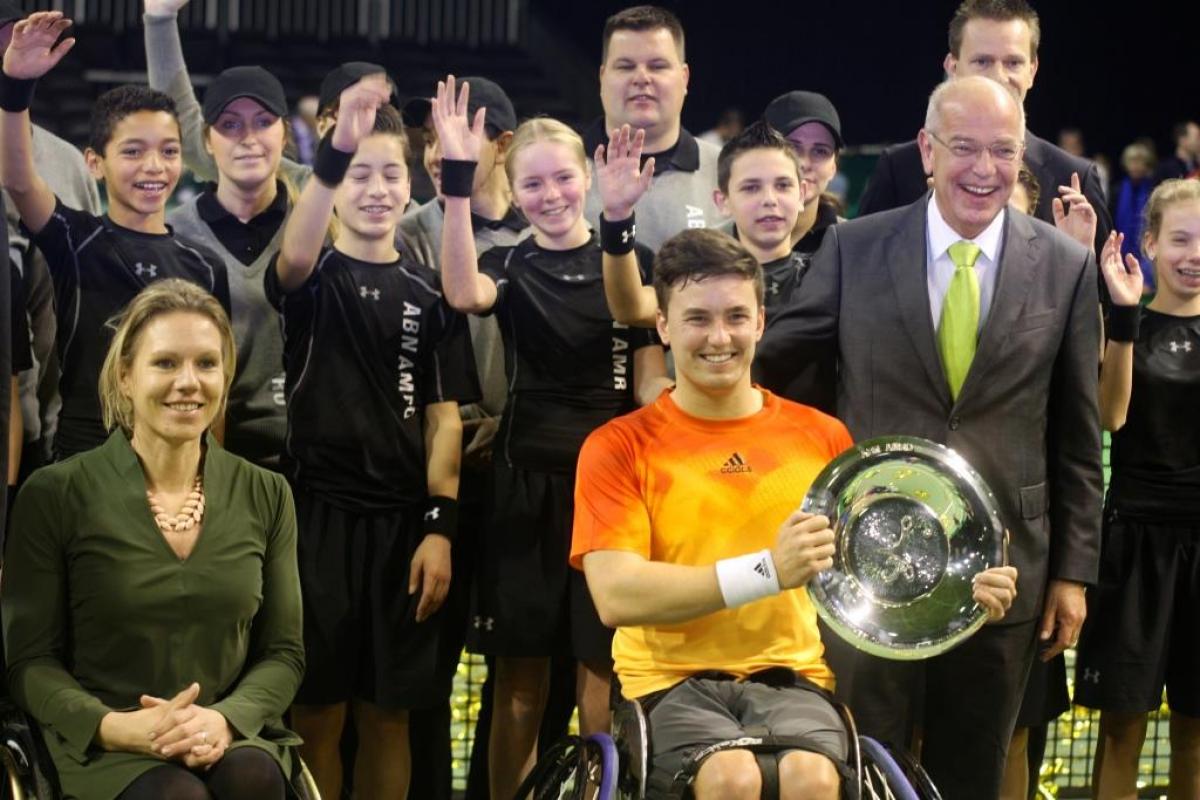 ⒸJan Willem Buijs
By Jan Willem Buijs
Jan Willem Buijs is reporter for www.parasportreport.com. He reported on the 2012 London Paralympic Games; 2013 IPC Athletics World Championships in Lyon, France; 2014 Sochi Paralympic Winter Games; 2014 IPC Swimming European Championships in Eindhoven, Great Britain; 2014 IPC Shooting World Championships in Suhl, Germany; 2014 IPC Athletics European Championships in Swansea, Great Britain; 2015 UCI Para-cycling World Track Championships in Apeldoorn, Netherlands; and 2015 IPC Athletics World Championships in Doha, Qatar.
An intense second-set, tiebreak thriller brought the 8th ABN AMRO World Wheelchair Tennis Tournament in Rotterdam, the Netherlands to a close on Saturday (13 February). Great Britain's Gordon Reid, coming off his recent Australian Open victory, secured his first win in the Dutch Major after beating Stefan Olsson, the Swedish London 2012 Paralympic gold medallist in doubles, 6-3 7-6.
While the tournament brought together the top-10 men's singles players, there is something even special that goes beyond the competition.
In fact, it is mainly regarded as one of the most unique and inclusive events on the UNIQLO ITF Wheelchairtennis World Tour, organised alongside its ATP Tour counterpart. The wheelchair tennis players and their "able-bodied" colleagues share many of the facilities, from dressing rooms to practice courts, and also hotels, which helps create a unique tennis biotope.
"We have our posters alongside the courts," Frenchman Stephane Houdet, world No. 1 in the men's wheelchair singles, said. "We share everything with all the players. Just before one of my matches, I was in the locker room with [Spanish tennis player] Roberto Bautista Agut and talked to all the French guys. It seems we are part of the Tour; that [is] really nice for us, wheelchair players.
"We travel a lot and the change to be with the ATP Tour players and watch their games is what we love in tennis. We play all the Grand Slams, but the ABN AMRO World Wheelchair Tennis Tournament is the one we prefer most."
The tournament in Rotterdam combines inclusion and good competition. It is especially an important stop on the way to the Rio 2016 Paralympic Games because of its strong lineup of players at this year's edition.
One of the brains behind the idea is tournament director is Esther Vergeer. The seven-time Paralympic gold medallist had played in the sport long enough to keep the vision in mind. Her resume includes going unbeaten for more than a decade, winning every tournament on the Tour and was world No. 1 for almost 15 years in the women's singles.
But she had never managed to get a solid dose of top-ranked players of the UNIQLO ITF Wheelchair Tennis World Tour to her tournament - until now.
Twelve of the world's top 16 signed up for Rotterdam this year, making this edition the strongest and most competitive in the tournament's history.
Every match was a thriller. Last year's winner Gustavo Fernandez from Argentina was beaten by Houdet in the early stages. The tournament's surprising finallist Olsson defeated 2015 NEC Wheelchairmasters winner Joachim Gerard from Belgium. These were all witnessed by packed stands and were also livestreamed.
The ABN AMRO World Wheelchair Tennis Tournament is growing by the year, and the UNIQLO ITF Wheelchair World Tour is getting more players from around the world. Players such as South Africa's Evans Maripa made his debut in Rotterdam.
Furthermore, the tournament proved that the men's competition at Rio 2016 will be unpredictable. All of the top-10 players can beat each other, with new players looking to crack into the top rankings. Japans Shingo Kunieda's London 2012 title is at stake. Who will take it?
Interview Great Britain's Gordon Reid
Interview Sweden's Stefan Olsson
Interview South Africa Evans Maripa
You can follow @ParaSportReport and @jwbuijs on Twitter.
Related Images