Sarah Storey: Support Network
Sarah Storey writes about the people she cannot live without.
18 Apr 2012
Imagen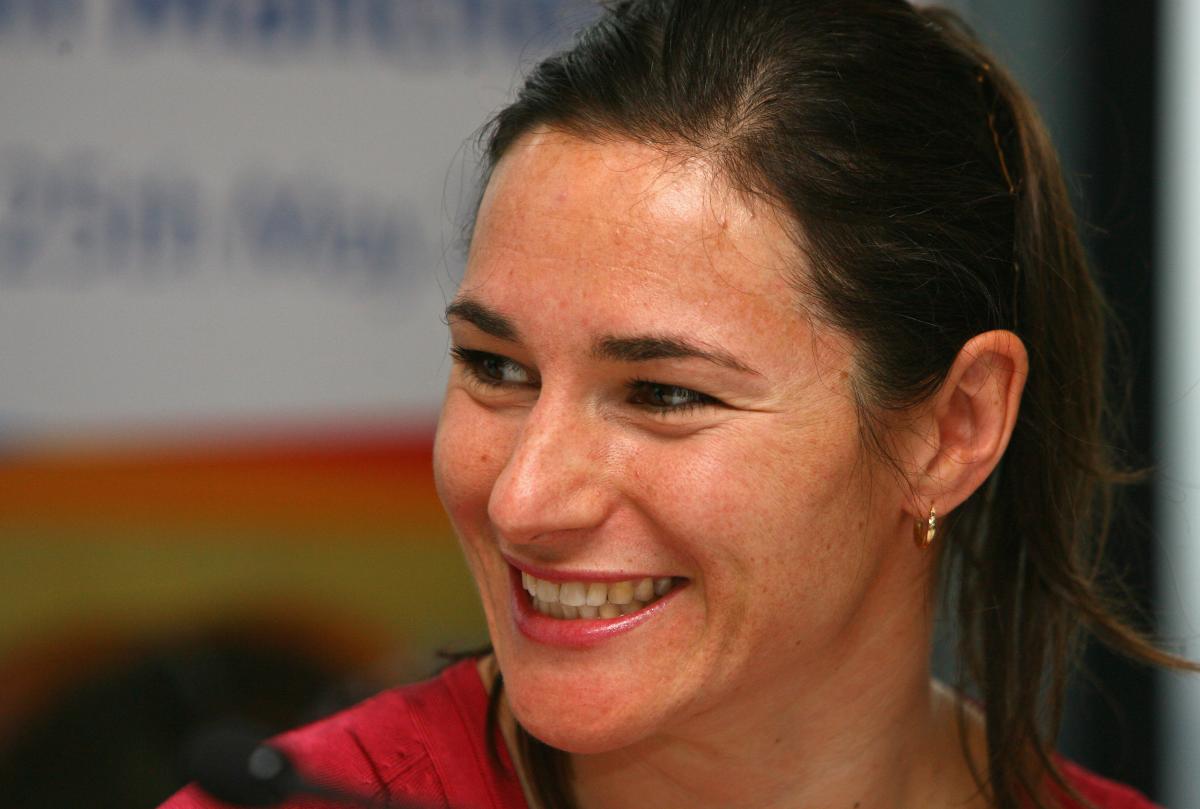 ⒸGetty Images
By IPC
"My biggest challenge in looking at my "Circle of Five" is that I have been so fortunate to have worked with so many great people."
The closer we get to the Games the greater the interest in the athletes bidding for places and of course one of the biggest sources of interest is in the support network around the athletes.
Last week, in between my sessions in the altitude chamber at Manchester Metropolitan University, and the road riding I have been doing as part of my ongoing endurance overload phase, I managed to squeeze in a trip to London to launch Links of London's "Circle of Five" campaign.
The campaign is based around the old concept that every successful person has a team of people around them that has enabled them to achieve that success, but new research commissioned by Links of London shows that most people believe there is a core circle of five people that have been the stalwarts of their own personal success. Obviously the success doesn't entirely relate to sporting success and since the measurement of success is such a personal thing, the beauty of the "Circle of Five" is that it doesn't matter whether the success you have achieved is within your personal life, studies, business or sporting endeavours, everyone will have had a group of people that have helped them realise that success.
My biggest challenge in looking at my "Circle of Five" is that I have been so fortunate to have worked with so many great people and so whilst my core circle would have to be my family who have been there through thick and thin, there are also five groups of people who have evolved with me throughout my sporting career to help me try and stay at the top of my game and help me continue to improve.
My family need little introduction, Barney, my husband, is the person who is virtually entirely responsible for making me the cyclist I am today. His expert knowledge and patience with my constant questioning about how and what will make me faster, means that I have been able to keep constantly improving in each of the four events I hope to race in at the London Paralympics. My parents have never missed a major international race, they have certainly racked up some air miles following me around the world to watch European, World and Paralympic Games and back at home continue to provide the most invaluable support an athlete needs. On a Wednesday evening, the traditional night for the club time trial locally, Mum and Dad have always got dinner ready for us when we get home. I guess the fact we moved to live 200m away from them, after the Games in Beijing, shows just how integral they are to our support network and how much we enjoy being able to spend time with them.
My brother and sister complete the core circle and have always been a part of that rent-a-crowd group that have travelled the world. My sister is an Aquatics athlete as well, firstly as a national level swimmer and more recently as a Water Polo player. My brother is a sports nut too and continues to play cricket and hockey. He is also the comedy genius of the family and keeps everyone laughing constantly. I always say that every great team needs a joker in the pack and my brother is certainly the joker in our pack!
My wider circle include my best friends, my roommates, my coaches, my support crew in public relations and of course my wider family circle. These five groups of people have allowed me to take on an even bigger slice out of my support network and acknowledge just how many amazing people have been involved in helping me achieve and to continue to achieve my dreams.
My wider family include my in-laws and probably best known is Barney's brother, Andy, through the Prendas clothing company. Barney and Andy's Mum and Dad are definitely the world's best in-laws and like my parents have never missed a major race. The parental support we have from the four of them is almost world famous and they have been nicknamed "The Fockers"!
My best friends were also my bridesmaids, Michelle, Rachel and Joanne are all incredibly successful in their own fields and although we physically don't live as close by as we used to when we all finished University, we have an amazing bond and catch up whenever hectic life allows. As so many athletes will testify, it is hard to fit a social life in around training and racing, but I am a very lucky girl because my best friends know that and whenever we are able to get together it's the biggest giggle ever! I guess it's also no surprise that the first weekend after the Games has been reserved for a girlie weekend away!
My coaches have obviously changed as my career progressed but I really haven't worked with many and the approach of each of them has been similar which I know has helped me to continue to move forwards both physically and mentally. In swimming I started out life at Stockport Metro with Deaflympics World Record holder in the 1500m freestyle, Alastair Johnson who coached me to my debut at the Barcelona Games in 1992 and then prior to Atlanta in 1996 worked with Dave Calleja who also coached Graeme Smith and James Hickman to their success at that Games. After University and a turbulent time not having a full time coach, I moved to work with Colin Hood at Salford and he resurrected me as an athlete because I was suffering with Chronic Fatigue Syndrome at that time. Patiently coaching me from 5 minutes a day until I was back to full strength some 4 years later, Colin never lost faith in my ability to be a gold winning athlete. I guess that is why it felt so amazing, after 6 years of not winning an international title, in 2002 when I won 3 world titles at the World Swimming Championships.
Leaving Colin to take up a place on the cycling programme was no easy decision, but he helped me make the decision and is still someone I regard as a very important member of my support crew. Colin's entire family are so similar to mine and with his wife Pam also being our massage therapist while we were training together, I knew I was leaving behind one of the best set-ups I could ever have wished for as an athlete. I guess that is why the decision was not an easy one to make.
Now in Cycling I work with Dr. Gary Brickley who has been my coach and advisor, alongside Barney, since the start of my cycling. He works in such a similar way to Colin and I am fortunate to have found such an expert in their field so soon after changing sports. Gary is also the mastermind behind Great Britain's most successful cyclist at the Paralympics, Darren Kenny, so there really could be no better testimony than that success.
As an athlete, whatever the sport, spending time away from home and the normalities of your own routine, is a huge part of the sport. Adapting to new environments, mealtimes and team mates habits is part and parcel of being on a sports team and it can sometimes make the competing and training look like the easy part! Most athletes will talk about the importance of finding a good roommate and it's often why athletes will choose to share with the same person time after time. My 14 years on the swim team, saw me have very few regular roommates and from Vicki Foley and Clare Cunningham in our early years, to Emily Whitley, Nyree Kindred and Jennifer Coughlin in the middle to later years. I was very much a creature of habit and was lucky to meet such lovely girls who were so like-minded and easy to be a roommate with.
Outside of sport the publicity side of our lives as athletes has been bigger and bigger and being labelled as role model is one of the huge privileges an athlete can receive. My international career has spanned 20 years so far and it's thanks to the support of three women that I have been able to manage the public relations side of my life. Helen Williams at Creating Excellence, Helen Scott at our own company Team Storey Sport, and Gayle Howells at Seren PR, have ensured, for varying lengths of time, that I can juggle my sporting commitments with public speaking, press and media requests, and other appearances that athletes get asked to make from time to time. A lot of athletes struggle to know where to start when it comes to the publicity side of their sport, but I would always recommend working with some trusty people who you know will be with you for the long haul. Helen Williams took me on when I was trying to fight my way back from chronic fatigue, whilst Helen Scott and Gayle are cycling specialists and the three of them add up to an amazing team.
The "Circle of Five" campaign was also launched to further highlight one of the newest editions to the Links of London 2012 Jewellery Collection. The "Links of London Team GB Band" is a highly patriotic bracelet that is hoped to become one of the most popular items during the Games. So many people are wearing the band now, from celebrities and high profile media stars, to athletes and their support crews. By getting everyone to consider who their "Circle of Five" might be, it is hoped people will thank their support crew by gifting them with a Team GB Band, as a way of thanking them for their contribution to their career.