Argentina 5-a-side team confident of gold medal success
David Peralta insists Los Murcielagos have nobody to fear
02 Sep 2012
Imagen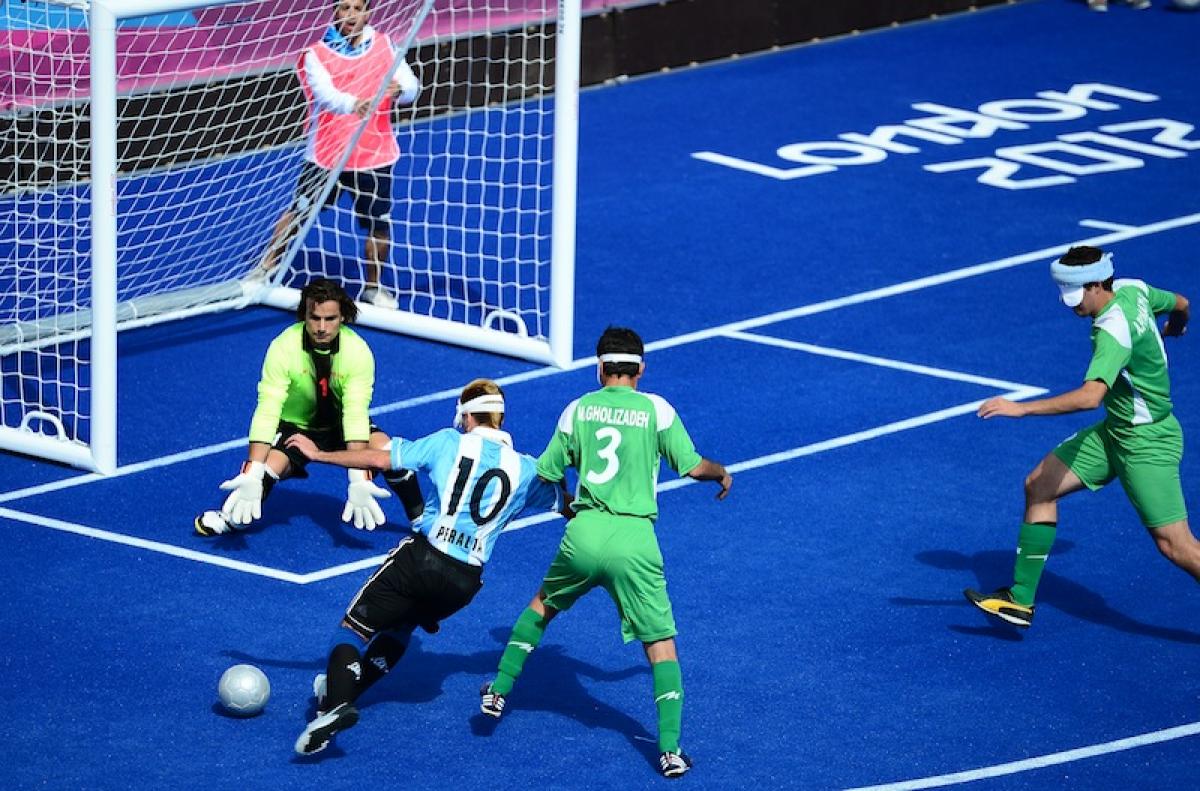 ⒸGetty
"At Athens 2004 we won the silver medal, in Beijing 2008 we won the bronze one, and now we want the gold medal that is missing."
Argentina's five-a-side football team is positive they can overcome their rivals Brazil and win gold at the London 2012 Paralympic Games.
Brazil became the first ever football five-a-side Paralympic Games champions in 2004, beating Argentina 3-2 in a penalty shootout, and they successfully defended their title four years later with a 2-1 victory over the host nation China.
However, the Argentines are not short of gold medal success having won back-to-back World Championships in 2002 and in the 2006 Buenos Aeries Championships.
David Peralta, who is competing in his first Paralympic Games in London, believes his team will be above Brazil on the medal podium.
He said: "Brazil are the team to beat, and we strongly believe we will beat Brazil at the Paralympics. I do not feel intimidated playing against them, because when the referee starts the match we are five players versus five players, and we all have two legs and two arms, so we have the same conditions."
Lucas Rodriguez, who has been a part of the Argentina team for 15 years, says Argentina has to be aware of Brazilian star striker Ricardino.
"Brazil is a very difficult team and they have a great player - the most important in the world - in Ricardino. He can win a match himself in a couple of minutes," Rodriguez said.
Argentina are also aware of the Chinese team, who tested Brazil in a close 2008 Paralympic final.
"China is a very good team. They changed football, and thanks to them we have learnt to play in another way. They have very fast players and are a very respectable team," said Peralta.
Argentina's blind football squad are known as 'Los Murcielagos' (The Bats) and are highly respected in their home country. Peralta says that blind football is becoming very popular and is continuing to grow.
"In our country the national team is well-known. When people see us wearing the training clothes of our national team, they always ask us 'are you part of Los Murcielagos?'"
He added: "We have a very important league with more than 20 teams, and every day it is growing into a more professional sport."
Argentina have been pushing themselves in training and are now determined to win the gold medal in London.
"At Athens 2004 we won the silver medal, in Beijing 2008 we won the bronze one, and now we want the gold medal that is missing," midfielder Rodriguez said.
Peralta added: "We have been working very hard for London 2012, so we want to improve our performance from Beijing 2008. In London we want to win the gold."