Australia's Dylan Alcott returns to first love
The Melbourne native has swapped wheelchair basketball for wheelchair tennis, and is now the No. 10 quads player in the world.
10 Feb 2014
Imagen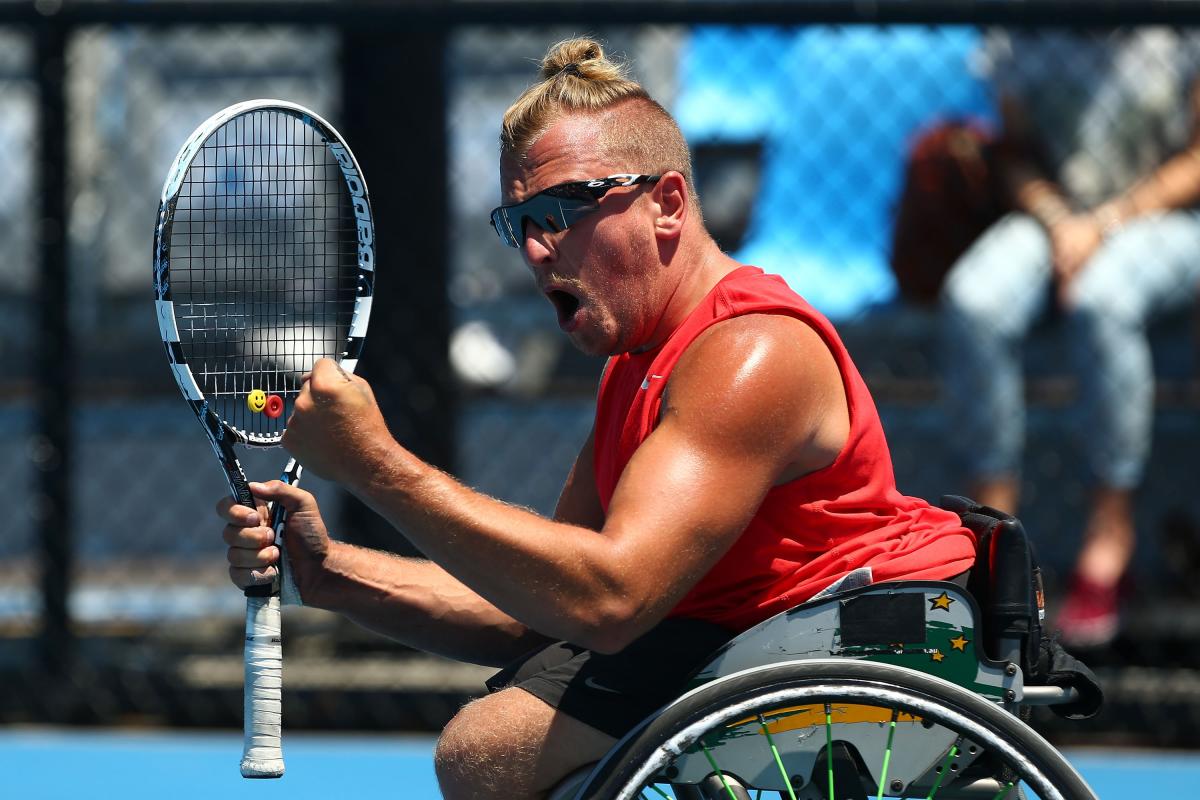 ⒸGetty Images
By Joel Mackenzie | For the IPC
"I'll never turn my back on basketball completely, but for now I'm very keen on pursuing tennis. The ability to travel the world playing tennis and to have the opportunity to earn a living while doing so is amazing."
A lot has changed in the last 18 months for Australian Dylan Alcott.
In September 2012, he rolled off the basketball court in London with a Paralympic silver medal around his neck.
Fast forward to January 2014, and the 23-year-old found himself sitting in a lift with Roger Federer, discussing a tough three-set loss to world No. 2 Lucas Sithole in the Australian Open quad singles draw.
Alcott's first love
When it comes to sport, some people are just naturally gifted, and Alcott is certainly one of those people.
As a basketball player, Alcott competed at two Paralympic Games, winning gold at Beijing 2008 and silver at London 2012.
He was a starting five member of Australia's first-ever World Championship team in 2010 and named to the world all-star five at the conclusion of the tournament, but as Alcott explains himself, tennis was always in his blood.
"Tennis was my first real love," he said.
"I always played both sports, and when I was 16, I was ranked inside the top five juniors in the world, so I always had that passion for tennis.
"I really enjoy the team aspect of basketball and it got to a point prior to Beijing where I had to make a decision, and to be honest, for me, I thought I had a much better chance of winning a gold medal playing basketball."
Having established himself as one of the world's best guards, and with a long and potentially very successful future in wheelchair basketball ahead of him, it was some time off after the London Paralympics that allowed Alcott to rediscover his passion for tennis.
"In 2013, I backpacked around the world and when I came back, I had a few social hits of tennis and really started to enjoy the feeling of hitting the tennis ball again," he said.
'There are no substitutes'
Alcott played in four major tournaments in Australia and New Zealand early in January, winning the Perry New Zealand Wheelchair Tennis Open and making the semi-finals of the Melbourne Open.
Following his success, Alcott was offer a wild card entry into the Australian Open in his hometown and grabbed the opportunity with both hands.
It was his first Grand Slam appearance, and as much as his years in basketball helped prepare him physically to the rigours of international tennis, it is the mental challenges that he found the toughest in transition.
"You don't have time to think about your mistakes when you're playing basketball," Alcott said. "You miss a shot and you don't have time to dwell on it, you have to push back hard into defence to help out your teammates.
"When you're playing tennis there are no substitutes, you're out there by yourself. And when you do start to make mistakes, you've got maybe 15 to 30 seconds out there between points, and it's really hard not to dwell on errors."
At the Australian Open, Alcott had match points against both Sithole and world No. 1 David Wagner in the round-robin stage, but he went on to lose both matches in three sets.
He just could not close the deal, leaving with just one match victory against Great Britain's Andy Lapthorne.
"The way I explain it is, basketball is a timed game, so you always know when it's going to end," Alcott said. "If you're up by 15 points and it's the last quarter, you can use up the clock and you can sort of manage your lead in the game in that sense.
"In tennis, you have to physically go out and win the game when you have a match point; no one is going to just give it to you, especially at this level."
Having started the Australian Open unranked and finishing as the No. 10 player in the world, it is clear that in the future, you are now more likely to see Alcott in action on a tennis court rather than a basketball court.
"I'll never turn my back on basketball completely, but for now I'm very keen on pursuing tennis," Alcott said. "The ability to travel the world playing tennis and to have the opportunity to earn a living while doing so is amazing."