Birthplace of Football 5-a-Side, Spain Shoot for Podium
After failing to make the podium at Beijing 2008, Spain's Football 5-a-Side team is ready to show the world why they are the home for the sport.
27 Jul 2012
Imagen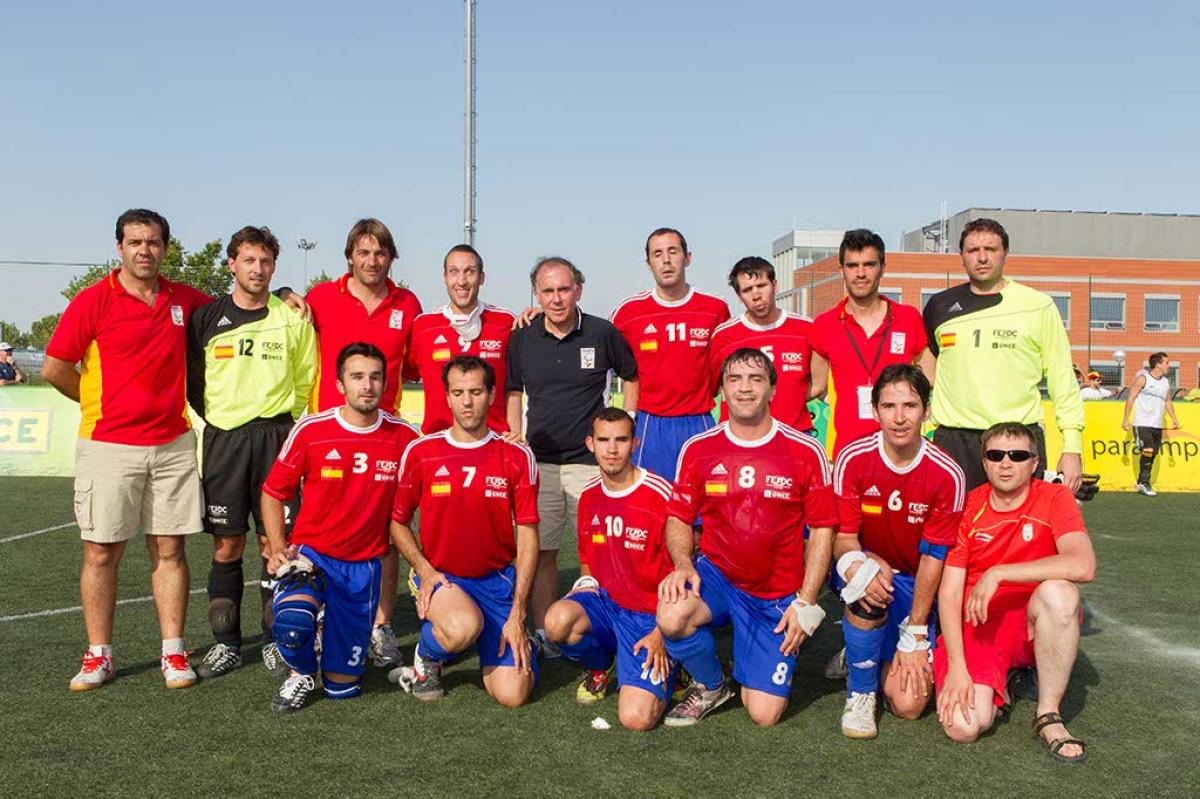 ⒸNPC Spain
By IPC
"It's very similar to football, the king of sports, so spectators enjoy it a lot. It's amazing to see eight blind people playing football."
Not everybody knows it, but Spain is the original home to Football 5-a-Side.
The first Football 5-a-Side national championships took place in Spain in 1986, and 18 years later, at the Athens 2004 Games it became a part of the Paralympic programme.
Spain won bronze at Athens 2004 and just missed the podium at Beijing 2008, losing out on bronze to Argentina in a penalty shootout.
But heading into the London 2012 Paralympics as the reigning European champions, the Spanish players know how significant the sport is to their country.
"It's an important sport, as it was born here," forward team captain Antonio Martin said. "We have a national league with 10 teams and a Spanish Championship where the six best teams compete.
"It's very similar to football, the king of sports, so spectators enjoy it a lot. It's amazing to see eight blind people playing football."
At age 30, Martin is one of Spain's top players, having taken part in two Paralympic Games previously. The Malaga native has been on the national team since 1999 and does not want to leave London without a medal.
"After finishing fourth in the penalty round at the last Paralympic Games, the ultimate aim is to be on the London 2012 podium," Martin said.
"The Brazilians are the best ones. They're the rival to beat by all teams.
"Argentina is also a big rival, same as China. In the Paralympic Games, the competing teams are really good, top level, so anyone is easy to beat. Great Britain is also a dangerous team playing at home."
Adolfo Acosta, a 31-year-old captain for Spain, has been playing alongside Martin on the national team for 10 years, and London 2012 will also mark his third Paralympic Games.
As one of the team's most versatile players, Acosta is able to play almost any position on the squad, making him a threat anywhere on the field. As a Canary Islands native, Acosta definitely fulfils the stereotype of being laidback and calm, but that does not mean he cannot be a force on the field.
"Adolfo Acosta as he is the most complete player," Martin said. "He can play defence and attack."
But a humble Acosta insists on pushing the spotlight over to Martin.
"It's difficult to choose, they are all good players and together they form a good team, but my favourite is Antonio Martin," Acosta said.
The first obstacle for Spain at the Paralympics comes straight away, when the team faces host nation Great Britain on the pitch in their first game at 15:30 on 31 August at Riverbank Arena.
Spain will also play Iran (at 13:30 on 2 August) and Argentina (at 13:30 on 4 August) in the preliminary round, and Acosta said the squad's main goal will be to make it through to the semi-finals at the very least.
He said he has "no fear" and is not intimidated by the likes of Argentina and Brazil.
Spain will now head to a final training camp prior to the London 2012 Football 5-a-Side event beginning on the second day of competition on 31 August.
Tickets for Football 5-a-Side are still available at www.tickets.london2012.com.
Related Images