Bochet describes winning second world title as 'perfect day'
The French athlete maintained a 100 per cent record in La Molina on Thursday with a super-G gold.
22 Feb 2013
Imagen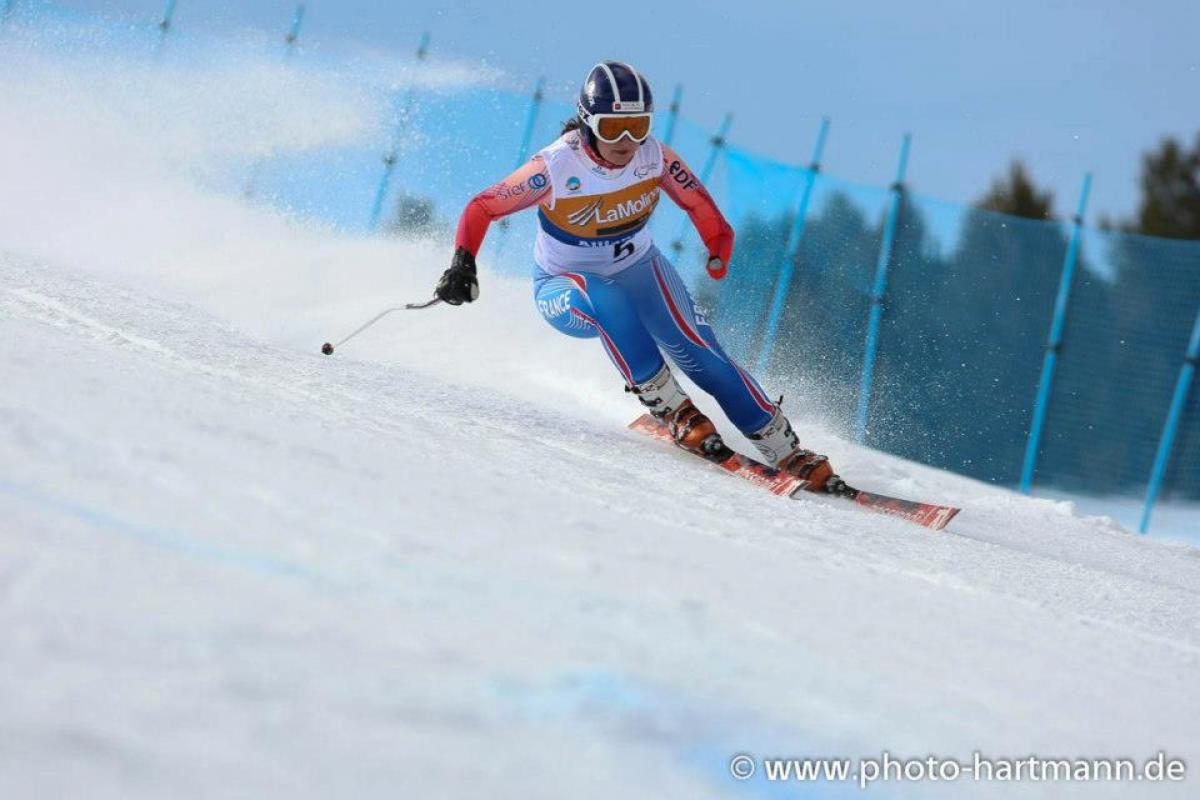 Ⓒwww.photo-hartmann.de
"This success is a big confidence boost for me going into Sochi. With two gold medals is shows I am in good condition for next year so everything is going to plan."
France's Marie Bochet has described winning her second gold in consecutive days at the 2013 IPC Alpine Skiing World Championships in La Molina, Spain as the "perfect day".
The 19 year old followed up her gold medal success in Wednesday's downhill standing class by storming to victory on Thursday in the Super-G, an event she describes as not her best.
"It was just a perfect day," said Bochet after hearing the French national anthem for a second successive day. "A second gold medal is just crazy and amazing. I cannot believe it as this is not my strongest event so it is wonderful for me to take gold in this event."
Friday is a rest day for all 120 athletes from 28 countries competing in La Molina, however when competition resumes on Saturday with the slalom, Bochet is not ruling out the possibility of more medals.
"Maybe I can add another gold, who knows? I didn't have any targets coming into the event so to win two golds so far makes me very happy. I just want to do my best."
This is Bochet's second World Championships, having competed in Sestriere, Italy two years ago. In 2011 she won gold in the giant slalom and the team event and took silver in the downhill and Super-G. So far she has been impressed with the level of competition in La Molina and believes her world title success will help in her preparations for the Sochi 2014 Paralympic Winter Games.
"The standard of competition is very good. This is a World Championships taking place one year before the next Paralympic Winter Games so everyone is trying to do their best. We are all in very good condition to race," explained Bochet.
"This success is a big confidence boost for me going into Sochi. With two gold medals it shows I am in good condition for next year so everything is going to plan," she added.
In Thursday's Super-G, Bochet's teammate Solene Jambaque took silver, building on her bronze medal success from Wednesday's downhill. The now four-time world champion was delighted to see her rival amongst the medals for a second day.
"It's very nice to have Solene as a rival and to reach the podium with her," said Bochet. "She's had two or three knee injuries so I'm really pleased that she could take silver today."
Also on Thursday, in the other Super-G events Spain's Jon Santacana (guide Miguel Galindo Garces) and Austria's Markus Salcher maintained their 100 per cent records. Santacana took gold in the men's visually impaired class, whilst Salcher added to his downhill gold with victory in the standing class.
There was also gold medal success for Russia's Alexandra Frantseva and guide Pavel Zabotin in the women's visually impaired class, Austria's Claudia Loesh in the women's sitting and Japan's Taiki Morii in the men's sitting event.
After the second day of competition Austria leads the medals table with five medals, three of which are gold.
The 2013 IPC Alpine Skiing World Championships will run through to 27 February.
For more information on the event, including live results, please visit www.ipcalpineskiingworlds.org.
Follow the action on Twitter @IPCAlpine and like the Facebook page Facebook.com/IPCAlpineSkiing