Bonn 2019: Changwoo Han hopes to dance with no regrets
South Korean has new dance partner ahead of 2019 World Championships
01 Nov 2019
Imagen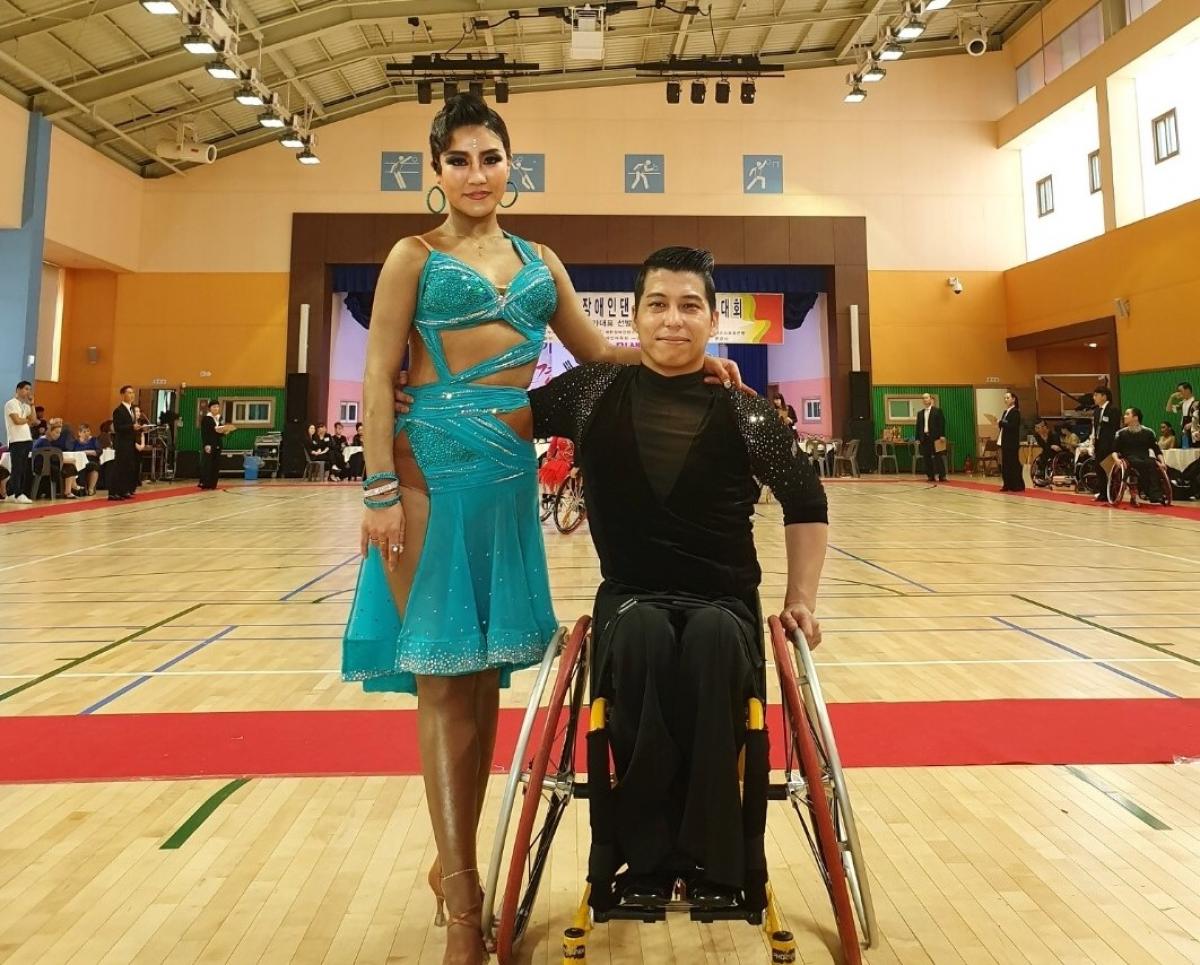 ⒸKPC
By EJ Monica Kim | For World Para Dance Sport
South Korea's Changwoo Han will see if he can defend his world titles with a new partner at the 2019 World Para Dance Sport Championships, which begin 29 November in Bonn, Germany. 
A combination of a new standing partner Youngseon Park and an ulcer have made the 2019 season challenging. But Han has learned, from competition after competition, what he needs to do to maintain his 2017 world champion form.
"In the beginning of this year, I trained almost every day (despite pain) in order to strengthen our teamwork. But I should've considered more about my form ahead of competitions," said Han, who had danced with Jini Ryu for seven years until Ryu stopped for personal reasons. 
Han saw his efforts rewarded when he won gold in the combi Latin class 1 with Han at the 2019 Beigang Open in Chinese Taipei, his only competition this year so far.
"I had mixed emotions about this medal," he said. "Of course, I was happy with the unexpected result. But at the same time I was ashamed of my unsatisfactory performance personally." 
His main goal for Bonn 2019 is not to defend his combi Latin and men's singles golds that he won at the Malle 2017 Worlds in Belgium.
He just wants to perform with no regrets. 
"The only thing I can do at the moment is mental rehearsing and watching Park's movements. But it is not enough at all," he explained. 
Most athletes watch videos of their performances to improve. But Han is different. 
"During my career, I've never watched any of video clips of my own dance moves. I blush to watch myself, so I prefer to move my body directly after listening to advice from my partner and coach."
Motivation from memories 
The 33-year-old made his Worlds debut in 2015 in Rome, Italy. Two years later, he captured a pair of golds at Malle 2017. 
"It was the most memorable achievement so far, as it was my first Worlds after I was reclassified to class 1," said Han, who has used a wheelchair since he was six. 
"I felt like satisfactory results will follow, as I would have a lot of fun on the stage," he said. "So, what I did was just enjoy the moment with my partner [Jini Ryu] as much as I could."
"Maybe backstage atmosphere can be a little strained. But, when I begin to hear music, I  just get into the groove without thinking about anything." 
Paving the way for next Para dance generation
When he took up the sport in 2012, his ambition was to become a world champion. 
That dream came true in 2017, and he wants to continue dancing professionally. 
"I realised that nothing has changed since 2017. I'm still trying to sort out my financial situation, because I'm not working, but only dancing." he said. 
In South Korea, there is only one Para dance sport organisation. 
"I wish that more teams will be founded so that all Para dancers' careers can be guaranteed for a long term," he continued.    
"Nevertheless, I genuinely take a delight in dancing. So why should I stop it?" 
More information on the Bonn 2019 World Para Dance Sport Championships is available on the event website.