IPC Alpine development camp graduates win big in La Molina
26 Feb 2013
Imagen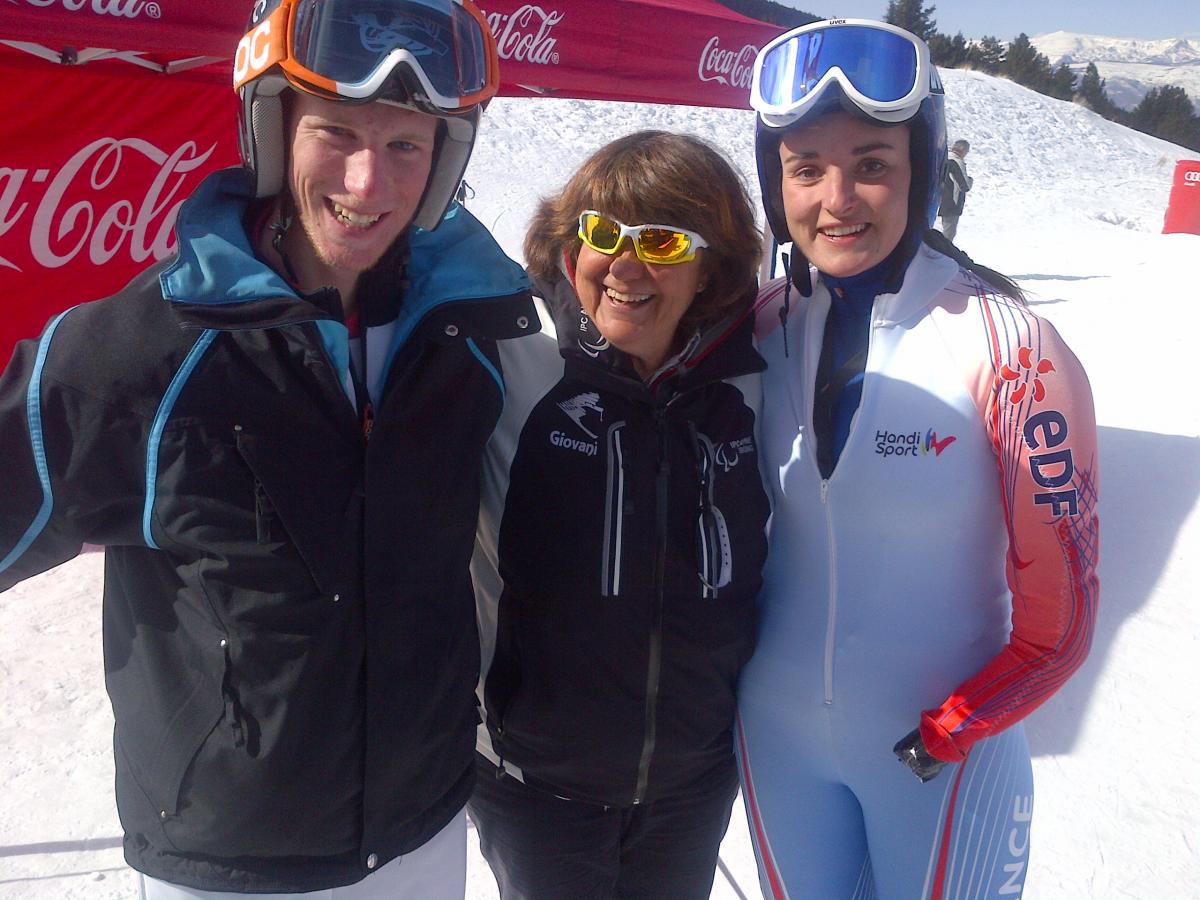 "You can tell you are onto something special when a kid at 13 years old gets up at 5 oc'clock in the morning without complaining and goes to the slope. And they ski, do physical traning, take part in workshops and still say nothing, part from asking for more. That's when you know."
Youngsters who attended an IPC Alpine Skiing development camp in France almost seven years ago have won 15 individual medals, including 10 gold, at the 2013 IPC Alpine Skiing World Championships in La Molina, Spain.
Amongst those who attended the 2006 Camp were France's Marie Bochet, a winner of five individual world titles in La Molina, and the Austrian duo of Claudia Loesch and Markus Salcher who between them have also won five golds.
Others camp graduates competing in La Molina include Belgium's Jasper Balcaen, Slovakia's Petra Smarzova, Canada's Alexandra Starker, Slovakia's Miroslav Haraus and Spain's Gabriel Juan Gorce Ypes.
The camp took place in the Deux Alpes resort in the French Alps and involved 55 youngsters aged 11-17, together with a number of coaches and guides. The aim was to provide an opportunity for young athletes to develop their technical skiing skills, whilst learning about training and competition in an inspiring and motivating atmosphere.
Sylvana Mestre, chair of the IPC Alpine Skiing Sport Technical Committee, was the organiser of the camp back in 2006 and claims that even then she could recognise future Paralympic and world champions in the making.
"I absolutely saw the potential back in 2006," explained Mestre. "From a coach's perspective when I look into the face of a child, I promise you I can tell. I may be mistaken 0.5 per cent of the time, but at that young age I already see the potential.
"You can tell you are onto something special when a kid at 13 years old gets up at 5 o'clock in the morning without complaining and goes to the slope. And then they ski, do physical training, take part in workshops and still say nothing, apart from asking for more. That's when you know."
The camp involved participants from Austria, Belgium, Canada, Croatia, France, Slovenia, Slovakia, Spain and Switzerland, and was structured into three activity areas – alpine skiing training on the snow, physical training and education.
Amongst them was 18 year old Canadian Alexandra Starker, who in attending her first World Championships in La Molina has won three individual bronze medals.
"I'd only been skiing for one year when I attended the camp," said Starker who was just 12 at the time. "Two other Canadians and a coach all went over to France and we skied there with some of the best coaches from all over the world.
"Had I not gone to that camp I don't think I'd still be skiing today. It really lit my fire for the sport.
"I'd not really gone to any places or raced against any other people before the camp. Then I got to go to France and all of a sudden I'm working with all these coaches, I was travelling and I was meeting all these people. I was having a fun time and it really made me want to keep skiing."
Starker's roommate in 2006 was fellow standing skier Bochet who has been in unbeatable form in La Molina claiming five individual world titles in as many events adding to the two silvers and a gold she won at the 2011 World Championships.
"It's really cool now to be competing together with Alexandra at a World Championships seven years after we shared a room together at the development camp," said 19 year old Bochet who at the time spoke no English, whilst roommate Starker spoke no French.
"The camp was the start of my career as a para-alpine skier. Because of that camp I continued to stay with the sport and without it maybe now I would not be world champion," she added.
Mestre is rightly very proud of her graduates from the class of 2006 and is quite emotional talking about their success.
"I remember in Vancouver Claudia Loesch topped the podium twice. After one of the races she came up to me, showed me her gold medal, and said had it not been for the development camp she would not have won this medal," said Mestre. "I cried, I was so happy."
"The camp was a real team effort and all of us can feel rightly proud. I absolutely love it now to see the youngsters on the podium and cannot put into words how I feel. It makes me want to compete again as a guide but I'm an old chicken now!"
Developing tomorrow's champions
Although delighted with the success of those that attended the 2006 camp, Mestre believes much more still needs to be done.
Sylvana Mestre said: "Back in 2006 I remember it was very difficult to get those involved in the sport understanding the need for development.
"As the international federation for the sport it is important that we help put the structures in place that help all countries progress.
"The age range of athletes has come down over the years however we still need to get more women involved."
The IPC's latest development activity is the IPC European Para Snow Sport Youth Circuit which launched in January 2013 and covers Alpine Skiing, Snowboarding and Nordic Skiing.
Funded by the European Union, the circuit consists of five, three-day competition camps, and involves youngsters aged 10-17 years from Germany, Italy, Netherlands, Slovenia and Spain.
The objective is to introduce youngsters to winter sports and provide professional training to already skilled youngsters on their way to a first competition. In addition to skiing, youngsters take part in educational workshops including social and cultural activities. The final day of each camp involves competition giving the youngsters an experience of competing in a professional competition environment.
"What we try to do with the camps is give athletes a taste of what can they expect and get coaches to share best practice and align, so there is consistency in training," said Mestre.
"From the first of five camps we have held, already we have kids who say they want to try and race. These are kids who have only just started skiing too.
"The camps are fully inclusive, kids who often have to ski on their own normally, get to ski with other kids, interact and see what others can do. This changes their perspective which is really important.
"Already I think we have at least two youngsters who have the potential to be champions. I don't know why I say this but I can just tell. Trust me, let's see in seven years!"
The 2013 IPC Alpine Skiing World Championships in La Molina, Spain will conclude on Wednesday with the team event.
Nearly 120 skiers from 28 are competing in the event which is the last major international Championships ahead of the Sochi 2014 Paralympic Winter Games.
For more information on the event including live results, please visit: www.ipcalpineskiingworlds.org.
Follow the action on Twitter @IPCAlpine and like the Facebook page Facebook.com/IPCAlpineSkiing.