Italian Passion to Drive Zanardi to Pole Position
Former Formula 1 driver Alex Zanardi of Italy explains how handcycling was like meeting the woman of his dreams after having both of his legs amputated.
22 Jul 2012
Imagen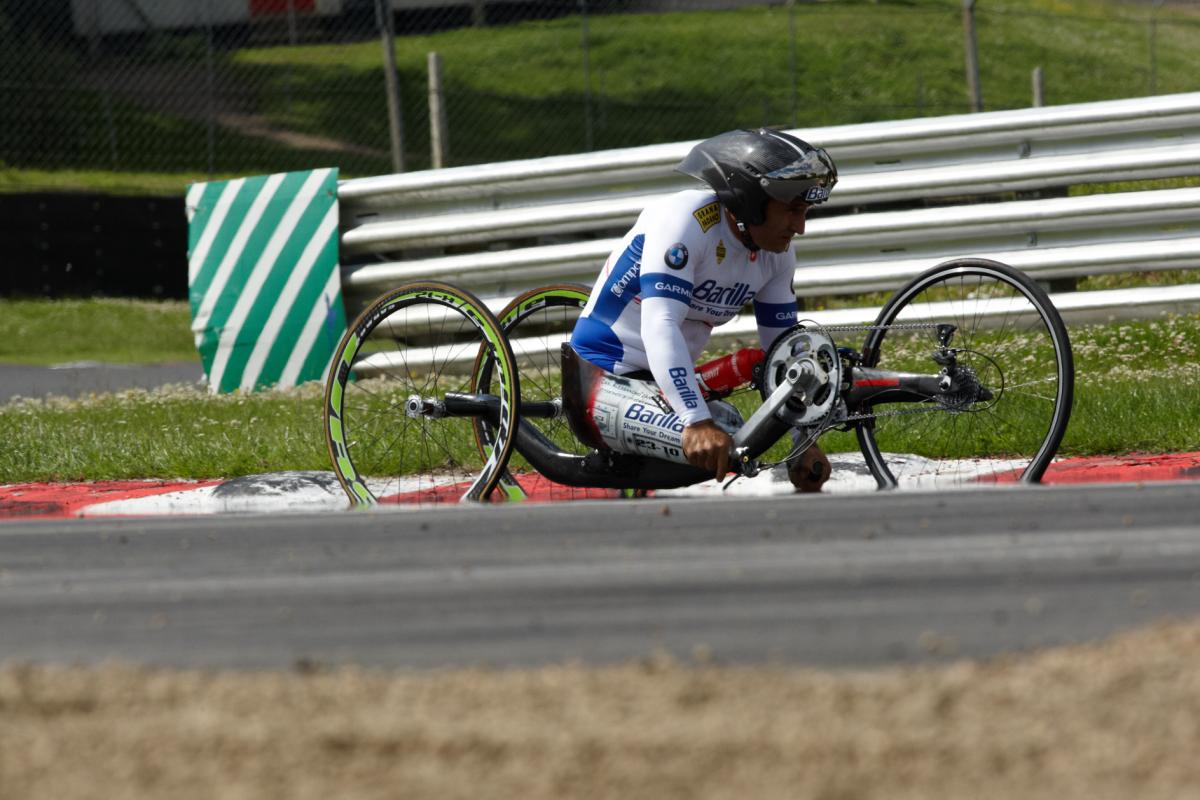 ⒸLondon 2012
By IPC
"It's going to be really exciting to show up in London, taking all the work I've done and having the opportunity to finally draw a line and see what the final result is in comparison to what my opponents have done."
Wednesday 5 September 2012 will not be Alex Zanaradi's first time competing at Brands Hatch, the London Paralympic venue for road racing, better known as the UK's best-loved motor racing circuit.
The Italian handcyclist first competed there in 1991 as a driver for the II Barone Rampante team in the Formula 3000, finishing second.
He returned again in 2008. This time, though, as a double leg amputee with an adapted car as part of the BMW Team Italy/Spain in the WTCC (World Touring Car Championship) and finished third.
Zanardi hopesthat knowing the motor track, which makes up a small part of the cycling course, and having the opportunity to test it as a handcyclist in June will give him an advantage.
"The course is very tough," Zanardi said. "There's not a lot of flat mileage – it's either going uphill or downhill, but it suits my characteristics.
"As a double amputee, going uphill for me is an advantage in relation to my opponents."
Zanardi had both legs amputated in 2001, after being T-boned by another driver during a CART race on the EuroSpeedway track in Lausitz, Germany.
The accident left him fighting for his life and having to undergo multiple operations.
Despite the severity of the accident, he returned to motor racing pretty soon and started handcycling as a way of keeping fit.
His passion for motor racing was soon eclipsed by his new love.
"It's like one day you meet a woman and you say, 'Wow! She's beautiful! This could be the woman of my life,'" Zanardi said, when asked why he gave up motor racing.
After competing in the 2009 Para-Cycling Road World Championships, where he finished 14th in the road race and 15th in the time trial, he decided to see how far he could go in competitive handcycling.
"I wanted to see if I could qualify for the Paralympic Games. Of course I had London in mind when I made that decision and I knew I had to dedicate all my time to handcycling if I wanted to do it well."
For Zanardi, motor racing and handcycling are like two of a kind, and he applies the same principles to both sports.
"It's more or less like preparing a cake," he said. "The ingredients are quite different, but the way you deal with things is very similar to my previous experience in motor sport.
"You have to draw a list of priorities and focus on the main problem and always work on that, bearing in mind that once this problem is solved, you're going to have other thing to work on. It's a never-ending game."
At the London 2012 Paralympic Games, Zanardi has one clear goal: to win at Brands Hatch for the first time.
The race he cares about most is the time trial, where he will go head to head with USA's Oscar Sanchez who won gold in the time trial and bronze in the road race at the Beijing 2008 Games, and more recently won gold in both events at the 2011 Parapan American Games.
"He's been practically unbeatable in the last four years, but to know that I'm very, very close in terms of performance to him is very exciting and it would be fantastic of course to beat him."
Zanardi has already savoured victory once over the American in the first race of the 2012 World Cup in Rome, but to beat him in the race that matters the most, would be even sweeter.
"I am at a very good level and I'm at a level where I can still add something," he said. "It's going to be really exciting to show up in London, taking all the work I've done and having the opportunity to finally draw a line and see what the final result is in comparison to what my opponents have done."
Zanardi is aware that this might be his first and last shot at a Paralympic medal.
"I hope not, but in consideration of my age, it might well be."
Zanardi is set to compete in the Time Trial on 5 September, in the Road Race on 7 September and will likely be in the Team Relay on 8 September at Brands Hatch. Tickets are still available for road cycling at www.tickets.london2012.com.