No. 16: Israeli war veteran turned national hero
Noam Gershony survived an Israeli army helicopter crash just six years ago, and in 2012, he won Paralympic gold in wheelchair tennis.
16 Dec 2012
Imagen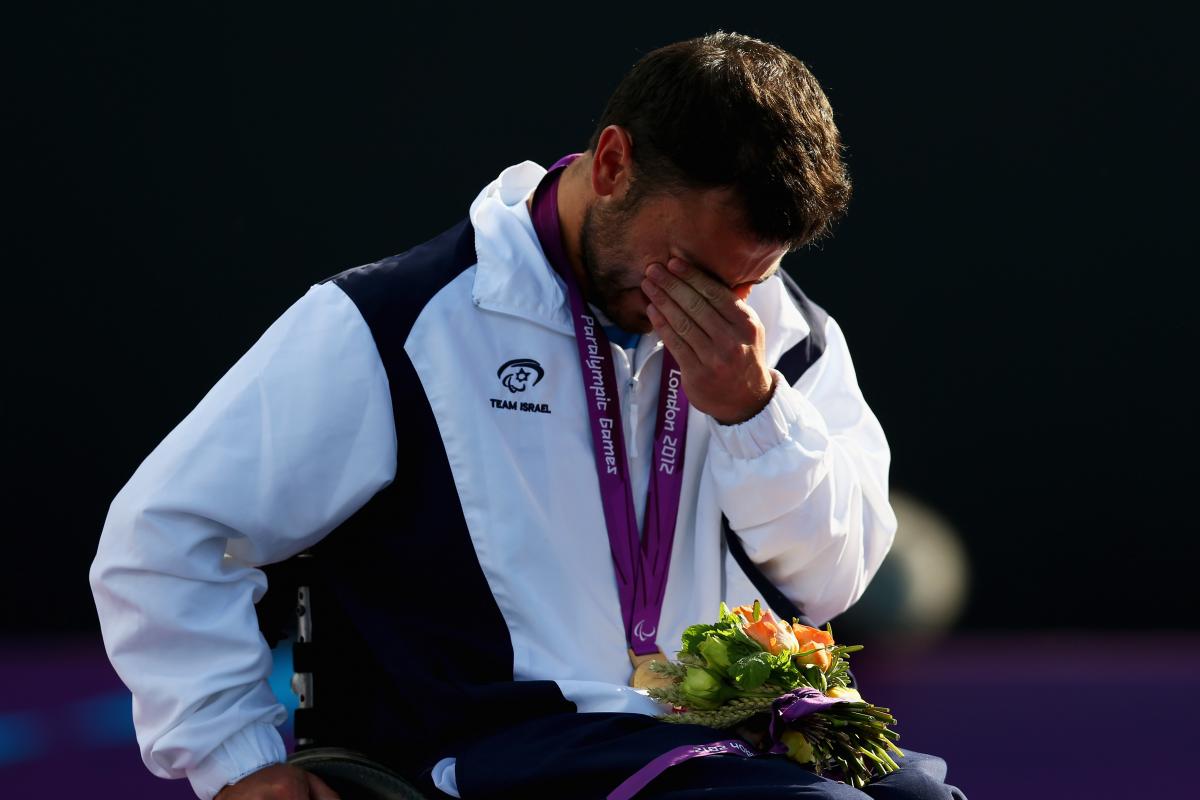 ⒸGetty Images
Find out which other stories made it into the Top 50 Paralympic Moments of 2012.
On 20 July 2006, Israeli army pilot Noam Gershony's helicopter crashed to the ground near Ramot Naftali during the Lebanon War.
His co-pilot, Ran Kochbah, died on the spot. Gershony suffered several severely broken bones and was bleeding from his nose, mouth and ears.
Doctors said he, too, would not make it.
Six months later, after spending countless hours in bed surrounded by his 30 closest family members and friends, Gershony was released from the hospital.
He was left paralysed.
But, he was alive.
"A miracle happened that evening," Gershony said.
"In a helicopter crash, there's no parachute, there's no eject button. I was very lucky to survive."
'The moment I'm most proud of'
During his long and arduous recovery process, Gershony decided to take up wheelchair tennis after having five tennis lessons prior to his accident.
"I thought, I'm alive, I'm going to do something with my life and I'm going to enjoy it," he said.
The sport started as a way of rehabilitation for the Israeli, but in no time he found himself playing at the most competitive level possible, and in early 2012, he won both the French Open and British Open.
In his Paralympic Games debut this summer, Gershony defeated top-ranked David Wagner of USA in straight sets (6-3, 6-1) in the quad wheelchair tennis final to win Israel's first Paralympic gold since 2004.
Everybody in London that day and those watching around the world will never forget when the Israeli flag began to climb up the pole during the medal ceremony.
Gershony revealed six years' worth of emotion on his face during that moment.
As soon as the Israeli national anthem, the Hatikva, began to play at Eton Manor, he burst into tears.
The crowd and television viewers followed suit right behind him, in full support.
"It just came out during the anthem," Gershony said. "I'm always very touched, very emotional when I hear the national anthem.
"My family and friends that were there for me during such difficult times when I was hospitalised for six months after I got injured were the same ones at the ceremony.
"Knowing then that they were playing it during the ceremony because of me, and with the big crowds listening to my national anthem for the first and only gold medallist in this year's Paralympics or Olympics, I think it was the most emotional thing for me.
"It was because of me, and it's the moment I'm most proud of in my entire life."
The right-handed hitter said the gold-medal match was much closer than the numbers indicated, and one of the most nerve-racking of his young career.
"The score, I think it's lying a bit, because they said it took only 1 hour and 50 minutes, but it felt like five hours on the court in that match," Gershony said.
"We both started off the match awful. We both played poorly in comparison to our regular level of play.
"I don't even know how I took the first set, but on the second set I was more relaxed and the momentum was more on my side. I think because I took the first set, David really didn't believe enough to get back into the match."
His toughest match was actually in the first round against Great Britain's Jamie Burdekin, who pushed it to three sets before Gershony was able to whisk it away and overcome Burdekin's home crowds.
"I never get stressed during matches," Gershony said. "The Paralympics were the first time I was under a lot of pressure, and it influenced my game.
"But I think I was able to cope with the pressure better than most of my opponents."
Posing as a celebrity
In London, Gershony also partnered with Shraga Weinberg to win bronze in the quad doubles competition and was nominated to be Israel's Closing Ceremony flag bearer.
Israeli Prime Minister Binyamin Netanyahu called to congratulate Gershony afterwards, saying he symbolised the triumph of the human spirit of the difficulties of life.
Gershony, who has a large family with nearly 30 cousins, returned home to a festive reception with hundreds of people celebrating his achievement, dancing to Israeli folk songs.
"It was very powerful, the reception ceremony," Gershony said.
Now, the 29-year-old is a celebrity in Israel and arguably the nation's most famous Paralympian.
People recognise him on the streets and ask him to pose for photos, and he has been continuously giving lectures and speeches both in Israel and abroad in the Jewish community since the Games, taking listeners through his journey from the crash to the podium.
"I'm being treated like a hero back home here in Israel because I got injured in a war, and I'm a disabled veteran who won a Paralympic gold medal," Gershony said.
"I can use the publicity to do good things."
Gershony said he has no idea what's next for him, but that he wants to take the rest of 2012 to let it all sink in.
"It was the best event I've ever been in," Gershony said of London 2012. "Taking part in it was truly amazing for me."
"I'm just enjoying the moment now."
Editor's Note: For the final 50 days of the year, the IPC will count down the year's top moments in Paralympic sport, culminating with the year's best moment on 31 December.
The 50 moments were selected by nominations from National Paralympic Committees and International Federations and are based on sport performance, emotional moments, media attraction and athletes' personal stories.
The IPC would also like to call on the public to submit their own nominations for what they believe was the top Paralympic moment of 2012. They can do so by emailing ipc.media@paralympic.org, or by leaving a comment on www.Facebook.com/ParalympicGames or sending a tweet to @Paralympic.
Related Images