No. 19: Bayley pours out emotion after semi-final victory
British table tennis star Will Bayley became known at London 2012 for wearing his emotions on his sleeve, subsequently tugging at the public's hearts.
13 Dec 2012
Imagen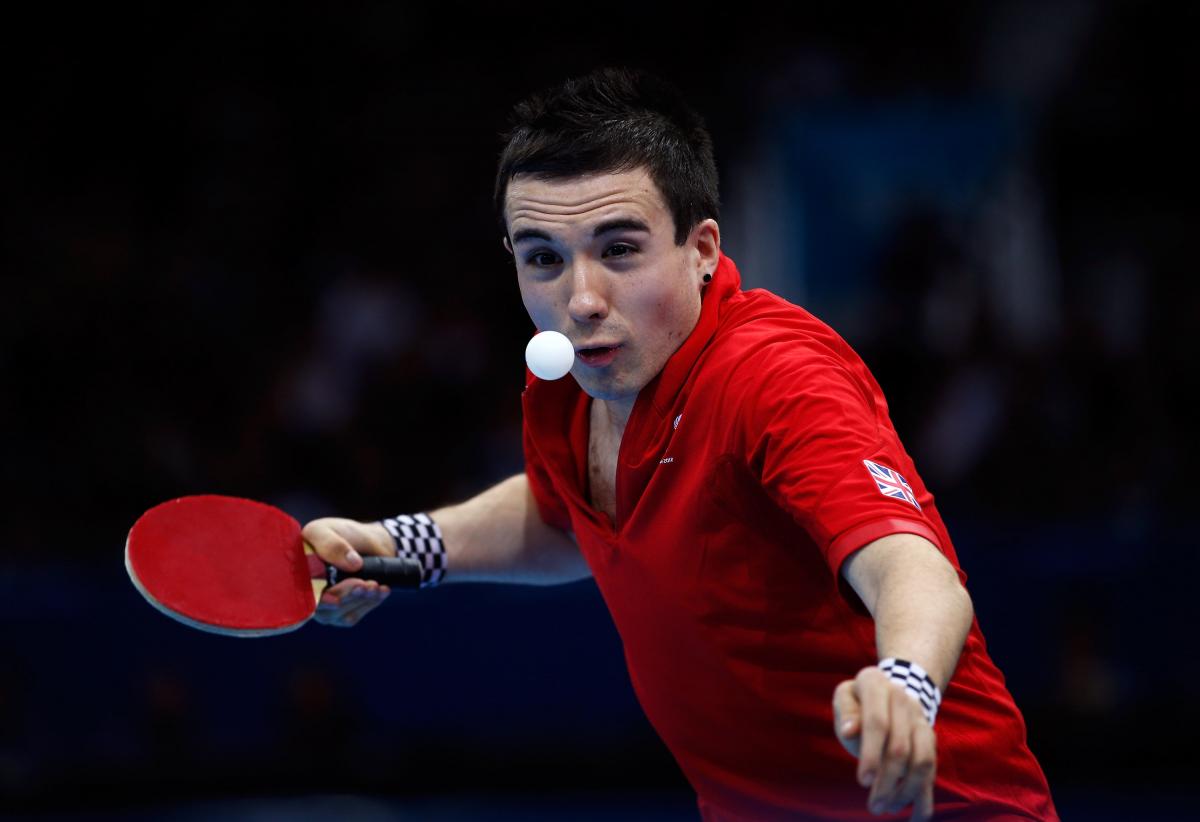 ⒸGetty Images
By IPC
Find out which other stories made it into the Top 50 Paralympic Moments of 2012.
One of the most memorable moments the British public will always recall from the London 2012 Paralympic Games is when Will Bayley jumped onto his coach and pumped his fist into the air following his dramatic semi-final win in the table tennis singles class 7 competition.
Bayley, 24, triumphed against Ukraine's Maxym Nikolenko, 3-1, in the semi-finals, but it was his emotional reaction to the match point that was replayed over and over again on Channel 4 and tugged at the hearts of live stream viewers around the world.
"It's emotional," Bayley said. "When you win or when you lose."
"It was a really, really electric atmosphere. Obviously, it's something that you've been working for many years. We train every day just for these moments, so you can imagine how tense the atmosphere is, and the crowd knows how much it means to you.
"It was kind of surreal when I was out there. I felt like I was in someone else's body. It's a lot to comprehend when it's your home Games and all those fans are cheering for you."
It took Bayley just 27 minutes to defeat Nikolenko after years of practice in the training hall.
And he was able to accomplish the feat and move onto the medal round at the ExCeL, which is located just 40 minutes away from his home.
"I just thought, wow I could be in a final at my home Games," Bayley said. "That's pretty special."
"It's not easy to get to that position. Even before Beijing, I was thinking about what I could be in the future, and it's just been a dream for so many years.
"I was thinking I've got a chance to win a medal. I was thinking I'd be very happy to win a medal when I was at match point with Nikolenko."
Bayley ended up taking silver after losing to Germany's Jochen Wollmert, 3-1, in the final, a match the favourite said did not go his way.
He wore his emotions on his sleeve once again, as Wollmert came to console him when he fell to the ground in tears when it was all over.
"I think the pressure just got to me a little bit in the final," Bayley said. "It's just difficult and you can't really prepare for those kinds of games.
"Rather than thinking about the negatives, I just try to take the positives and move on from it. I learned that nothing is guaranteed in sport."
Bayley was also part of a British squad that defeated Germany, 3-0, in the men's team class 6-8 bronze-medal match, so he was able to leave his home Games with two medals.
Though, in his case, it will be the outpouring of raw emotion revealing his dedication to the sport that the public will remember him for.
"It's emotional to say you represented your country. It's a proud thing," Bayley said. "I don't think anyone can take that away from us, and I don't think any Games will be quite the same as London."
Editor's Note: For the final 50 days of the year, the IPC will count down the year's top moments in Paralympic sport, culminating with the year's best moment on 31 December.
The 50 moments were selected by nominations from National Paralympic Committees and International Federations and are based on sport performance, emotional moments, media attraction and athletes' personal stories.
The IPC would also like to call on the public to submit their own nominations for what they believe was the top Paralympic moment of 2012. They can do so by emailing ipc.media@paralympic.org, or by leaving a comment on www.Facebook.com/ParalympicGames or sending a tweet to @Paralympic.
Related Images