No. 20: Rwanda sitting volleyball team make it to London 2012
The Paralympic Movement is filled with inspirational and compelling stories of triumph over adversity, but there are few stories as awe-inspiring as the Rwandan sitting volleyball team's formation and qualification for London 2012.
03 Sep 2014
Imagen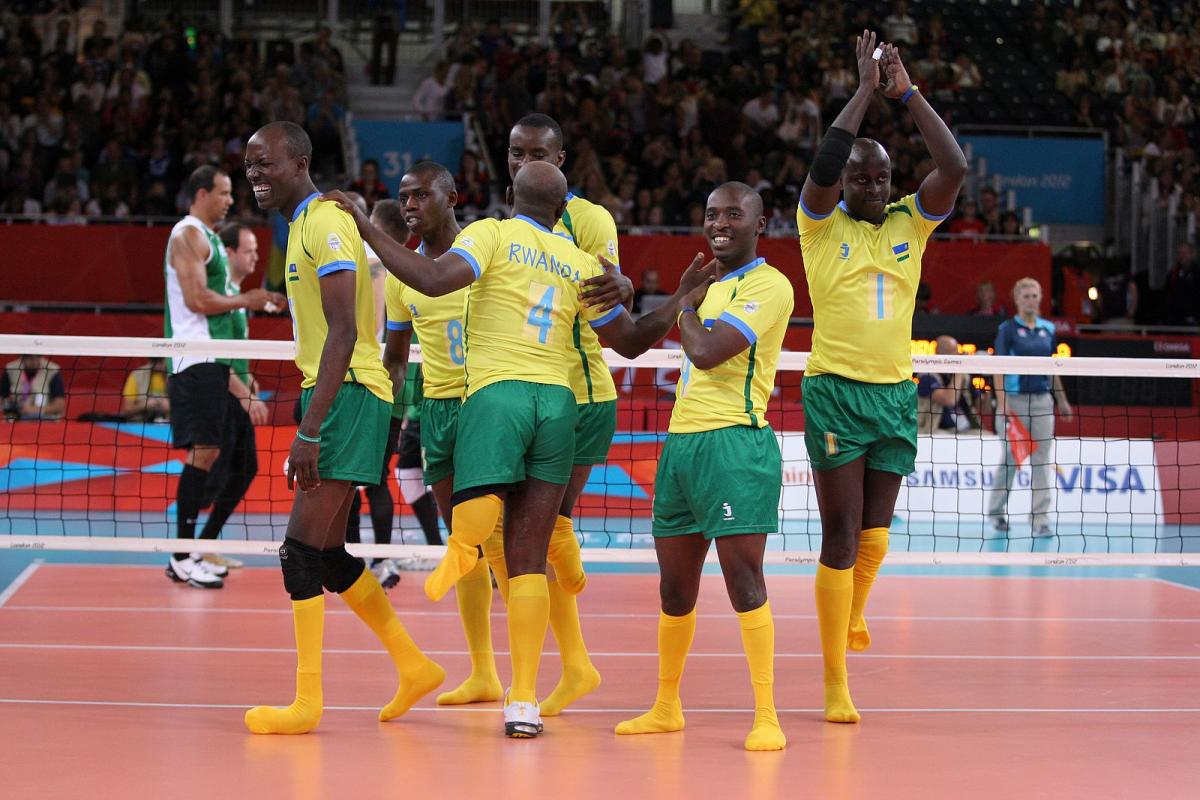 ⒸIPC
By IPC
"If the world knows Rwanda it is as a country of conflict. Maybe through us they will see that we have moved on to become a country that is united."
Out of the tragedy of civil war, 11 men showed the world sport's great power to cast aside differences and unite former enemies into one common cause.
Formed by two amputees from opposite sides of the 1994 Rwandan genocide, the group became the first sub-Saharan African volleyball team to qualify for the Paralympic Games.
Dominique Bizimana lost his lower left leg fighting for the rebels whilst former national soldier Jean Rukundo lost his left leg after stepping on a landmine. Two other players had lost limbs during the war.
But it was not just their countries past that defined their journey.
Facilities for practicing sport in Rwanda were also less developed, as well as the social perceptions of people with impairments. The team trained in austere facilities with a floor that Dutch coach Peter Karreman said European teams would refuse to play on, such was its hardness.
There was also the issue of funding. Just months before the Africa Sub Saharan Sitting Volleyball Championships, the qualification tournament for London, was due to take place, the British High Commissioner for Rwanda stepped in with funds to ensure the competition could go ahead.
In November 2011, the first triumph came for the band of men who had fought long and hard to bring their team to a competitive level. They cruised to victory over Uganda, the Democratic Republic of Congo, Burundi and Kenya to book their place at London 2012.
The story had only just begun. Publicity that surrounded their appearance at the Paralympics reached fever pitch by the time they arrived in Great Britain. Word quickly spread and the crowds gathered at the ExCel Centre to watch Rwanda play Iran, Brazil, China and Bosnia Herzegovina.
The fact that they did not win a single set during those matches did not matter, such was the compassion and support from those who had followed their story. The reaction to their one and only victory over Morocco by the gathered fans and media could have been the same had they won gold.
Speaking to British newspaper The Telegraph after the match, team captain Emile Vuningabo summarised what the appearance meant to his team and country.
"If the world knows Rwanda it is as a country of conflict. Maybe through us they will see that we have moved on to become a country that is united."