No. 23 Yanping adds world judo title to Paralympic success
Chinese athlete has a year to remember in 2014 winning world and Asian Para Games titles.
09 Dec 2014
Imagen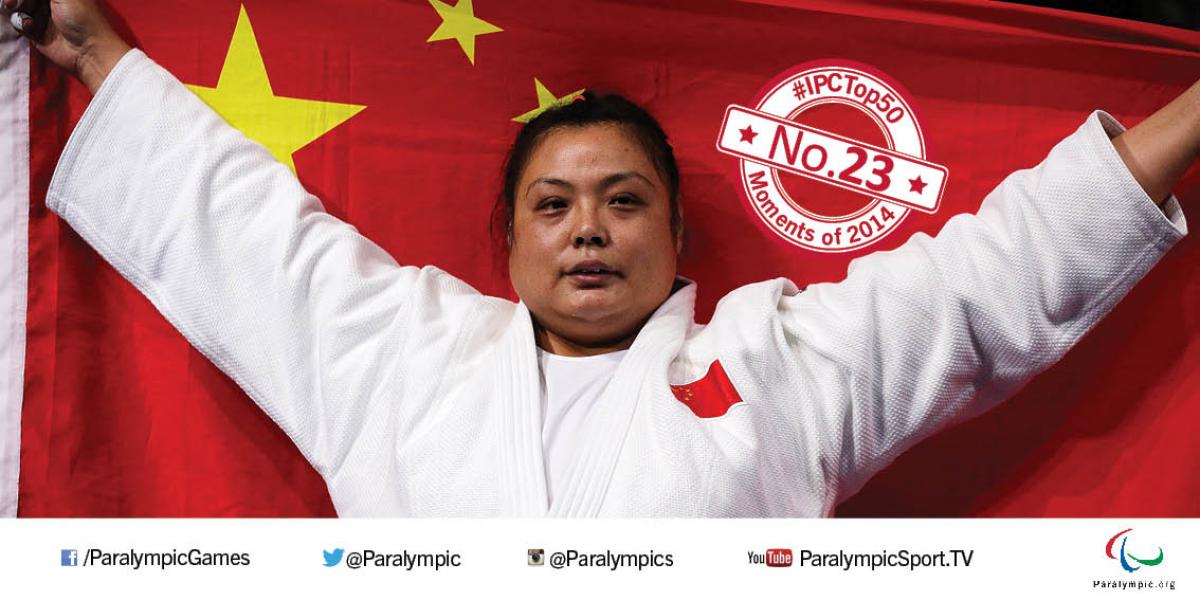 ⒸGetty Images
By Nico Goda | for the IPC
"All I needed to do was convert the pressure and expectations into motivation, rather than allowing those negativities to affect my training or competition."
At August's IBSA Judo World Championships, China's Yuan Yanping made a little bit of history for herself by becoming the only London 2012 Paralympic champion to win a world title. As a result she has made it to No. 23 in the IPC Top 50 Moments of 2014.
Heading into the World Championships in Colorado, USA, Yanping, the two-time Paralympic champion was arguably the women to beat in the +70kg class.
The World Championships brought new rules however, which in-turn resulted in new opponents and an even stronger level of competition.
"There were more new faces appearing across all categories of competition, and their performances were at a new level too," Yanping stressed. "This made the whole event more enjoyable to take part in and gave an even fiercer competing level."
In the lead-up to the World Championships, the first qualifying event for Rio 2016, Yanping mentally prepared herself for a tough competition. Through her training she started to believe she would win the world title.
"I always believed that good results couldn't be achieved without efficient trainings. This is absolutely fundamental," she said. "I was getting stronger and stronger, I even gradually was able to defeat my male sparring [partner]. At that point I realised I stood a chance to become world champion."
With the pressure of going into the event as two-time Paralympic champion, Yanping used it to fuel her passion to succeed on the mat.
"As long as there is competition involved, there is a certain level of pressure and expectation coming from either yourself or people surrounding you as an athlete.
"All I needed to do was convert the pressure and expectations into motivation, rather than allowing those negativities to affect my training or competition."
With a world title under her belt, Yanping started to prepare for October's Asian Para Games in Incheon, South Korea.
Once again, Yanping won gold.
"I was looking forward to taking part," Yanping said. "I had sufficient preparation on both technique and [the] physical front."
"I did not focus on thinking of the result prior to the competition, but conducting normal training, making sure I was remaining at the best competing status."
Yanping focused on her skills and followed her coach's advice to prepare for the different levels of competition.
"My coach has always trained me based on my style and characteristic skill, asking me to focus on myself as central so that I can be in the controlling position when facing my competitor."
With two Paralympic golds, a world title and now an Asian Para Games crown to her name, Yanping is hoping her success and role model status can inspire her teammates.
"All my teammates are very much outstanding with their technique, as well as strategy. They already possess the potential to become the world champions of tomorrow," Yanping said. "All I need to do is support and encourage them; to convince them to believe in themselves, that they are the best; guide them to focus on, but not be afraid of, competition; to respect their competitors and not be frightened of them."
Rio 2016 may still be more than 19 months away, but for now Yanping is the woman to watch as the Games continue to draw closer.