No. 33: Korean sledge hockey win surprise silver at Worlds
Nobody expected Korea to make the podium at last year's Ice Sledge Hockey A Pool World Championships, so their surprise silver is the No. 33 moment of 2012.
29 Nov 2012
Imagen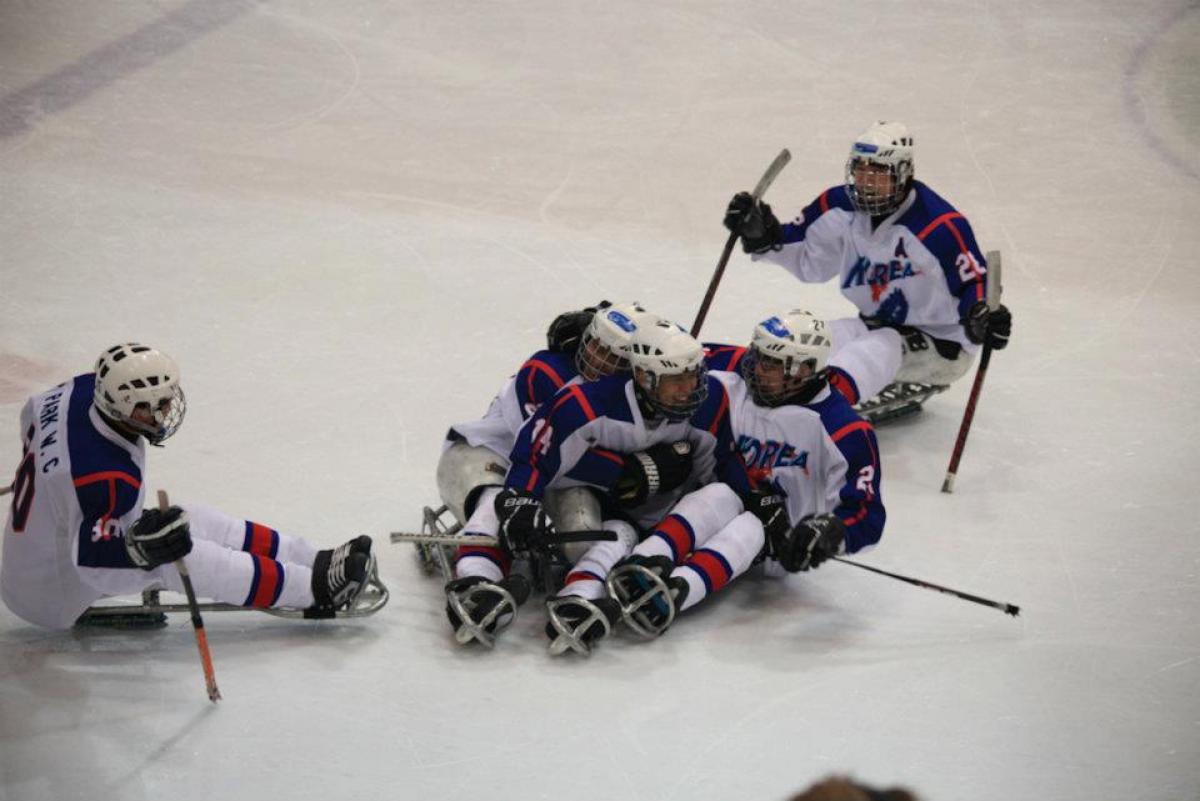 ⒸAnita Hector
By IPC
"We had all those training sessions back in Korea to build a strong team, and so we are like brothers and a family. That's a big reason why we've come so far here in Hamar."
Just when everyone thought USA, Canada and Norway would take the top three spots at April's IPC Ice Sledge Hockey A Pool World Championships, they were dealt a surprise.
Enter, Korea – a team that previously had never won a medal at the World Championships or Paralympic Games.
In Korea's first World Championships appearance in 2009 in Ostrava, Czech Republic, they finished in seventh place. They then did one better at the Vancouver 2010 Paralympic Winter Games, coming sixth ahead of Italy and Sweden.
There is no doubt about it, Korea were the underdogs.
But on the opening day of the tournament, they upset host nation Norway in Hamar, 4-1, immediately erasing any predictions fans had about the tournament.
Team captain Jong Kyung Lee said the moment he scored the first goal against Norway was the best of the Championships for him, and that from then on the team knew they had the potential to go far in the tournament.
"Everyone around me was surprised and congratulated me," Lee said. "It was the best moment in my life and I am still proud that I am an ice sledge hockey player. We all as the Korean ice sledge hockey team united as one and we had the best performance for ourselves."
Korea continued their winning ways throughout the week, losing only to Canada in the preliminary round before pulling another stunner against the Czech Republic in the semi-finals to advance to the gold-medal game.
Following Korea's 2-0 win against the Czech Republic, Lee took a couple of minutes to just sit on the ice, smile and take it all in.
"I feel so happy," he said. "We had all those training sessions back in Korea to build a strong team, and so we are like brothers and a family. That's a big reason why we've come so far here in Hamar."
Despite a 5-1 loss to USA in the Championship game, last season's squad took Korea's ice sledge hockey programme to new heights.
"All us Korean players got confident through the games," Seung-Hwan Jung said. "Now, we know how it goes and what we have to do. Korean ice sledge hockey will now be stronger with the confidence."
Lee, the team's starting right wing, had three goals and three assists in Hamar, tying him for second on the scoring leaders table at the Championships behind USA's Taylor Lipsett. Jung was also one of the team's top assets, finding the net three times during the week and assisting twice.
Man Gyun Yu has 50 saves in goal at the event and nearly an 88 per cent save percentage.
Korea's second-year head coach, Gea Jun Park, stressed the most important thing at the Championships was for his players to trust each other on the ice, as well as their coaching staff.
Now, with Goyang City hosting the 2013 A Pool World Championships in April and Pyeongchang hosting the 2018 Paralympic Winter Games, Korea are doing everything they can to assemble an elite team on the ice before then and surprise the world once again.
"It is the first time for Korea to host world championship," Jung said. "Through those nice games in Norway, I hope they develop Korea's ice sledge hockey system and help recruit more new and young players."
Editor's Note: For the final 50 days of the year, the IPC will count down the year's top moments in Paralympic sport, culminating with the year's best moment on 31 December.
The 50 moments were selected by nominations from National Paralympic Committees and International Federations and are based on sport performance, emotional moments, media attraction and athletes' personal stories.
The IPC would also like to call on the public to submit their own nominations for what they believe was the top Paralympic moment of 2012. They can do so by emailing ipc.media@paralympic.org, or by leaving a comment on www.Facebook.com/ParalympicGames or sending a tweet to @Paralympic.
Related Images