No. 34: Pushing in the face of adversity
Sometimes it takes more than a winner to inspire and excite fans. That was certainly the case for Haitian earthquake survivor Leon Gaysli when he crossed the line last at Brands Hatch. The emotional moment is the No. 34 of 2012.
28 Nov 2012
Imagen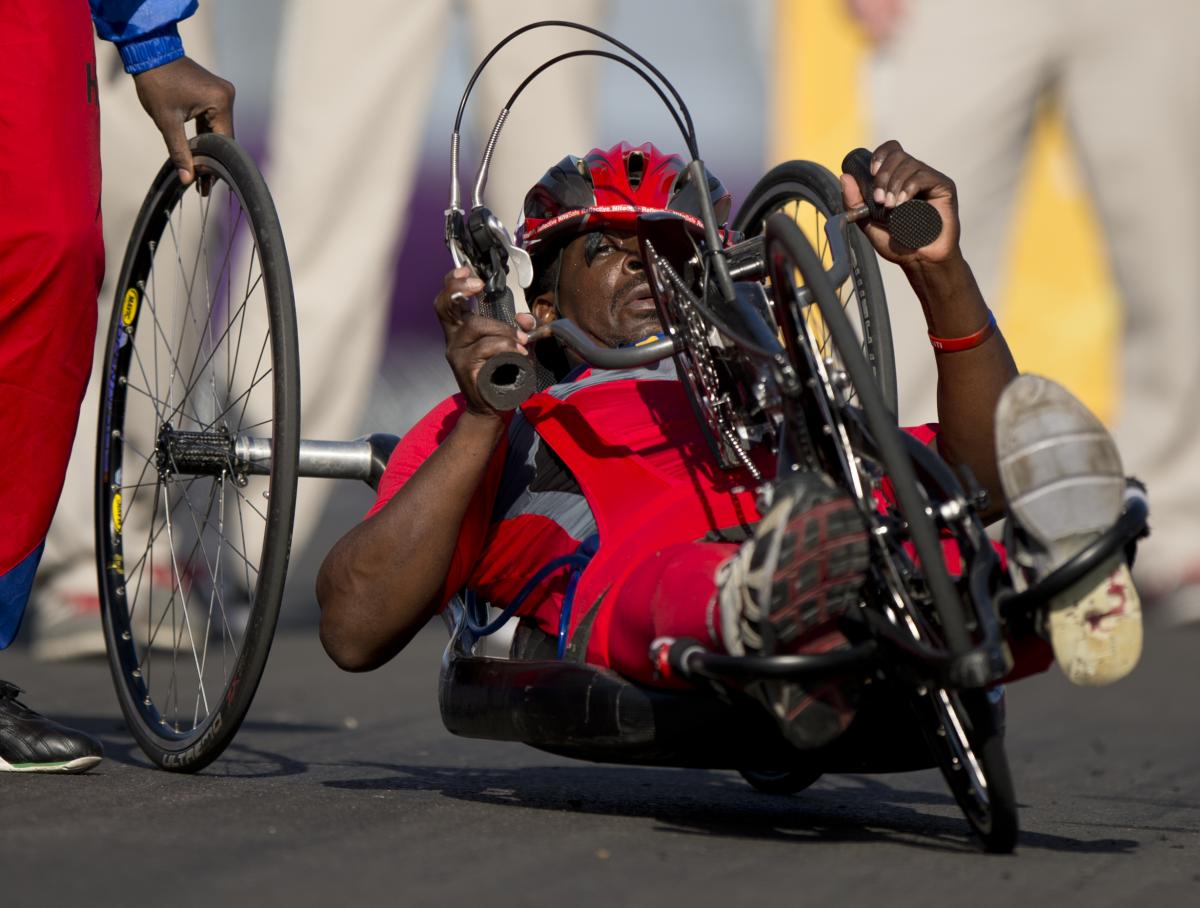 ⒸGraham Hughes
By IPC
"I will be a big example for disabled people in my country. Disabled doesn't mean that you are useless."
Finishing 20 minutes after the gold-medallist and then having to drop out of the next race hardly seems like one of the greatest moments in Paralympic sport.
But everyone knows the British public loves an underdog.
So when spectators at Brands Hatch saw the sheer will and determination of Leon Gaysli, who sustained spinal-cord injuries during the 2010 Haiti earthquake, they gave him a rapturous reception at the finish line.
"I feel very happy because I noticed (the British public) take me into their hearts ... I feel like I am in a family," Gaysli said in London.
"To hear the crowd cheering me on, I was so happy."
Gaysli, whose wife and eight children tragically died in the Haiti earthquake, finished 10th in the time trial H3 in 45:03.66. He rolled over the line more than 16 minutes after his nearest competitor in a race won by Poland's Rafal Wilk in 25:24.17.
The 45-year-old was granted a late entry to the Games by special invitation. He was part of a team of three athletes from Haiti supported by Haiti Dream, an international campaign started in the UK to raise support for Haitian athletes seeking to participate in the London 2012 Paralympic Games.
The organisation creates sporting opportunities for people with a disability and fights the stigma against them.
"I thank everybody all over the world who helped me," said Gaysli. "I didn't think it would come true, but by being here I have realised something very, very important.
"It's very hard for people with disabilities in Haiti, but I think I have showed they can do a lot of things.
"This is one of the greatest examples that we can show to them, to inspire them to go further."
Two days later in London, the Gaysli had to pull out of the road race after being lapped by the other riders, but he still hoped he could be a driving force in Haiti to change attitudes about people with a disability.
"I haven't been training for long," he said. "I will be a big example for disabled people in my country. Disabled doesn't mean that you are useless."
After returning to Haiti, the country celebrated its National Competition day of Handisport in October 2012 with more than 2,000 people attending. The annual event was funded this year by the IPC's Agitos Foundation, the IPC's development arm which was officially launched during the London 2012 Paralympic Games.
The Agitos Foundation is the leading global organisation developing sport activities for people with a disability as a tool for changing lives and contributing to an inclusive society for all.
Its vision is to lead the Paralympic Movement's aspiration of driving change towards an inclusive society.
When Gaysli was injured, spinal-cord injury (SCI) rehabilitation had never been done before in Haiti, and many thought people with such injuries had little or no chance of survival.
However, in response to the crisis, the Haiti Hospital Appeal opened the country's first SCI unit and received 25 patients – one of them Gaysli.
Despite limited resources, the patients overcame seemingly impossible emotional and physical odds, courageously carrying each other through the months that followed.
The Haiti Hospital Appeal in partnership with The Swiss Paraplegic Foundation soon introduced sport, as a rehabilitation tool for personal development.
In November 2011, just four weeks after receiving a hip replacement, Gaysli became the first Haitian handcyclist to compete on the international stage at the Guadalajara Parapan Games.
Gaysli found the activities a particularly powerful tool in helping him deal with his tragic loss and to show Haiti what people with disabilities can achieve.
Editor's Note: For the final 50 days of the year, the IPC will count down the year's top moments in Paralympic sport, culminating with the year's best moment on 31 December.
The 50 moments were selected by nominations from National Paralympic Committees and International Federations and are based on sport performance, emotional moments, media attraction and athletes' personal stories.
The IPC would also like to call on the public to submit their own nominations for what they believe was the top Paralympic moment of 2012. They can do so by emailing ipc.media@paralympic.org, or by leaving a comment on www.Facebook.com/ParalympicGames or sending a tweet to @Paralympic.
Related Images