No. 36: Bill Chaffey makes it four in a row
The Australian para-triathlete won his fourth straight world title in 2013 in a field that's getting stronger and deeper by the year.
26 Nov 2013
Imagen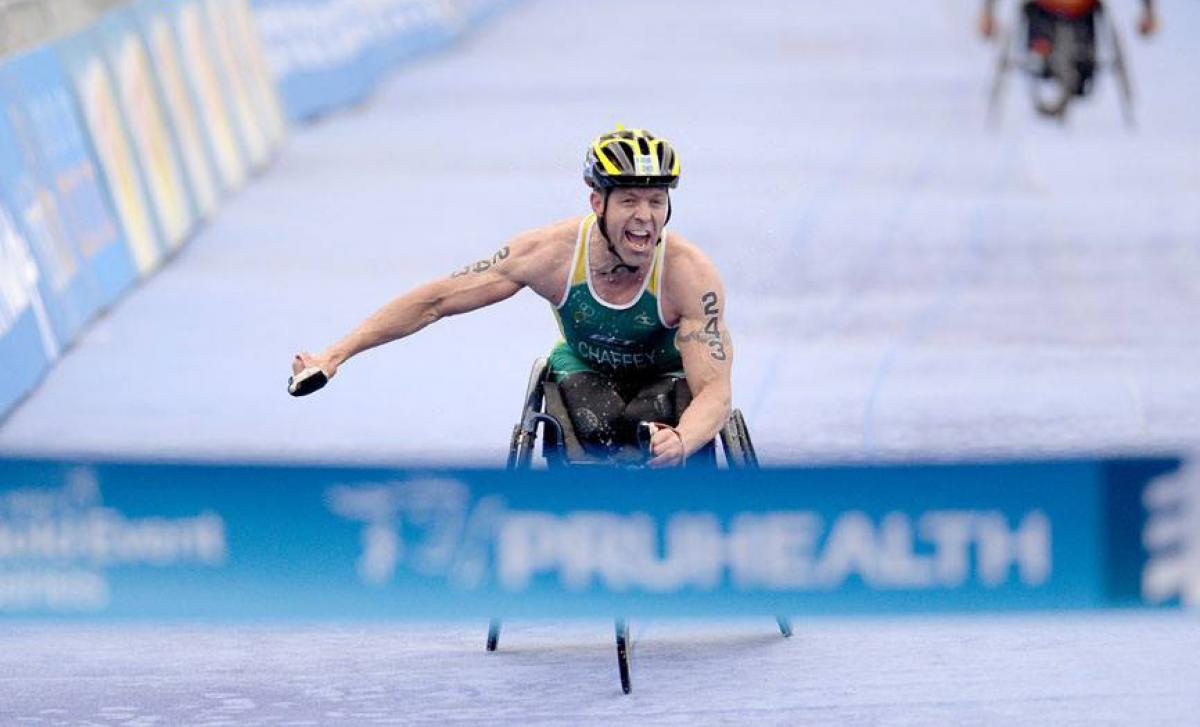 ⒸDelly Carr | ITU
By Mark Gorokhovski | For the IPC
"The excitement and everything when I came across the finish line, that certainly has not waned, it's really good."
Australia's Bill Chaffey was as shocked as anyone else once he crossed the finish line at the ITU Para-Triathlon World Championships in London in September.
The veteran para-triathlete claimed his fourth world title in the most thrilling, if not testing, of ways by coming from behind to pass up Dutchman Jetze Plat in the final 300m in the men's TRI-1 class.
Plat started strong in the race, particularly in the swimming portion — something Chaffey considers his best discipline — where he gave himself large lead ahead of the rest of the field.
"The swim is where I usually come out in front, and he shot off in the start," Chaffey said.
"I wasn't aware who it was, but I knew by the cap colour that it was someone from my category. I asked my handlers when I got to the water edge who it was and they told me that he had 1.45 seconds ahead of me.
"I was dumbfounded, I was very shocked."
By the end of the bike portion, Plat had gained an even larger lead by being three and a half-minutes ahead of Chaffey, who thought that catching the Dutchman was unobtainable.
During the run, the Australian gave it his all, and within the final 1.5km, Chaffey finally saw Plat and began pulling in closer.
"At the final corner with about 700-800m to go, I saw how much I actually pulled back and I knew I would catch him," Chaffey said. "I made sure I went past him quite fast and was able to hold him off."
Chaffey was concerned with various other competitors at the event that day, but had never expected he would have to come from behind Plat, who he had never heard of before the race.
"I was actually thinking about one other particular athlete who was probably going to be the person that I had to beat," Chaffey said. "As it turned out, he ended up finishing third. It was a close race."
Almost two months later, Chaffey is still jubilant about the victory, awed at what he labels his best career win thus far.
"I'm still pretty surprised that I was able to bring back from such a deficit," he said.
"In all the international racing I've done, I've never come out of the water in any position other than first and then have more time put into me on the bike leg of this race. I pretty much thought it was all over.
"The excitement and everything when I came across the finish line, that certainly has not waned, it's really good."
With an influx of younger competitors challenging Chaffey's skill, the victory in London was not only a confidence booster, but also a humble reminder to keep refining his skills.
"It really reinforces to me that with the success I have had, it's not something I can just rest on," Chaffey said.
"I have to really keep it up and I am certainly prepared to do that."
The Rio 2016 Paralympic Games, where para-triathlon will make its Paralympic debut, is now a priority for Chaffey, who hopes to add a Paralympic medal to his already stacked resume.