No. 41 Battle of the H5 category at the World Championships
The para-cycling H5 category has become one of the most fiercely contested in sport, with three athletes trading blows to become the best.
21 Nov 2014
Imagen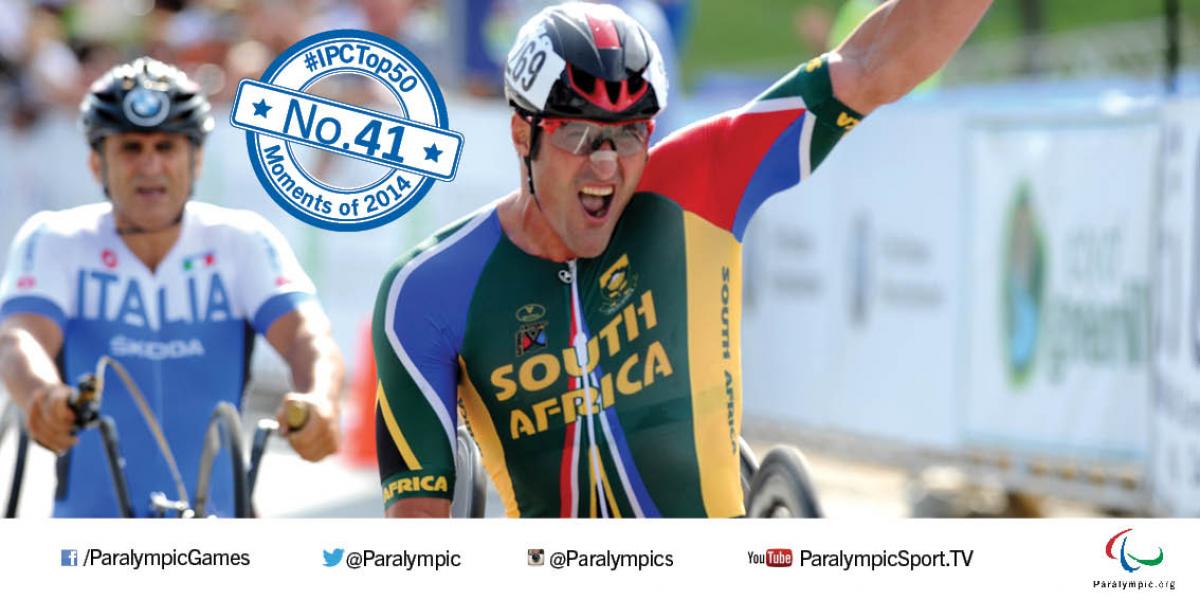 ⒸJean-Baptiste Benavent
By Sean Cartell | For the IPC
"If you cannot fear your opponent, you're not going to find out what it takes to train hard and get the best out of yourself."
In 2014, there was perhaps no more competitive classification in para-cycling than the men's H5 handcycling class, with the battle to become the best reaching its pinnacle at the 2014 UCI Para-Cycling Road World Championships, making it one of IPC's the Top 50 Moments of 2014.
The competition was fiercely contested between the likes of Italy's Alex Zanardi, South Africa's Ernst Van Dyk, and the Netherlands' Tim De Vries, with them all regularly taking a share of the spoils.
In fact, there was such fierce rivalry in that group that Zanardi recently compared it to a fight between the boxers Rocky Balboa and Ivan Drago in the movie Rocky IV.
"I wouldn't be here if it weren't for the pleasure of fighting such strong opposition," Zanardi said. "If you cannot fear your opponent, you're not going to find out what it takes to train hard and get the best out of yourself."
Healthy competition
The H5 classification not only has a solid field of talent, but it is also made up of strong personalities with intriguing storylines.
Previously a Formula One driver, Zanardi is a fan favourite, whilst Van Dyk is a legendary dual-sport figure in both handcycling and marathon racing, having captured a record nine Boston Marathon gold medals.
"I'm very privileged that the field I compete against is as elite as they come in sport," Van Dyk said. "It's good for the class and the sport to have depth and quality like this, where the outcome is never a given.
"In our daily training regimes, we are all thinking about each other," he added. "I have great respect for all these guys and I know that if I'm not physically and mentally there 100 per cent, I will not be able to challenge them for a podium spot."
At the World Championships in Greenville, South Carolina, USA, in September, Van Dyk edged out Zanardi in the H5 road race, while the Italian captured the H5 time trial crown, with De Vries wining bronze in both events.
But it is the times set in this high-octane category that make it so attractive, with, for example, just three seconds separating the top three in the road race in Greenville, and a photo finish needed to decide the eventual winner.
"I knew I had trained hard and well," Zanardi said of the World Championships. "This was sufficient to win the time trial, but Van Dyk happened to be stronger in the road race and he beat me by a small but sufficient margin."
Technology
Staying up-to-date on the latest handcycling technologies is a key ingredient that has translated to success for each of the athletes.
"Zanardi is on the edge of technology all the time," Van Dyk said. "This forces us to research and develop on a continuous basis as it's never certain what he will show up with next. We improve and optimise the equipment where we can to give us a competitive advantage."
Although it has mainly been Zanardi and Van Dyk sharing the titles on the international stage, they are wary of the threat De Vries poses.
"Tim De Vries has become a man to watch in all different circumstances," said Zanardi. "I wouldn't be surprised to see him becoming even stronger in the near future."
While the strong competition has only increased the drive of its participants in the men's H5 handcycling class, it has also made the sport one to which fans are drawn.
"For a series of reasons, it's hard for any one of us to pull away in the distance before the line and this tends to often produce very exciting sprints," Zanardi said. "Due to our position on the bike, we're very powerful when it's time to accelerate and we're capable of reaching speeds above the 60 km/hr mark. This gives spectators the understanding that handcycling is a pretty serious business."
Visit the IPC's Top 50 Moments of 2014 campaign page for more information.