No. 47: Hong Kong's 'Seven-gold princess'
The No. 47 moment in Paralympic sport of 2012 is when Hong Kong wheelchair fencer Yu Chui Yee was truly able to inspire others after winning her seventh Paralympic gold.
15 Nov 2012
Imagen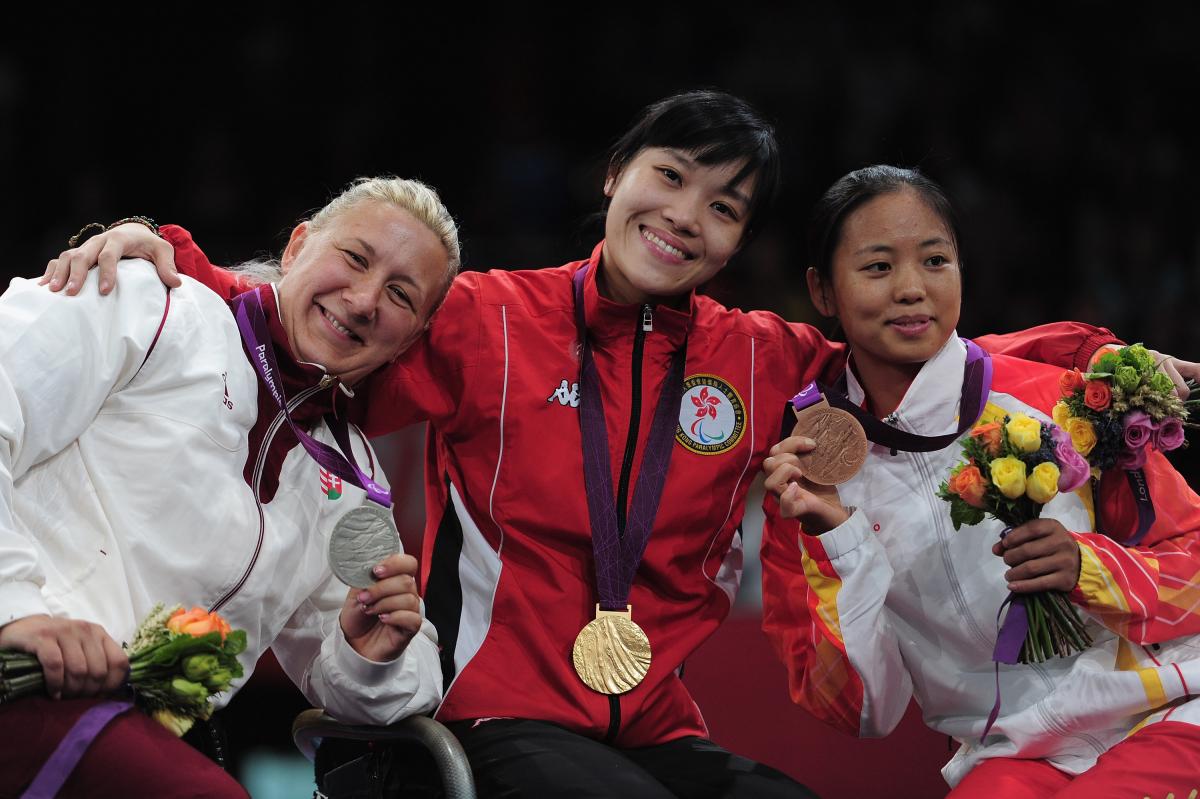 ⒸGetty Images
By IPC
"I think the most treasured thing for a Paralympian is the spirit of never giving up, no matter how many obstacles we are facing."
One evening during this summer's Paralympics, Hong Kong's star wheelchair fencer Yu Chui Yee was stopped by a small group of London 2012 Gamesmakers on her way to dinner with friends.
The volunteers asked them if they had any pins to trade.
Although they could not offer any pins, Yee happened to have one of the gold medals she won earlier that week with her, and so she jokingly pulled it out of her bag.
"I showed them the medal, and one of the ladies, she cried," Yee said. "She said 'thank you' because she was inspired."
Yee created several moments at London 2012 both in and out of competition that inspired others, and she returned home not only with two more golds and a bronze to add to her Paralympic collection, but also as Hong Kong's most-decorated Paralympian of all-time.
In London, she won golds in the women's individual epee and foil category A events and bronze in the team open.
The 28-year-old now has seven Paralympic golds, a silver and a bronze to her name, and she noted that all the newspapers in Hong Kong ran the headline, "Seven-gold princess," upon her return home.
"I felt very happy when I had quite a good performance in the London Paralympics," Yee said. "I was so delighted. Every time I got a medal, I just threw my flowers to my parents and they shared the joy with me."
Yee, who lost her left leg to bone cancer at 11, has always been about sharing her accomplishments with others.
"I think being a Paralympian and a medallist, of course it's the reward of our hard work, but if you can try to share your story with the public, it just delights them so much," she said.
"I think the most treasured thing for a Paralympian is the spirit of never giving up, no matter how many obstacles we are facing."
With that statement, Yee is truly speaking from experience. And a recent one, albeit.
Just one and a half years prior to London 2012, Yee changed her coach. The pair did not get along at first, so Yee did not think she would be prepared in time to compete on the Paralympic piste again and thought about opting out of the Games.
"It was like riding on a roller coaster," Yee said of her journey to London.
"I thought about giving it up because I already had two Paralympic experiences. However, my friends, my teammates, they just cheered me up and tried to help me in different aspects. I just continued my training and finally, I had a good result."
Prior to the Games, when Yee was asked by a few journalists what her medal targets were for London as the defending champion in the foil event, she would casually reply: "Oh, I think I will try my best."
But, after London and a swarm of interview requests for both herself and her family, she probably can't say that anymore.
"I'm kind of legendary now," Yee said. "I'm so happy.
"When I came back, I just had so many interviews. They interviewed my mom, my family and me, and just tried to use my story to cheer up the adolescents and the youngsters in Hong Kong."
Editor's Note: For the final 50 days of the 2012, the IPC will count down the year's top moments in Paralympic sport, culminating with the year's best moment on 31 December.
The 50 moments were selected by nominations from National Paralympic Committees and International Federations and are based on sport performance, emotional moments, media attraction and athletes' personal stories.
The IPC would also like to call on the public to submit their own nominations for what they believe was the top Paralympic moment of 2012. They can do so by emailing ipc.media@paralympic.org, or by leaving a comment on www.Facebook.com/ParalympicGames or sending a tweet to @Paralympic.
Related Images
Related Videos