Partyka Eager for Double Dose of London
Polish Table Tennis player Natalia Partyka will once again participate in both the Olympics and Paralympics this year in the British capital.
22 Apr 2012
Imagen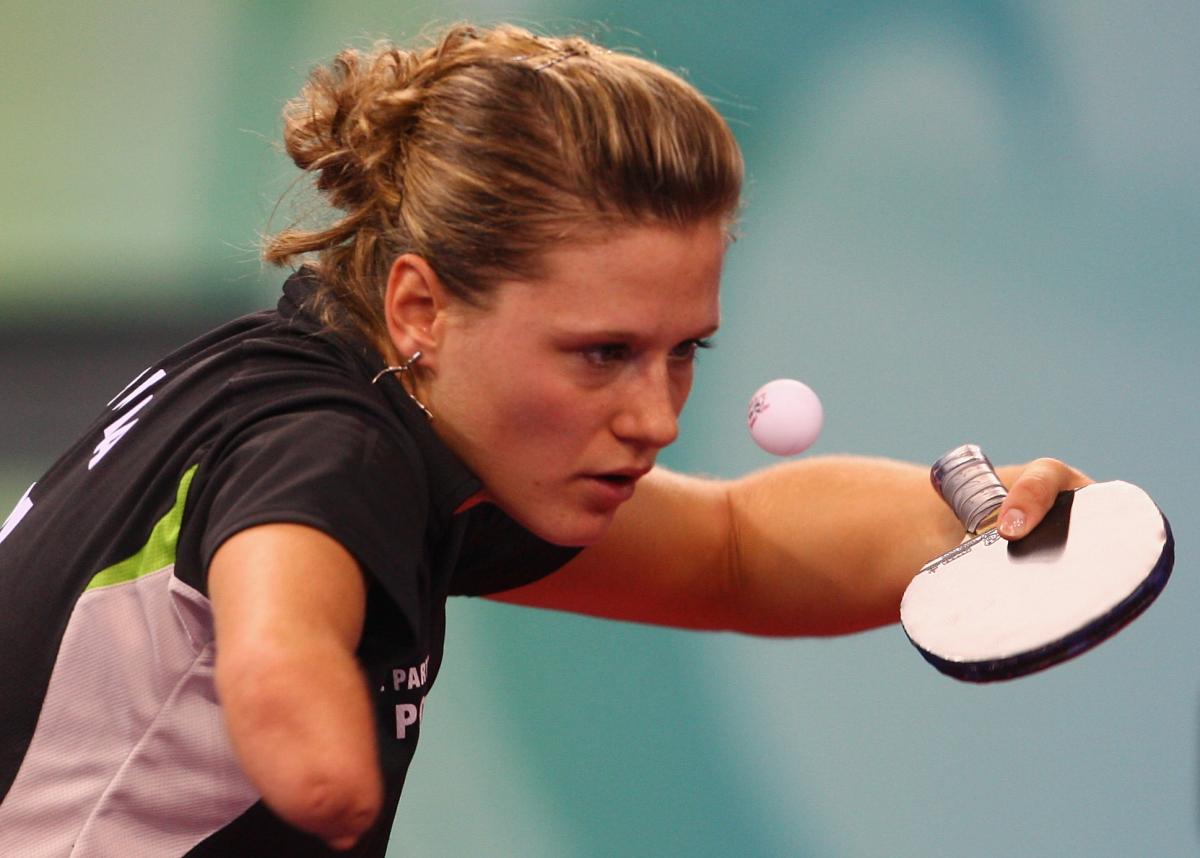 ⒸGetty Images
By IPC
"I am the best player, so everybody expects from me the gold medal and the pressure is so big."
Natalia Partyka is a bit overwhelmed this month.
But for all the right reasons.
The Polish Table Tennis player recently found out she will be competing at both the Olympics and Paralympics this summer in London – the second time she will partake in both events.
Partyka now has to prepare for twice as many matches, meaning double the number of opponents, energy and skill.
She will have less than three weeks between the two Games.
"I have no idea what I am going to do between because I didn't expect that I would be called twice for London," said Partyka, who was born without a right hand and forearm.
In Para-Table Tennis, Partyka won singles gold in Class 10 at the Athens 2004 and Beijing 2008 Paralympic Games, and she also won team silver in both editions.
And after winning the European Championships last October, Partyka, without a doubt, will be the heavy favourite at the London Paralympics.
"I am the best player, so everybody expects from me the gold medal and the pressure is so big," Partyka said.
She qualified for the Olympics just a week ago at the European Olympic Qualification Tournament in Luxembourg.
"In the Olympic Games, I have nothing to lose," Partyka said. "I am still young. I just play my game and just try my best.
"I can play without any stress."
The 23-year-old spends most of her days in the practice hall in her hometown of Gdansk, where she also performs drills to build up her muscles and endurance.
In addition, she sets aside time with her coach for video analysis of her future opponents.
"I know what my opponents' strengths are," Partyka said. "I know their strong phases and weak phases. I practice as if I am playing against a new player."
Outside the practice hall, Partyka is finishing up her studies at the University of Physical Education and Sport in Gdansk, and she refuses to practice once she leaves the recreation centre.
In fact, unlike most other players, she does not even have a table in her home to play on, despite her father Andre's persistent efforts to purchase one for her.
"I have enough Table Tennis at the practice hall, so I don't want to play anymore at home," she said.
Partyka will have a lot of eyes on her during both the Olympics and Paralympics, especially with spectators interested in seeing how she cradles the plastic ball in a nook at the edge of her forearm before she serves.
"Table Tennis is not easy for spectators," Partyka said. "But it's a beautiful game because anything can happen. You never know what someone is doing and things change so fast."
Partyka definitely believes that anything can happen, and she has known to come back in games where she was down big.
So with another Olympics and Paralympics on the horizon, what does the comeback queen say is the biggest achievement of her career?
"I hope that the biggest one will be in the future and that it will come soon," she said.
Partyka's response could be inferring a Paralympic three-peat.
Or Olympic gold.
Or both.
We'll just have to wait and see.
Related Images