Rodrigo Lopez: Same story a decade later
The Argentinian para-cyclist won two world titles this year doing what he does best – overcoming unexpected obstacles to start his races.
20 May 2014
Imagen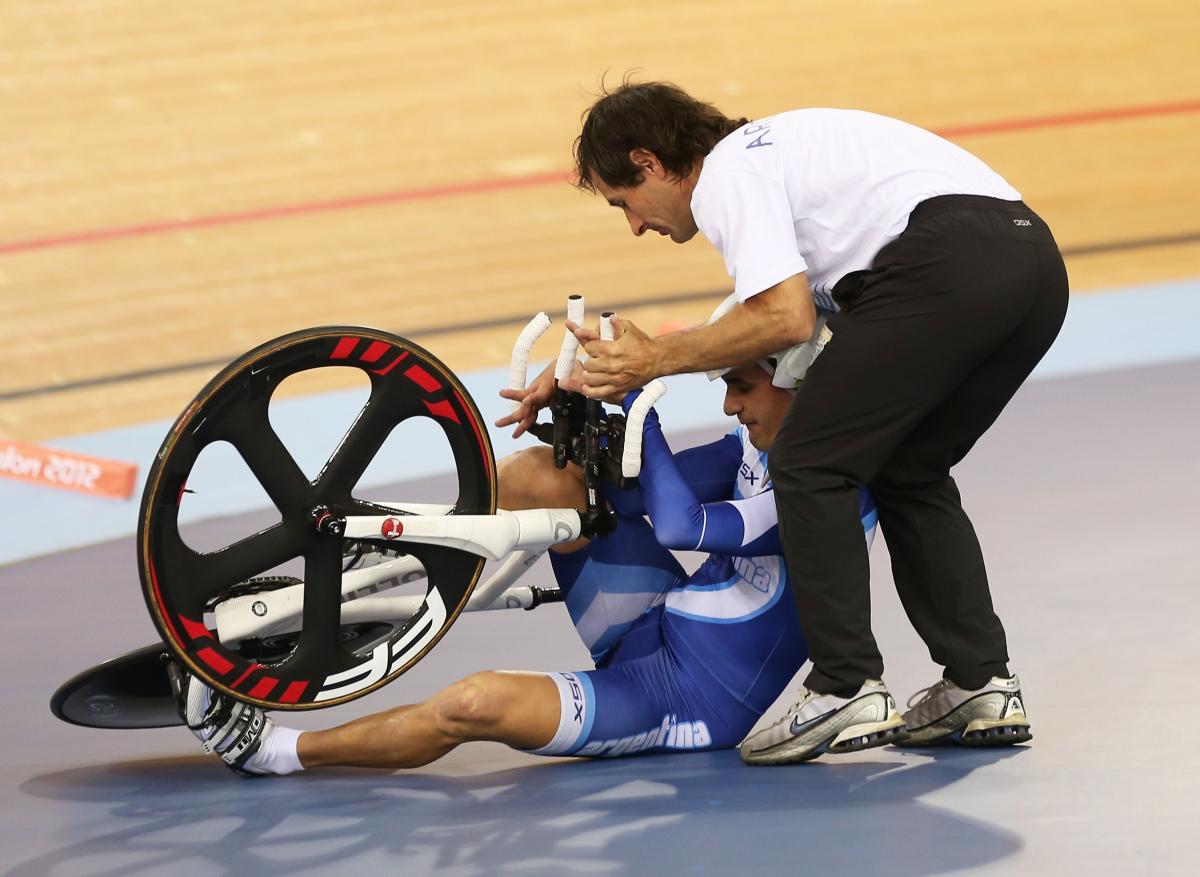 ⒸGetty Images
By Hernán Goldzycher | For the IPC
"On the second day of the competition, my front tube burst when I was going at 40km/h, I fell down and hit myself strongly. With a lot of pain, I could resume the race and managed to win."
While most sportsmen at the age of 35 find themselves in the downward curve of their careers, Argentina's two-time Paralympic bronze medallist Rodrigo Lopez is still springing upwards.
His top performances at April's UCI Para-Cycling Track World Championships in Aguascalientes, Mexico, supported this statement fully.
In the men's 3km pursuit C1, Lopez cycled to victory nearly two seconds ahead of second-place finisher Juan Jose Mendez of Spain. A day later, he secured the 1,000m time trial C1 world title, clocking in at 1:15.407 ahead of the Netherlands' Arnoud Nijhuis and Canada's Jaye Mille.
But winning his third career world title in the 1,000m time trial pretty much defined the term "uphill battle."
"On the second day of the competition, my front tube burst when I was going at 40km/h, I fell down and hit myself strongly," Lopez said. "With a lot of pain, I could resume the race and managed to win."
It was not the first time that his perseverance was tested at a major event. Exactly one decade ago at the Athens 2004 Paralympic Games, Lopez had to overcome a late start in the 35km pursuit race after a misunderstanding when the clock started ticking.
"I started the race without warming up and, after half a lap, I ran out of air," he said. "But God gave me enough strength, my lungs filled with air, my legs got stronger and I could win the bronze."
Two years ago, at the London 2012 Paralympics, Lopez crashed in the individual pursuit qualification round and needed assistance to recover, but he came back to claim bronze in the final.
For the rest of 2014, Lopez's main aim is to finish in the top 10 at July's UCI Para-Cycling Road World Cup in Segovia, Spain, as well as August's UCI Para-Cycling Road World Championships in Greenville, South Carolina in the USA.
Lopez has been coached by his father, Juan Carlos, and will continue to work alongside him on his road to the Rio 2016 Paralympic Games.
"At the beginning it was not easy," Juan Carlos admitted. "The arguments continued at home. But, as time went by, we came to an agreement. While we were training, I stopped being his dad. However, it was a barrier we both had to overcome. Now, we do not have problems anymore and we have been training together for a long time."
***
Rodrigo López: misma historia, una década más tarde
El para-ciclista argentino ganó este año dos títulos mundiales haciendo lo que mejor sabe – superar obstáculos inesperados para iniciar sus carreras.
Cuando muchos deportistas a los 35 años se encuentran en la curva descendente de su rendimiento, el para-ciclista argentino y dos veces medalla de bronce paralímpica Rodrigo López todavía sigue creciendo.
Lo avala plenamente su gran actuación en el Campeonato Mundial de Pista UCI, en Aguascalientes, México, del que participó en abril pasado.
En persecución 3km C1, el argentino se quedó con el triunfo luego de aventajar por casi dos segundos al español Juan José Méndez, quien llegó a la meta en la segunda posición. Al día siguiente, también se consagró campeón en 1km contrarreloj C1. Rodrigo marcó un tiempo de 1:15.407, delante del holandés Arnoud Nijhuis y del canadiense Jaye Milley, de Canadá, quienes completaron el podio.
De esta forma, repitió el título en 1 kilómetro que consiguiera en Montichiari, Italia (2011) y Los Ángeles, USA (2012).
Sin embargo, no fue sencilla esta victoria para López, quien la recordó de la siguiente manera: "Se me reventó el tubo delantero cuando corría a 40km/h, caí y me golpeé fuertemente. Dolorido, volví a largar y pude ganar".
No fue la primera vez que su perseverancia fue puesta a prueba en un gran evento sino que, hace exactamente una década, una confusión lo hizo llegar tarde a los 35km pelotón en los Juegos Paralímpicos Atenas 2004.
"Largué sin calentar y a la media vuelta me quedé sin aire. Pero Dios me dio fuerzas, mis pulmones se llenaron de aire, mis piernas se fortalecieron y pude ganar el bronce", contó.
Dos años atrás, en los Juegos Paralímpicos Londres 2012, López se accidentó en la ronda clasificatoria de la persecución individual, debiendo ser atendido por los médicos para recobrarse. No obstante, volvió a la pista y ganó la medalla de bronce.
Para el resto del 2014, el principal objetivo de Rodrigo es finalizar entre los 10 primeros de la Copa del Mundo UCI, en Segovia, España, en julio, y en el Campeonato Mundial de Ruta UCI, en Greenville, Carolina del Sur, EEUU, en agosto.
López es entrenado por su padre, Juan Carlos, con quien continuará trabajando rumbo a los Juegos Paralímpicos Río 2016.
"Al principio no fue fácil", admitió Juan Carlos. "Las discusiones seguían en la casa. Pero después llegamos a un acuerdo: cuando íbamos a entrenar, yo dejaba de ser el padre. Sin embargo, fue una barrera que tuvimos que sortear. Ahora ya no tenemos problemas, hace años que estamos juntos".
Related Images