USA's Rydberg Reflects on Wheelchair Tennis' Growth
America's veteran player aiming to qualify for what would be his third Paralympic Games.
24 Feb 2012
Imagen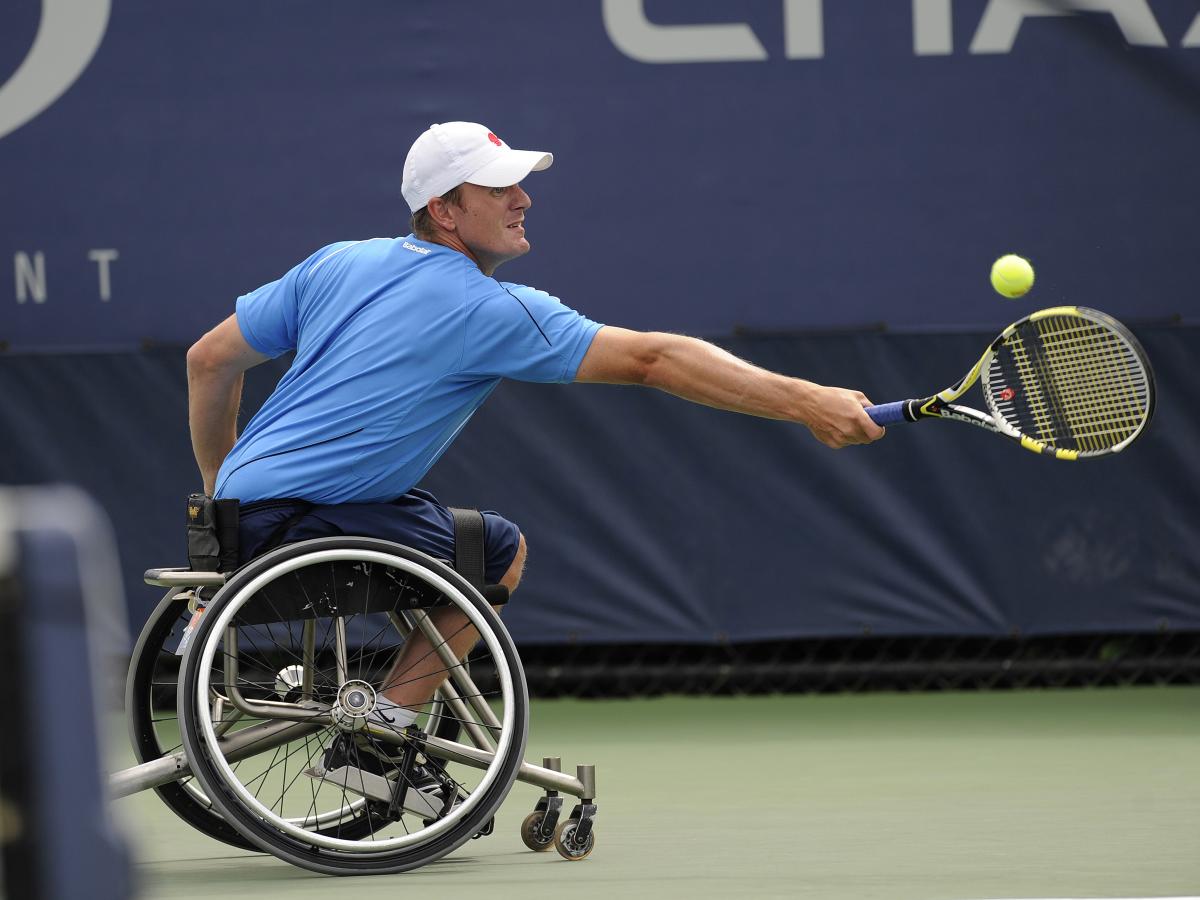 ⒸITF/Paul Zimmer
By IPC
"If you want to make it now, this is your sole focus. There's no more playing just six, seven, eight tournaments a year and expecting to qualify easily."
At 15, American Jon Rydberg could be found on the tennis court playing on half a crutch his dad created for him and with an old, elongated aluminum racket welded to the side of it.
Now, nearly 20 years later, Rydberg is a Wheelchair Tennis veteran aiming to represent Team USA at his third Paralympic Games.
His story illuminates just how much the sport of Wheelchair Tennis has transformed over the last two decades.
Rydberg most recently won doubles gold with Stephen Welch at the 2011 Parapan American Games in Guadalajara, Mexico, where he also competed in singles, losing to eventual champion, Argentina's Gustavo Fernandez, in the quarter-finals.
Currently No. 44 in the Wheelchair Tennis rankings, Rydberg has his work cut out for him, as only the top 46 singles players qualify for London 2012.
"If you want to make it now, this is your sole focus," Rydberg said. "There's no more playing just six, seven, eight tournaments a year and expecting to qualify easily."
The Minnesota native has played Wheelchair Tennis since 1992 – the year it was first instituted into the Paralympic Games.
He represented USA at Athens 2004 and Beijing 2008, won singles gold at the 2007 Parapans in Brazil and was ranked in the world's top 16 entering those events.
But the exponential growth of the sport, coupled with Rydberg's personal life, leaves him with an uphill battle this time around.
"It's a combination of me just getting older and having other priorities," Rydberg said.
"And at the same time, I think there are a lot more younger players now. It's so much more professional even than it was 10 years ago. They're getting funding, they're getting sponsorship deals and everything, and these kids are under 20 years old and they're playing six days a week.
"They've got their mental coaches, their on-court coaches, they're strength and conditioning coaches, and this is all they do," he added. "They play tennis. That's their profession."
With a 10-month old son at home, Rydberg is trying to train, play "Mr. Mom" and coach a local high school team simultaneously.
In 2012, Rydberg has already finished as the singles runner-up at the Southern California Open and USTA Desert Classic, and at the beginning of February he was named the Professional Tennis Registry's Wheelchair Professional of the Year.
He is able to work closely with USA's national coach Dan James, who is also based in Minnesota.
Rydberg insists Wheelchair Tennis has gone more mainstream in many corners of the world – most notably in the Netherlands and Japan – though he is still content playing in the same wheelchair he has used since Athens 2004.
His customized sporty titanium chair, perfect to his dimensions, is just one of his five wheelchairs, as he also owns an everyday chair, a "clean" one for inside the home, a basketball one and an old one in the garage.
Since becoming a father, Rydberg has trimmed his schedule from about 15 tournaments a year to just seven or eight.
"I'm trying to qualify with about half the amount of tournaments I would usually play in," Rydberg said.
"Everything's big right now. Even if it's the smallest tournament on the tour, it can help me qualify."
But with all the success' Rydberg's experienced, he will be happy no matter the result.
Wheelchair Tennis is still growing and Rydberg's story is a true testament to that.
He has nothing to be ashamed of.
"I want to make it, but I know if I don't the reasons for not (qualifying) are OK with me," Rydberg said.
Related Images