Whitehead confident of smashing 200 T42 record in final
British Paralympic champion Richard Whitehead is looking to beat Germany's Heinrich Popow and Australia's Scott Reardon to retain his world title.
23 Jul 2013
Imagen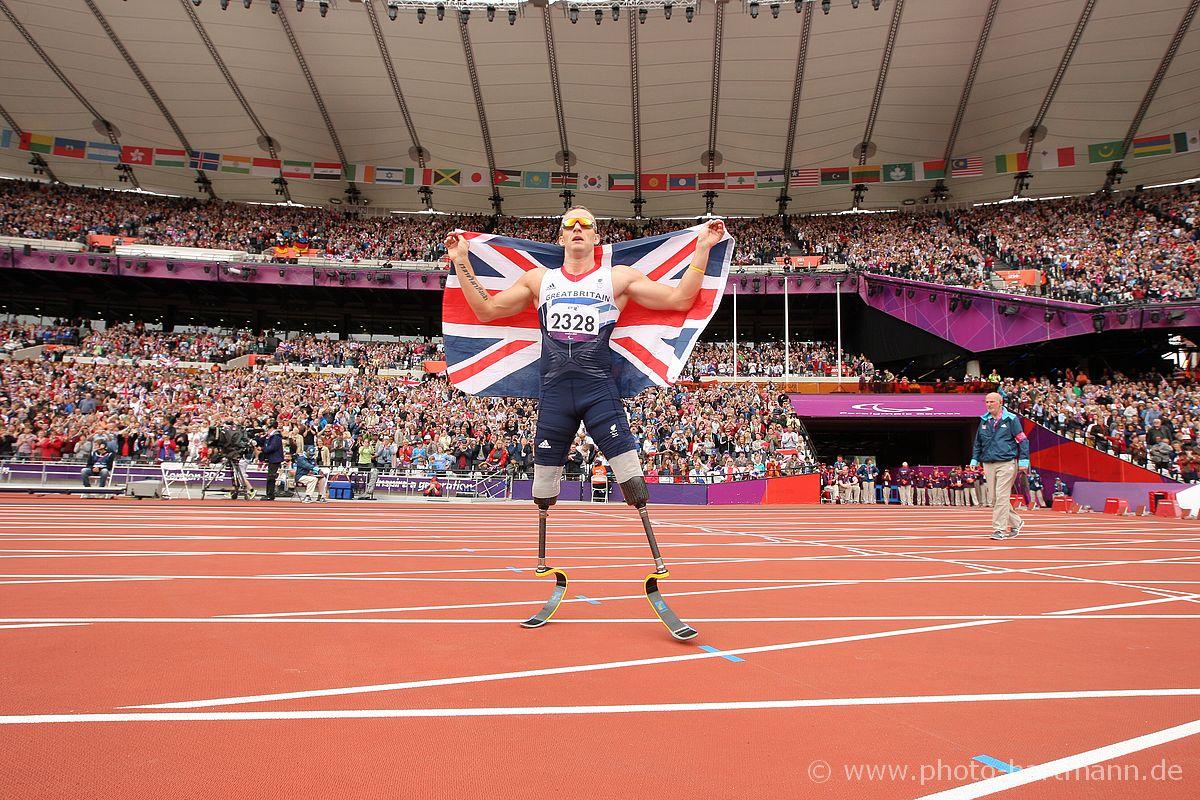 ⒸMarcus Hartmann
By IPC
"I actually didn't say I would break a world record but I'm in world record shape at the moment."
Great Britain's team captain Richard Whitehead sent out a clear message to his rivals that he means business at the 2013 IPC Athletics World Championships by coming within 0.11 of his own 200m T42 world record, a time he thinks he can beat in Tuesday's (22 July) final.
Paralympic and defending world champion Whitehead competed in the second semi-final on Monday (21 July) morning and could only watch on as Australian Scott Reardon, who finished fourth in London, broke the Championships record in the first race.
Reardon, 23, ran 25.56 seconds to lower the Championship record but was under no illusions about what would happen next.
"I'll almost guarantee that Richard will go faster," said Reardon whose strongest event is 100m. "It was actually quite a cruise. I accelerated from the start and ran 50m and kind of took it easy off the bend and then kind of relaxed coming home. It fills me with confidence ahead of tomorrow's final."
Reardon was correct in predicting his record would not last for long as in the next semi-final Whitehead ran 24.49 to reclaim his Championship record. So comfortable was his win that he strolled the final stages.
"Today was about putting in a performance," said 37-year-old Whitehead. "I just wanted to go out there and show the rest of the field what sort of shape I'm in. I'm obviously in great shape. Heinrich (Popow) is in good shape as well breaking the 100m world record.
"It's about me trying to defend this 200m title and showing the rest of the team going for medals today that it's about belief and achieve."
Whitehead is confident that he can run even faster on Tuesday.
"I actually didn't say I would break a world record but I'm in world record shape at the moment, so it will go either here or at the Anniversary Games. It was 22.49 today with easing down the last 30m. I practically walked over the line so it's about time I stepped up and showed (British coach) Paula Dunn the reasons why she selected me as team captain," he said.
The third fastest qualifier was Germany's Heinrich Popow, the London 2012 bronze medallist, who was delighted to get back to the track after a disappointing third place finish in Sunday's long jump competition.
"My coach told me to go out full speed over the first 100m and control the race," explained Popow. "I did this. Now I am happy to be in the final where I'll try and push the full 200m.
"It was really important to get back on the track today. I had the same feeling in London where I had a bad long jump competition and then a good 200m. It was the same today. I will do better in the final and definitely run faster."
"I'll try to run with Scott as long as possible and we'll see who gets first, second and third."
Although Whitehead was by far the quickest qualifier, Reardon was quick to point out the final is not a foregone conclusion.
"It's a World Championship final, don't count any of us out as anything can happen," said Reardon hinting at Whitehead's recent disqualification for a false start at the IPC Athletics Grand Prix Final.
"I've just got to get out there and run the perfect race. If I do that we'll see what happens."
The final is scheduled for Tuesday (22 July) at 15:54 and will be streamed live at www.paralympicsport.tv.