Agitos Foundation 4x100m media race to highlight Lyon
Paralympians and Olympians to come out of retirement for big race
25 Jul 2013
Imagen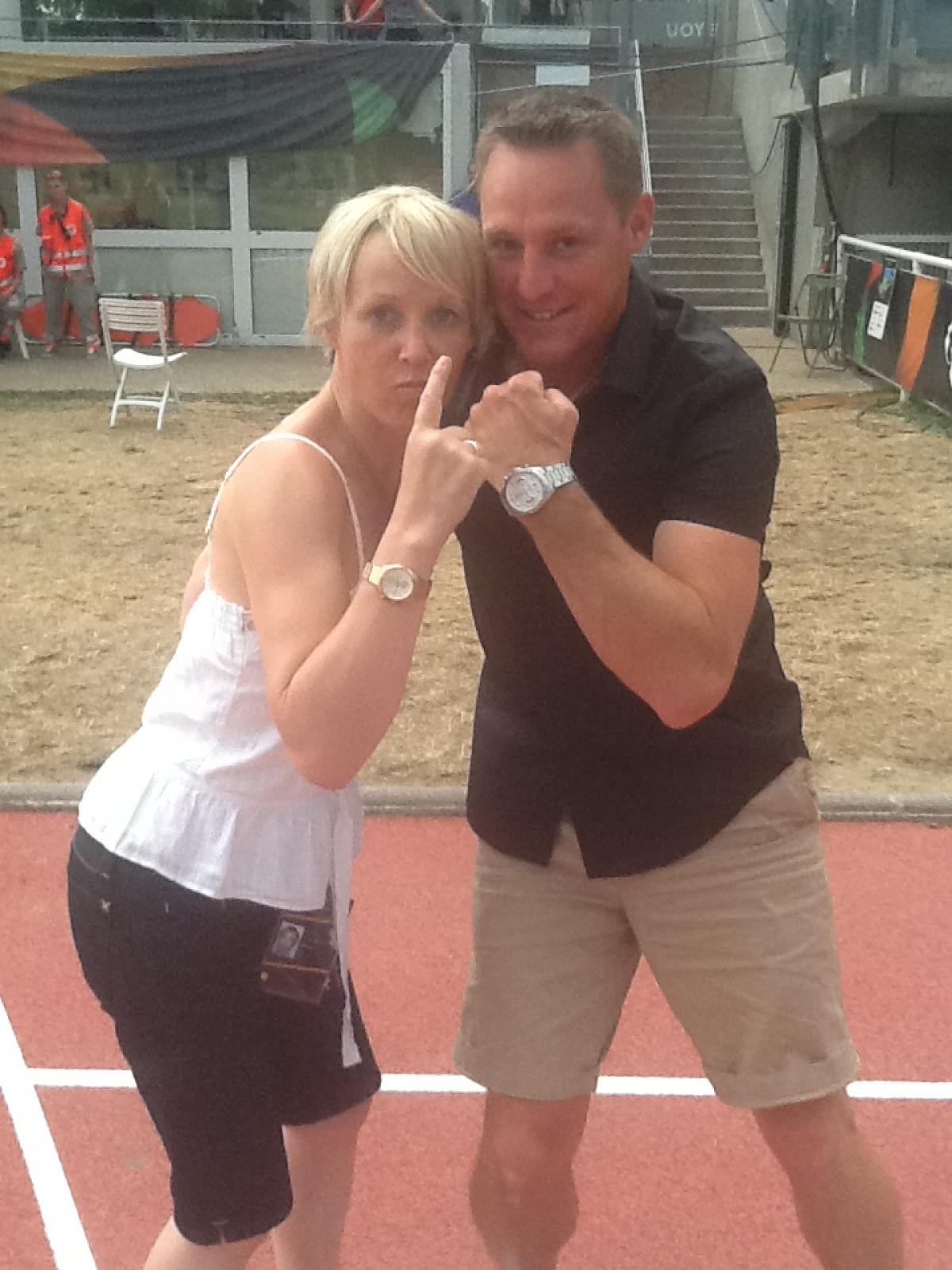 At 14:00 on Thursday (25 July), everything will stop at the IPC Athletics World Championships in Lyon, France for the Agitos Foundation 4x100m media race relay, an event that has almost as much rivalry as the men's 100m T44 featuring Jonnie Peacock and Richard Browne.
Five media teams – representing Channel 4, BBC Radio 5 Live, France, Brazil and photographers – will line up for the race organised to celebrate the French National Paralympic Committee donating six low cost Motivation racing wheelchairs purchased from the IPC's Agitos Foundation to French speaking African countries.
The relay, which will be started by IPC President Sir Philip Craven, will begin with an able bodied leg before the back straight sees runners blindfolded and made to run with a colleague guide. The third leg around the final bend will again be able-bodied whilst the finishing straight will be completed by athletes using low cost racing wheelchairs available from the Agitos Foundation and its partner Motivation.
BBC 5 Live's star studded lineup will include Great Britain's most decorated Paralympian Baroness Tanni Grey-Thompson, a winner of 16 Paralympic medals including 11 gold medals. She took to Twitter last night to warn Channel 4 to be on their game or face defeat. She will be joined by three-time Olympian Alison Curbishley - a former 400m specialist - who like Grey-Thompson has trash talked her rivals on Twitter and also appealed for some size six running spikes. Kate Grey who represented Great Britain at Swimming at the Beijing 2008 Paralympics will run the second leg and will be guided by producer Chessie Bent, whilst Rashid Speede will start the team off.
Representing Channel 4 will be Danny Crates, the 800m T46 gold medallist from the Athens Paralympics, who will run as guide in the visually impaired leg for two-time Olympian Katharine Merry who won 400m bronze at Sydney 2000. Former para-cyclist and wheelchair racer Arthur Williams will go in the wheelchair leg, whilst commentator Rob Walker and Alex Rice will compliment, or possibly even hinder, Channel 4's lineup.
Walker, a sub three hour marathon runner, who admits he lacks the fast muscle twitch fibres required to sprint, was reluctant to speak to Paralympic.org saying he would prefer his actions on the track to do the talking.
Despite the British media teams' star studded lineups, France and Brazil are feeling confident of success whilst the photographers appear quite happy to make-up the numbers.
Marcus Hartman for the photographers team "Easy Does It" said: "After Googling our opponents last night and realising the talent they have we are clearly up against it. I think we may have made a big mistake. We'll give it a go and at least it gets us out of the photography pen."
France's National Paralympic Committee has purchased seven racing wheelchairs through the Agitos Foundation and is donating six of them to Benin, Nigeria, Cameroun, Rwanda, Senegal and Central African Republic – all French-speaking African countries.
The low-cost racing wheelchairs were designed by Motivation UK, which has already put forth more than 4,000 low-cost products across 50 countries, including the racing chair, which they worked to develop together with the IPC prior to the London 2012 Paralympic Games.
For more information about the Agitos Foundation please visit www.agitosfoundation.org.