Akbasheva and Morozov feel excitement building
Defending combi standard class 2 world champions are looking forward to the Worlds in Rome, Italy, which begin Friday (6 November).
03 Nov 2015
Imagen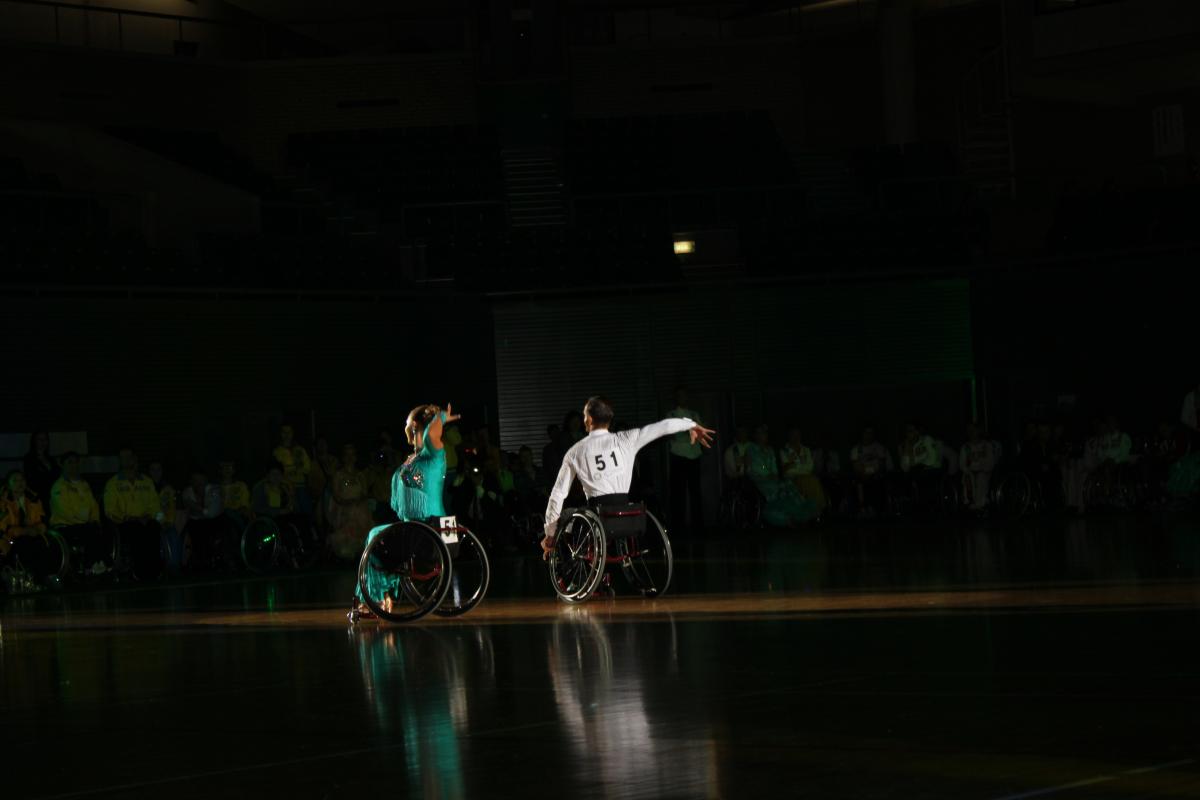 ⒸIPC
By Marina Dmukhovskaya | For the IPC
As the countdown continues to the 2015 IPC Wheelchair Dance Sport World Championships in Rome Italy, from 6-8 November, the anticipation is building for Russian defending combi standard class 2 champions Gulnaz Akbasheva and Vitalii Morozov.
The couple's confidence was shaken in September at the IPC Wheelchair Dance Sport World Cup in St. Petersburg, Russia. They lost in their specialist event to compatriots Tatiana Skvortsova and partner Stanislav Sheshukov.
Skvortsova and Sheshukov are their main rivals for both a spot on the Russian National Team and a place on an international podium, alongside a number of other couples. After their defeat, Akbasheva and Morozov have practiced for perfection in both their technique and expression.
"Since 2013 the sport has become more competitive," Morozov said. "Apart from our rivals from Russia, we know that a couple from South Korea, Belarus, and Italy are making a big progress and potentially could get to the podium. Having so many strong rivals motivates us to practice even more. Each day we train for two hours. As I work full-time as a technician, we meet in the evenings, after my work."
Morozov and Akbasheva, who have been dancing together for four years, will rely on their excellent expression, new original elements recognised by international judges, and some luck in Rome. In fact, it is merely the latter that brought them together in the first place.
"One day I came to practice and Vitalii's partner was late," Akbasheva recalled. "We started dancing together, and we looked well and felt comfortable with each other almost right away. Later on, his ex-partner tried to convince me that Vitalii and I were not a good match. I believe she was wrong."
The couple from Naberezhnye Chelny, who became locally famous after winning the world title in Tokyo, Japan in 2013, are currently working on five dances: waltz, tango, quickstep, foxtrot and Viennese waltz.
Despite the current harmony and mutual focus, during four years of working together there have been fights, arguments and disagreements.
"Sometimes we do argue," Akbasheva said. "Vitalii criticises the way I hold my arms when dancing, while I can point out something I don't like in his leading. Despite these arguments we have always been able to find a compromise.
"I personally think we perfected tango the most. I also feel like it also demonstrates my personality very well."
Morozov said: "I feel more confident about slow waltz and quickstep the most. Quickstep is very dynamic."
Morozov can also confidently describe the feeling he hopes to experience in Rome after the quickstep: "It is usually the last dance on the programme, and if you feel you were doing a good job with other dances, you realise you are one step away from the victory."
Around 150 dancers from 25 countries will compete in couples and singles events at the World Championships in the Bocciodromo.