Asher hopes to inspire others
Justine Asher, one of the first Paralympic hand-cyclists from South Africa, hopes her success inspires others to achieve their dreams.
27 Jun 2014
Imagen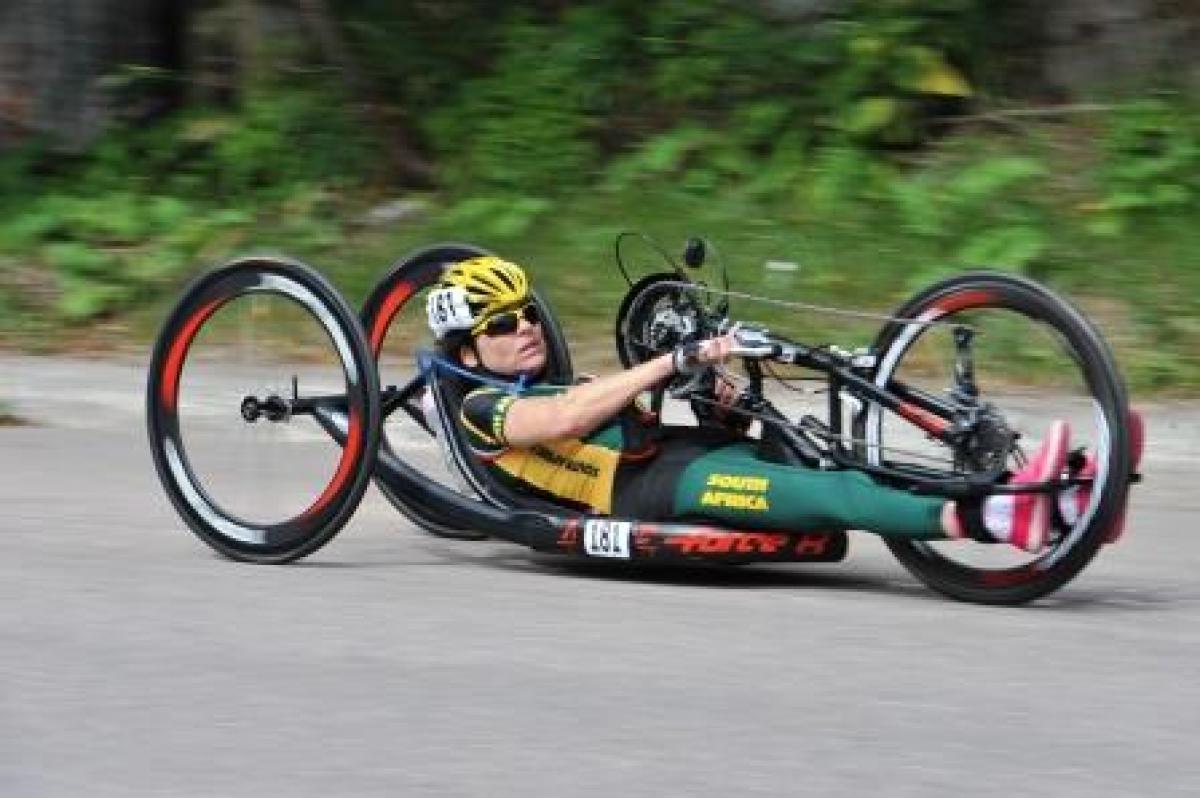 ⒸJean- Baptiste Benavent
By Sean Cartell | For the IPC
"What makes a real champion is determination and how fast you can bounce back after injury or a set-back,"
Justine Asher has been a Paralympic handcyclist for fewer than two years but has, in that short time, proven herself to be a trailblazer in both her sport and in her home country.
Asher is one of only a handful of female para-cyclists in South Africa and, after beginning participation in the sport in November of 2012, has established herself as one of the world's top competitors in the women's H2 class. Her journey – just in its infancy – has already been both challenging and liberating.
"Handcycling is both an expensive and time consuming sport, but the mental and physical rewards are beyond measure," Asher said.
"Never, in my 25 years of being a quadriplegic, have I experienced such challenge, freedom and reward as I have in handcycling. I hope to inspire other women to take up handcycling and by creating awareness and bring some exposure to the sport."
Her countryman and teammate Ernst Van Dyk, one of the most popular and successful figures in men's Paralympic hand-cycling, has been impressed with Asher's quick ascent to among the elite in her field.
"We don't have many female handcyclists in South Africa and Justine has come through very fast and has raised the interest of other females wanting to get into the sport," Van Dyk said. "She is very dedicated in her training and she is going through a fast learning curve as we head for World Championships this year."
Asher's 2014 season is off to a strong start, as she took home the gold in both the H2 time trial and road race events in the first UCI World Cup event in Castiglione, Italy, in May.
It was a feat made even more impressive given that Asher was less than a year removed from a crash in the first World Cup event of 2013 which saw her fracture bones in both feet.
"What makes a real champion is determination and how fast you can bounce back after injury or a set-back," Van Dyk said. "Just a couple of months after that, she raced at the World Championships in Canada and did really well. That alone speaks volumes."
Asher credits the support of her family for allowing her to make a speedy return and for making her even more determined to accomplish her goals.
"With the support of my husband and children, I was able to take time off to heal," she said.
"I learned that one needs to be patient and stay motivated, and that determination and maintaining a positive outlook can out-maneuver any obstacles or setbacks. The time off enabled me to reflect on my goals and to be grateful for my greatest support – my family - which made me even more determined to achieve."
As Asher gears up for the second round of the UCI Para-Cycling World Cup, which will be held in Cantimpalos, Segovia between 25-27 July, the passion that the Cape Town based athlete brings to her sport is as palpable as her successes.
While her first two years in para-cycling have proven to be greatly rewarding, her primary goal through sport is to inspire those who follow her to pursue their own passions to the fullest.
"I hope to inspire others to set goals and live out their dreams," Asher said. "No matter the odds, if you believe in yourself, you are capable of achieving them."