Australian Para athletes shine in Davenport
World champion Bill Chaffey highlights Para triathlon World Cup opener
19 Feb 2018
Imagen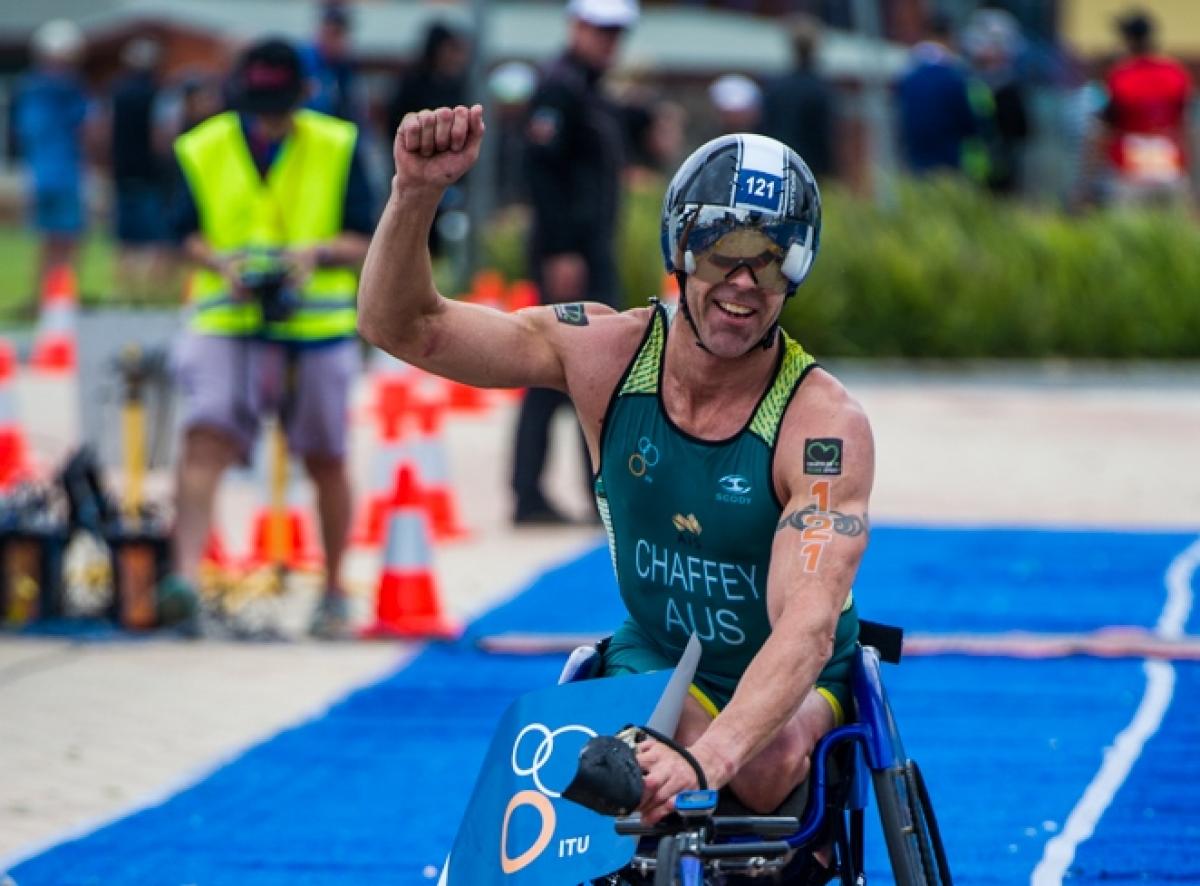 ⒸITU
By International Triathlon Union and IPC
"Today was a big mental feat, when your body just isn't there and able to give like it normally (does)"
The International triathlon Union (ITU) Para Triathlon World Cup (PTWC) got underway on 17 February in Davenport, Australia, with the first of seven stops on the 2018 circuit.
Five-time world champion Bill Chaffey will go into April's Commonwealth Games in the best shape of his life after mastering the windswept conditions in Devonport, Australia.
The 42-year-old Australian made a spectacular return to elite racing competing for the first time since last May to defeat compatriots Nic Beveridge, former wheelchair basketballer Scott Crowley and Para cyclist Alex Welsh; and Germany's Benjamin Lenatz in the men's PTWC.
"I'm absolutely over the moon with that performance – to come back to Devonport and chalk up a win in probably some of the toughest conditions I've raced in is really pleasing," said Chaffey.
"That wind was hard to handle even though we are close to the ground on our cycles – it's still tough going.
"But I couldn't be happier with my fitness – I'm in the best shape of my life and really looking forward to the Games in April."
It came on a day which also saw Australian reigning PTWC world champion Emily Tapp dig deeper than she has ever done before, to take the women's victory ahead of 29-year-old former Ironman triathlete Lauren Parker of Australia in only her second major event, Japanese legend Wakato Tsuchida and fellow Gold Coaster Sara Tait.
"Today was a big mental feat, when your body just isn't there and able to give like it normally (does). We had smooth transitions and we executed our race plans so we're happy," Tapp said.
Parker, who was an outstanding open water swimmer and Ironman triathlete before an horrific training accident last April in Newcastle left her a paraplegic, made another major step in a road she never thought she would have to tread.
"Today didn't go according to plan when I lost the band I put around my legs in the swim so it felt like I was swimming with a 10kg weight on the end of my legs but we got through it and I know I have to work on my transitions but that will come," said Parker.
Two-time world champion Sally Pilbeam kept her impressive record intact against fellow Australian World Championship medallist Kerryn Harvey in the women's PTS4. Meanwhile Jonathan Goerlach won the men's vision impaired event from fellow Australian Gerrard Gosens and Italy's Maurizio Romeo.
Another stand out performance came from Queensland's PTS5 athlete Josh Kassulke who was the first competitor across the line in another impressive performance he hopes will take him to Tokyo in 2020. He shared an all Aussie podium with Dale Grat (second) and Tony Scoleri (third).
Complete results from the 2018 Davenport ITU Para Triathlon World Cup can be found on the ITU's website.