Bill Chaffey engineers comeback for fourth paratriathlon title
Australia's Bill Chaffey won the closest race, but it was Great Britain that left the Paratriathlon World Championships atop the medal count.
16 Sep 2013
Imagen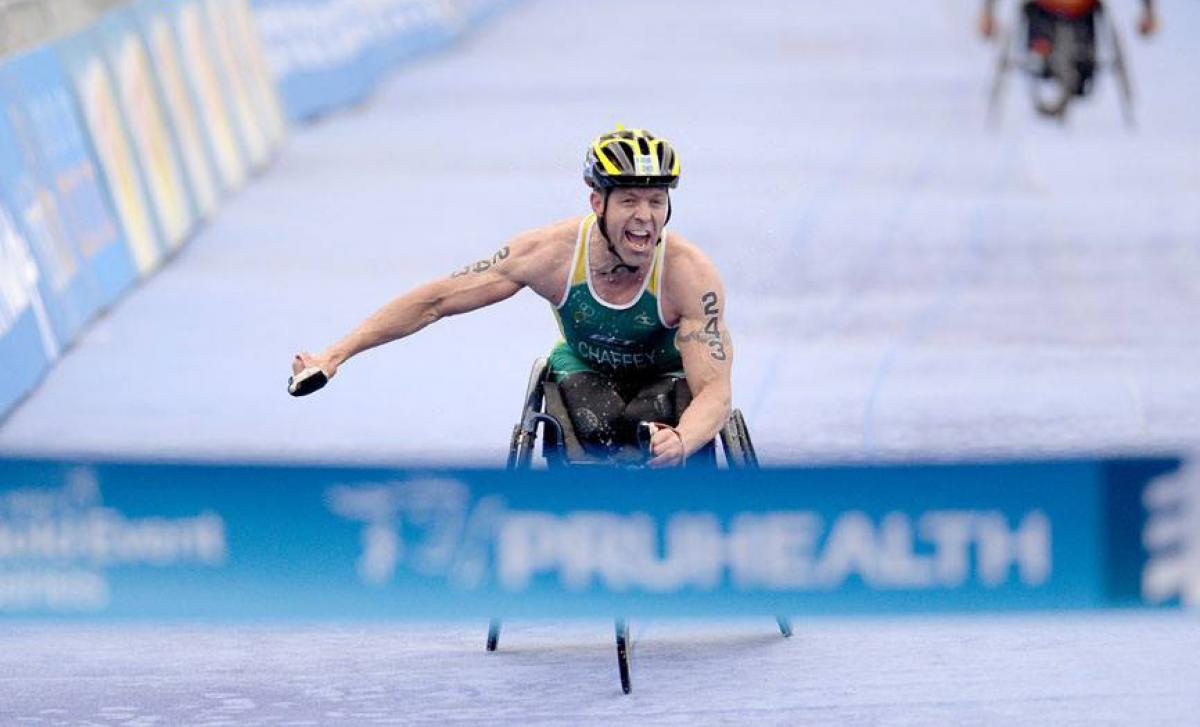 ⒸDelly Carr | ITU
By ITU
"This is my fourth World Championship, and it is the sweetest. It's the first time I've come from behind and so this is the happiest win I think I've ever had."
Great Britain again dominated the ITU Paratriathlon World Championships on Friday (13 September), scoring big in both the overall medal count with 15, as well as the gold medal tally at six on their home course in London.
While Great Britain's Iain Dawson arrived in London with aspirations of retaining his TRI-6b title, it was his teammate David Ellis who started the winning trend for the host country with the fastest time of the day in the paratriathlon races, clenching his first world title in the event.
The closest finish of the day was in the men's TRI-1, when Australia's Billy Chaffey engineered an incredible comeback in the final leg to beat the Netherlands' Jetze Plat for his fourth world title.
After Plat led all day, Chaffey passed him with 300m to go to win.
"I don't know how I did that, at the start of the swim I just saw him take off and thought 'who the hell is that,'" Chaffey said.
"I got out and was told he had a minute and a half on me out of the swim, and then in the bike I was getting time calls from coach and he was getting further and further and further in front, and he was well over two minutes ahead of me before I started the run. But I don't know. I've done a lot of work in this wheelchair over the last 12 month. It's obviously paid off."
"This is my fourth World Championship, and it is the sweetest. It's the first time I've come from behind and so this is the happiest win I think I've ever had."
Also one of paratriathlon's most successful athletes to date, Faye Mcclelland of Great Britain scored her fourth world title in the event, making her career record a perfect 10-0 in the TRI-4 division.
Great Britain's great podium success was owed in part by the British podium sweep Mcclelland led amongst the TRI-4 competitors.
A trio of athletes scored their third world titles in London. France's Stephane Bahier scored his hat trick in the men's TRI-2 race, while Canada's Jennifer Hopkins repeated her two previous titles in the TRI-3 division. The USA's Megan Fisher (USA) made a successful return to paratriathlon, carrying on her unblemished record by winning her third Grand Final title in the TRI-5 category.
Fisher broke from paratriathlon in 2010 to pursue paracycling where she won both gold and silver on the international stage.
"The race went by a lot faster than I thought it would, and I'm very grateful for that," Fisher said. "My swim was fantastic, I tried to keep everyone with me. Having just come from a Paracycling World Championships I haven't spent that much time in the water. I was just hoping to keep my closest competition in contact."
Great Britain's Melissa Reid added yet another world title to her already impressive resume in the women's TRI-6B, while Australia's Lindy Hou didn't fare quite as well in the division, the race held special significance to the Australian.
Hou was a competitive triathlete and a successful triathlon coach, but when her eyesight deteriorated she was forced to give up competitive cycling and coaching. She became a Paralympic gold medallist in track cycling in 2004, and competed in London with guide Maureen Cummings, who was an alternate for the Australian team at the very first ITU World Championships in Avignon, France, 24 years ago.
In his first World Championships, Ukraine's Vasyl Zakrevskyi earned his first paratriathlon title in the men's TRI-6A category and became the first paratriathlete from Ukraine to win a title.
Great Britain's Matt Emerson retained his world title in the men's TRI-5 division, making him one of the 15 athletes from to collect a medal.
After competing at the London 2012 Paralympic Games, the USA's Chris Hammer returned with hopes of his first paratriathlon world title, but Germany's Martin Schulz, one of the younger paratriatletes competing, was the one to garner the gold in the TRI-4 race.
After winning the Madrid Paratriathlon International Event and Spain's Paratriathlon National Championships, Spain's Diego Velazquez Rodriguez won his first world title in the sprint distance to add to the long distance triathlon world title he won in Vitoria-Gasteiz last year.
Great Britain's Jane Egan reclaimed her world title in the TRI-1 classification after losing it in Auckland, while the USA's Hailey Danisewicz took home the win in the TRI-2 event.
Full results from the World Championships are available here.