Bourseaux takes home win in Bensancon
The Frenchman clocked the fastest time at the World Para-Triathlon Event, winning the men's PT4 division.
09 Jun 2015
Imagen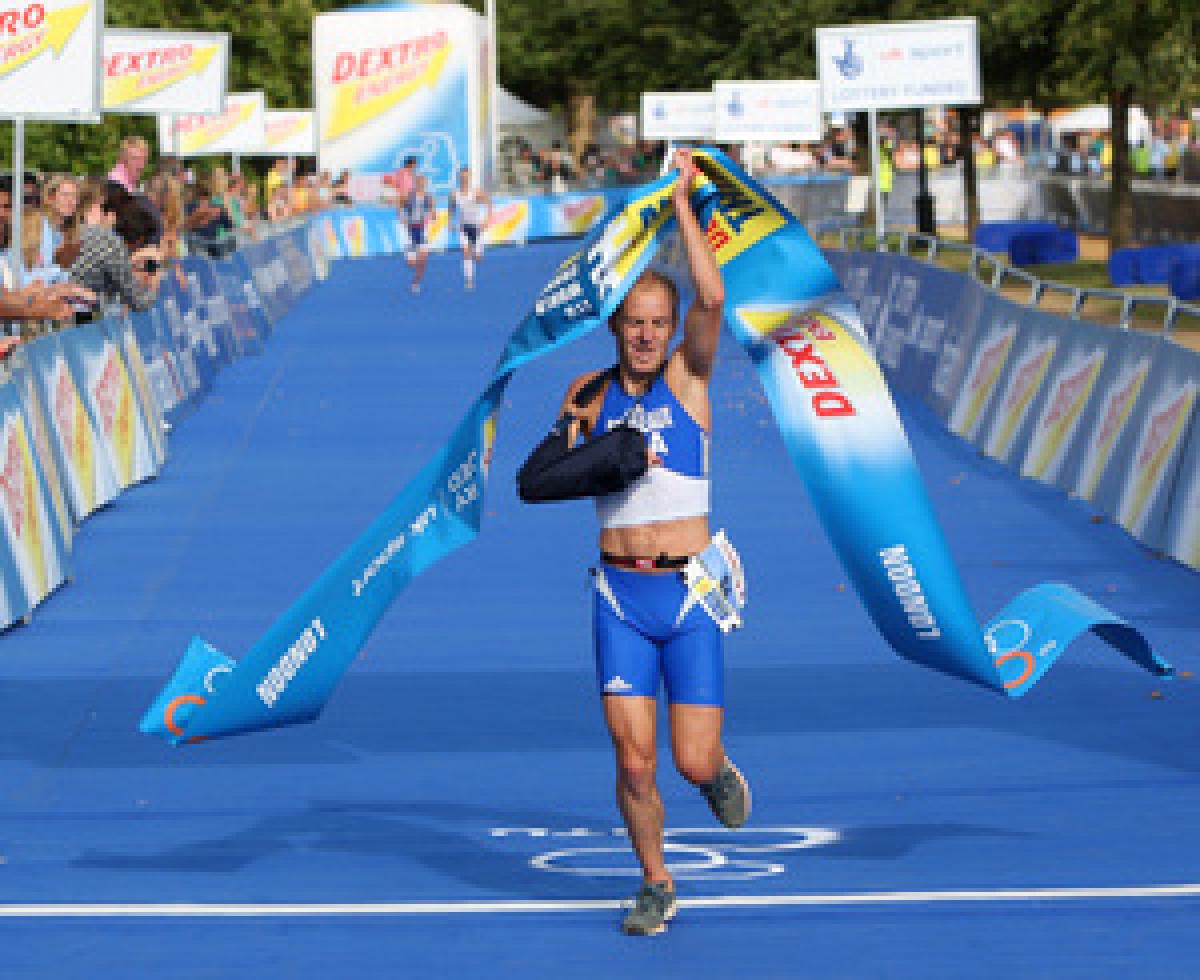 ⒸITU
By IPC
With his home crowd behind him, Yannick Bourseaux grabbed his second victory of the year on Sunday (7 June), winning the men's PT4 event at the Besancon International Triathlon Union (ITU) World Para-Triathlon Event in France.
Bourseaux, who was coming off a win in the French Para-Triathlon Championships on 31 May, clocked Sunday's fastest time, completing the course in 1:01.57. It was his second World Para-Triathlon (WPE) win of the year, adding to his victory in March at Buffalo City, South Africa, and most importantly, his campaign for the Rio 2016 Paralympics, where the sport will make its debut.
The men's PT4 division saw a one-two French finish, with Maurel Maxime finishing behind Bourseaux in 1:04.04. Hungary's Peter Boronkay followed up a minute later to take third.
After not finishing his race at the WPE event in Madrid, Spain, and following up with a runner-up finish London, Great Britain, the Netherlands' Geert Schipper bounced back with a victory in men's PT1 title (1:06.01).
Germany's Stefan Loesler (1:13.39) took the title in the men's PT2, beating France's Geoffrey Wersy by three minutes. Italy's Alessio Borgato cruised in the men's PT3 (1:08.52); and Ukraine's Vasyl Zakrevskyi (1:02.30) edged France's Arnaud Grandjean by a slim margin to win the men's PT5.
In the women's division, Elise Marc (1:29.42) added another gold medal for France by taking the PT2 event, her second WPE victory in 2015. USA's Allysa Seely and Sarah Reinertsen came in neck-in-neck, with Seely crossing the line a nano-second quicker in 1:34.27.
Great Britain' Lauren Steadman 1:11.48) followed up her WPE win at home in London last month with another victory in the women's PT4. Compatriot Faye McClelland (1:14.41) took second and Gwladys Lemoussu added to France's medal count with a third-place finish.
Great Britain's Alison Patrick (1:12.07) won the women's PT5 and Italy's Rita Cuccuru (1:27.05) finished the course in the women's PT1.
For complete results of the 2015 Besancon ITU World Para-Triathlon Event, visit the ITU's website.