Carolina Costa eyes European gold
Italian dreams of continental glory after eye disease diagnosis
25 Jan 2019
Imagen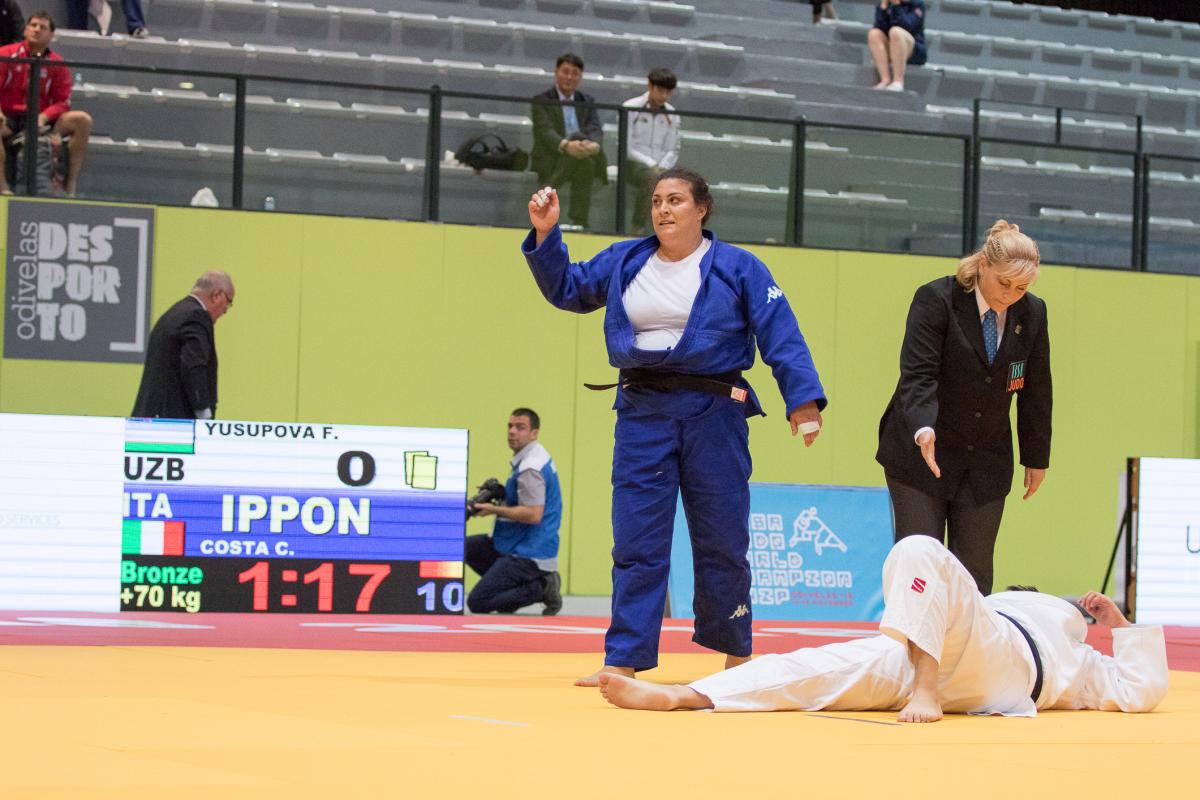 ⒸRafal Burza
By IBSA
"My goal is the gold medal. And to bring my mental and physical state to the top to reach the set goal."
Italian judoka Carolina Costa has European gold in her sights following her bronze medal win at the 2018 Judo World Championships, just two years after being diagnosed with a degenerative eye disease.
Costa, who has been practising judo since she was three years old, made her astonishing international debut at the Worlds in Odivelas, Portugal, last November.
The 24-year-old beat fellow first-timer Feruzakhon Yusupova of Uzbekistan on her way to bronze in the women's over 70kg. She narrowly missed a shot on gold after losing to China's eventual world champion Hongyu Wang in the preliminaries.
"It was difficult to face a World Championships, but at the same time I tried to do my best as that is what I have been taught through judo," Costa said.
Now the Italian will tackle her first full year on the circuit which includes two Grand Prix and her home European Championships in Genova between 27 and 28 July.
Costa is first hoping to be selected for the Euros. If she does, she is dreaming big: "My goal is the gold medal. And to bring my mental and physical state to the top to reach the set goal."
Genova 2019 also offers Costa the chance to make it to her next major debut – the Tokyo 2020 Paralympic Games.
Being a child of the sport, especially because her parents are both experienced judokas, Costa wants to make them and her country proud once again.
After entering her first competition at the age of five, when she was 22 Costa was diagnosed with a degenerative disease that affects her cornea.
With the belief in herself and her judo, she carried on with the sport knowing that the little girl was still inside her.
Competing at the Paralympics would therefore be "a great dream realised, a dream that I first had as a child."
The 2019 judo calendar opens with a Grand Prix in Baku, Azerbaijan, on 13-14 May. Regional Championships in Asia/Oceania, Americas and Europe follow before a further three Grand Prix at the end of 2019 and into 2020.
A further Tokyo 2020 qualifier will be held in Fort Wayne, USA, from 2-9 July 2019.