Chaffey, Daniel continue to shine in Yokohama
Australian Bill Chaffey and Canadian Stefan Daniel won their respective classes at the World Para triathlon Event, showing strong form ahead of Rio 2016.
17 May 2016
Imagen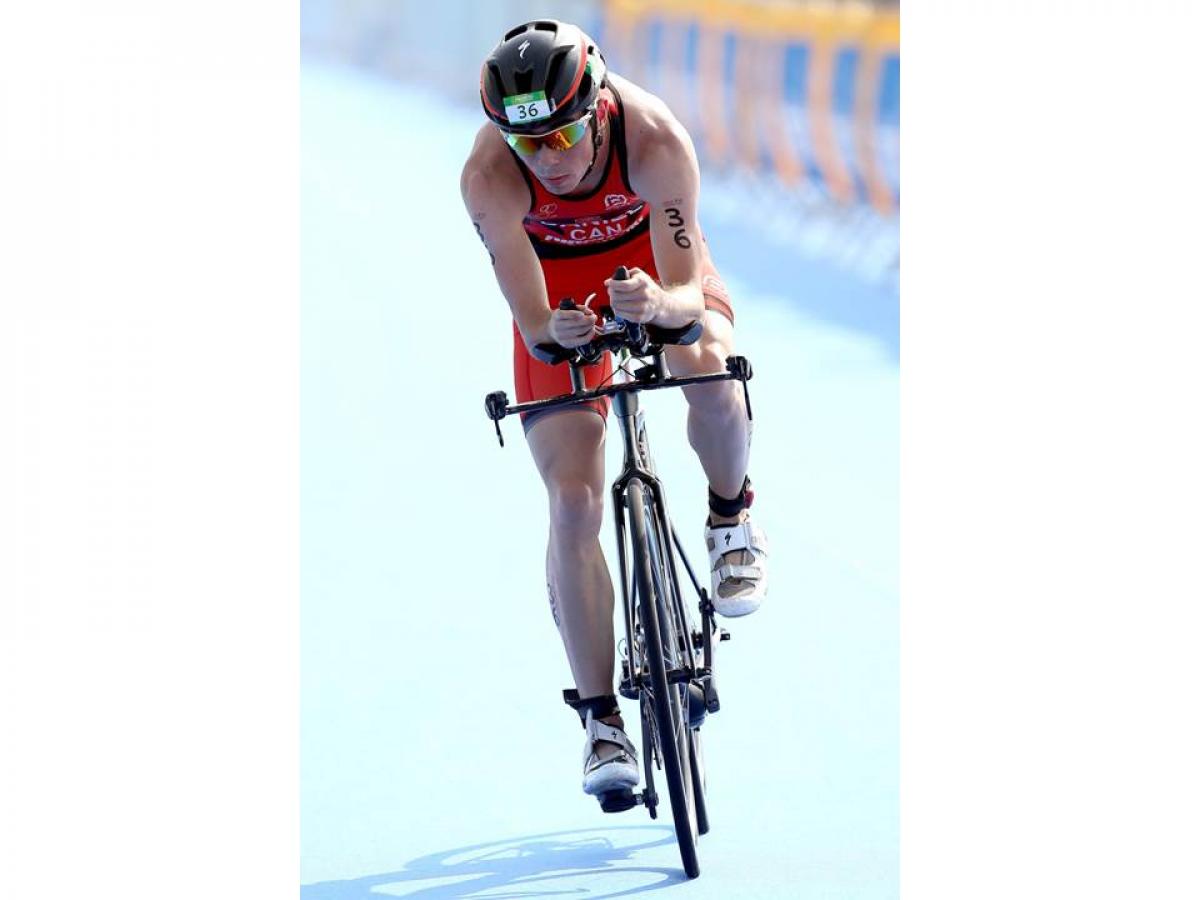 ⒸGetty Images
By Megan Mindel | For the IPC; ITU
"I don't know yet what it was for but I served that on the run, it doesn't matter, I got the win."
Australia's Bill Chaffey continued his dominance, while Canada's Stefan Daniel won gold in his season debut at the 2016 Yokohama International Triathlon Union (ITU) World Para triathlon Event (WPE), which concluded Saturday (14 May) in Yokohama, Japan.
PT1
Despite facing a time penalty during the race, Australia's 2015 world champion Chaffey (58:57) continued his unbeaten streak, easily defeating Brazil's runner-up Fernando Aranha (1:05:10) and Great Britain's Mark Conway (1:06:19).
"The swim was pretty choppy which made it difficult but I managed to come out first which was good, [Japan's Jumpei Kimura] I thought would be on my feet because he swims quite well," Chaffey said on the ITU's website. "The ride I was able to put some power down, there are a lot of turns out there, something like 24 corners each lap over the four laps, despite that I was able to get up some speed on what is a nice fast course.
"I am not sure what happened out there but I came in on the bike and I was told I had a penalty to serve, not sure what it was, couldn't have been drafting because there was no one in front of me. I don't know yet what it was for but I served that on the run, it doesn't matter, I got the win."
Chaffey met the automatic nomination clause for Rio after winning in the Penrith World Para triathlon Event in April, and the race in Yokohama was preparation for a podium finish in Rio.
"I was nominated to the Paralympic team for Australia after Penrith, but this was always on the cards because as much racing as I can do the better, racing is great training I think, especially against the top guys," Chaffey said.
The USA's Mary Catherine Callahan (1:25:08) was the lone racer in the women's event.
PT2
The race in the men's PT2 class was closer, with just eight seconds separating Germany's Stefan Loesler and Australia's Brant Garvey. Loesler took the top spot with a time of 1:10:17 in his first WPE race of 2016. Garvey, who was also awarded a spot on Team Australia after the Penrith event, finished second with a time of 1:10:25. Italy's Giovanni Sasso (1:13:52) was third.
The USA's world champion Allysa Seely (1:23:49) took home the gold in the women's race ahead of Japan's home favourite Yukako Hata (1:26:56).
PT3
Strong performances in the swimming and running segments helped Russia's Denis Kungertcev (1:08:01) edge Japan's Hideki Uda (1:09:12) and Norihide Inui (1:14:09) in the men's race.
PT4
In just his first Para triathlon race of 2016, Canada's world champion Daniel reminded many why he will be one to watch this September in Rio.
Daniel (58:56) had the fastest time in Yokohama. He beat Mexico's current world No. 3 Jose Abraham Estrada Sierra (1:00:16) and Russia's Alexander Yalchik (1:00:33).
"The water was a bit choppy but that just adds to the race, I didn't focus on that, I just tried to have a good swim and the bike was really nice with lots of turns through downtown, the run was nice and flat and I am just happy to have the win," Daniel said on the ITU's website. "My next race is Glasgow in [Great Britain], a lot of the top guys will be there, after that I will race junior able-bodied racing, there is lots of competition there so that will be good preparation and then Rio is the final goal."
Kate Doughty, who was also named to Team Australia after winning in Penrith, won the women's race. Doughty (1:09:53) finished nearly five minutes ahead of US runner-up Ruth-Ann Reeves (1:15:31) and Russia's Anna Bychkova (1:17:08).
"It was a good race, [Saturday] was about practicing, executing everything as efficiently as possible in the lead up to Rio," Doughty said on the ITU's website. "Swim was good, I always love this course because the bike is technical but plays to my strengths, great bike and the run I didn't feel the best with my stomach playing up the whole time but I pushed through it, and that is what we try to execute every time we race. But that was just a good race and I love racing here in Japan."
PT5
Japan triumphed in the men's PT5 category by sweeping the podium. Ryu Nakazawa (1:13:26) claimed their lone gold, followed by Saturo Yoneoka (1:15:07) and Keiji Nagai (1:17:08).
The USA's Amy Dixon (1:09:31) finished just ahead of teammate Elizabeth Baker (1:10:03) for the win on the women's side. Japan's Astute Yamada (1:14:16) rounded off the podium.
Complete results from the 2016 Yokohama ITU World Para triathlon Event can be found on the ITU's website.
The 2016 Paralympic Games will feature Para triathlon as a medal event for the first time in history. Races are scheduled for 10-11 September at Copa Cabana Beach in Rio de Janeiro. Medal events will include races in men's PT 1, 2, and 4 and women's PT 2, 4, and 5.