Chaffey makes history in Australia
Triple world champion Bill Chaffey won the Australia's first-ever national title in para-triathlon.
11 Jan 2013
Imagen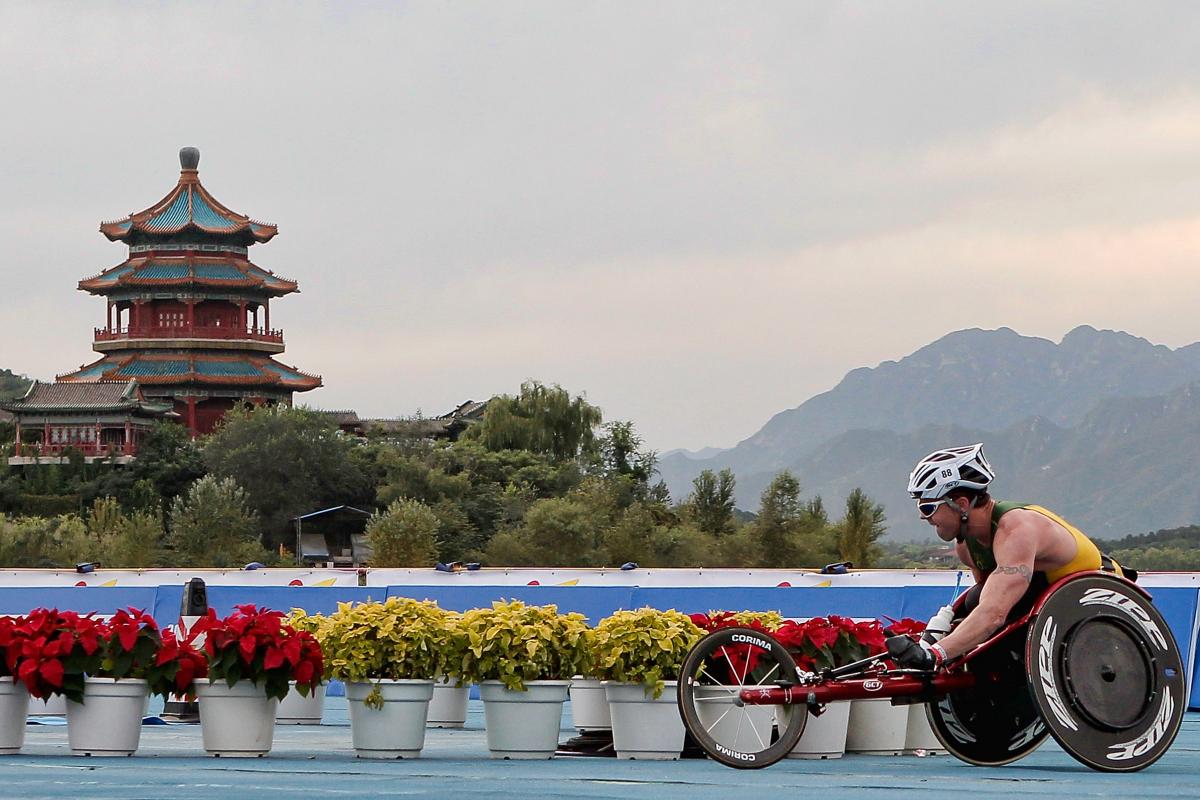 ⒸGetty Images
By IPC
"Normally, my best leg is the swim but I struggled a little bit with sighting today."
Triple para-triathlon world champion Bill Chaffey won the inaugural title on Thursday (10 January) at the first-ever Australian Para-Triathlon National Championships at the Sydney International Regatta Centre in Penrith.
Competing in the Tri-1 class for athletes who use wheelchairs, Chaffey had his work cut out for him when he found himself pitted against his hero, Paralympian and Hawaiian Ironman Hall of Fame inductee John Maclean, and London Paralympic rowing silver medallist Erik Horrie, in the race for the first national title.
But Chaffey dominated the 750m swim, 20km bike ride and 5km run, setting up a considerable lead in the swim and bike legs to push to victory almost 10 minutes ahead of Maclean and Horrie.
"Normally, my best leg is the swim but I struggled a little bit with sighting today," Chaffey told the Australian Paralympic Committee.
"Still came out with a good swim time but I felt really strong in the bike today. It's a nice, smooth course, so it was good to get some speed up."
The man from New South Wales' Far North Coast is a dominant force on the world para-triathlon circuit, having won the 2009, 2011 and 2012 world titles, and winning silver in 2010. The Rio 2016 Paralympic Games, where para-triathlon will make its debut, is now in his sights.
Before para-triathlon, Chaffey was a heavy hitter in the national triathlon circuit when in 2004, he was hit by a truck while training for his first Ironman competition. He was left with significant injuries including a paralysed leg.
Shortly after the accident, Chaffey got in touch with John Maclean, the man who made history by becoming the first wheelchair athlete to finish the Hawaiian Ironman Triathlon. Maclean was paralysed in a similar accident while training for a triathlon and offered some words of advice that changed Chaffey's life.
"He actually rang me after I sent him an email and gave me the inspiration I needed," said Chaffey.
"Looking at him as an ironman hall of famer, first person in a wheelchair to complete Hawaii, it's something to look up to and it's a proud feeling that he's an Aussie. He kicked the sport off and I hope I can follow in his footsteps, or wheel treads."
For Maclean, competing at the first para-triathlon in Australia was an honour.
"I was part of ITU (International Triathlon Union) back in 1996 and there weren't too many wheelchair athletes involved back then. It's great to see the sport has evolved at a Paralympic level," said Maclean.
"I think you'll find now that it's a Paralympic sport, you're going to get a lot of top athletes crossing over – a lot of top swimmers, hand-cyclists and wheelchair racers. I would suggest the standard now is only going to go vertical, which is encouraging for the sport and gives Bill something to aim for."
Nine-time Paralympic gold medallist Louise Sauvage competed in her first triathlon as the only female wheelchair competitor, but she was quick to rule out a comeback.
"Absolutely not. No Rio," said Sauvage.
"I'm sure I'll do another triathlon for sure, but not a comeback."
Six-time Paralympic winter gold medallist Michael Milton was the only competitor in the Tri-2 class for above-the-knee amputees and, having completed his third para-triathlon, was excited by what the sport has to offer.
"Post cancer in 2007, I suffer a lot of fatigue and I find when I go off the ball fitness-wise, that really kicks in and hits me quite hard," Milton said. "This motivates me to stay fit and look for new and interesting things to do to challenge myself and stay healthy."
"Coming from cycling, being a reasonable swimmer and really enjoying the running side of things, it seemed like the perfect match to help motivate me to stay fit for life.
World championship cyclist turned para-triathlon Claire Maclean won the women's Tri-4 class for athletes with arm impairment, beating Sally Bilbeam by almost 19 minutes, while Dale Grant edged out dual Paralympic cycling gold medallist Peter Brooks in the men's Tri 4 division by 2:21.00.
Albury's Justin Godfrey won the men's Tri-5 class for below-the-knee amputees in a time of 1:10.32, 8:30.00 ahead of Ross Mason and Damon Kendrick.
In the vision impaired classes, Jonathan Goerlach finished 7:38.00 in front of John Domandl and Nathan Johnstone, while Paralympic cycling gold medallist Lindy Hou was the only competitor in the women's class and posted a finishing time of 1:29.24.
Athletes will now train for the upcoming Para-Triathlon World Championships to be held in London this September.
Related Images