China and Hungary strong in wheelchair fencing
On the opening day of wheelchair fencing at the ExCeL, China and Hungary proved why they're the ones to beat in wheelchair fencing.
04 Sep 2012
Imagen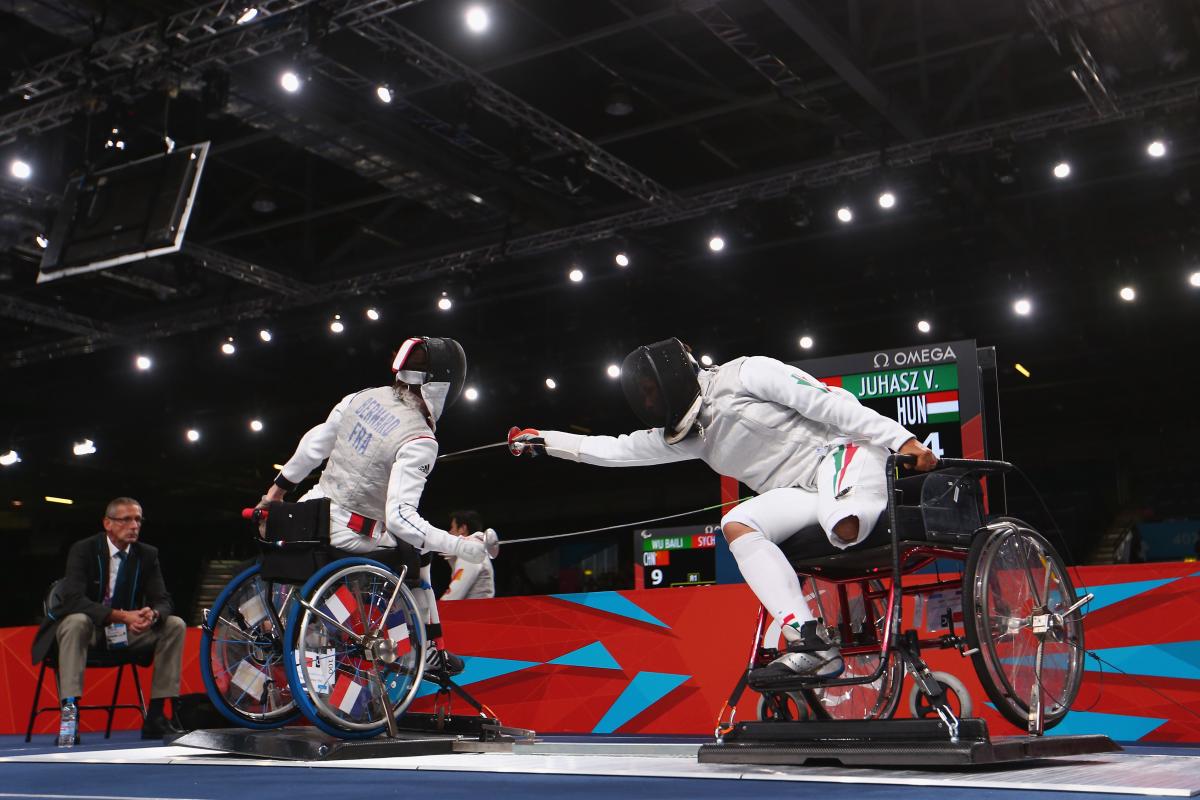 ⒸGetty
China secured three gold medals in the individual foil competitions.
China secured three gold medals in the individual foil competitions on the first day of wheelchair fencing on Tuesday (4 September).
Predictably China dominated proceedings at the ExCeL, but it was not all plain sailing for the Chinese, as they were made to work hard for their success.
Dariusz Pender, who competes for Warszawa in Poland, was a potential threat to Chen Yi Jun in the men's individual foil category A.
Pender took an early 7-2 lead in the quarter-final, but that was as good as it got for Pender, who eventually lost, 15-12.
World and Paralympic champion, Ye Ru Yi progressed through the preliminaries easily and made light work of his quarter-final against Ivan Andreev and then Damien Tokatlian,15-6 and 15-8, respectively.
Jun's semi-final against Richard Osvath was anything but "light work," but he came away with a 15-13 victory.
Osvath carried his fine semi-final form into his bronze medal bout with Tokatlain and comprehensively beat him to secure third.
Yi and Jun's final gave the crowd an unbelievable display of quality and passion. Yi's experience showed and retained gold.
In the women's event, Delphine Bernard had a very promising preliminary round winning all five of her bouts. Unfortunately, she was powerless to prevent Hungarian Veronika Juhasz in the quarter-finals.
Hungarian Zsuzsanna Krajnyak who won bronze in the individual epee in Beijing, put in a scintillating display to see off China's Rong Jing.
Yu Chui Yee was a tough semi-final for Krajnyak. She was unable to repeat her quarter-final performance and Yee, the Paralympic champion from Beijing cruised into the gold medal match.
Juhasz also fell to the China's Wu Baili.
It meant Hungary were guaranteed a medal, which the in-form Krajnyak won.
"It proves Hungary has a strong fencing history," Krajnyak said.
It took a video referral on the deciding point to split Yee and Baili. Yee was adjudged to have made contact first and therefore confirmed the gold medallist, retaining her Paralympic title.
The men's foil B category saw two big shocks, as the silver and bronze medallists from Beijing both fell at the quarter-final stage.
Frenchman, Alim Latreche beat six-time Paralympic medallist, Pal Szekeres.
"I'm disappointed at the moment but I have to remember that I have previously won some medals," Szekeres said.
"I am actually considering whether to retire or not."
He will always have his place in history as the only person to ever medal in both the Olympics and Paralympics.
Marco Clima of Italy beat Beijing's French silver medalist, Laurent Francois.
The quarter-finals nearly claimed the Paralympic champion, too, but Hu Daoling survived a late comeback from Marat Yusupov to stay on course for a medal.
Hu made it through to his second straight Paralympic final with a convincing win over Latreche. All while the Ukrainian, Anton Dastko was making his way to meet him in the final.
Latreche came away with bronze while Hu was too strong for Dastko who had to settle for silver.
The women's individual foil B saw a repeat of the gold medal match four years ago. Yao Fang against Chan Yui Chong. This time Fang won a tight affair, 15-13.