China claims 3rd consecutive gold
China's women's sitting volleyball team continues its domination over USA in memorable final.
08 Sep 2012
Imagen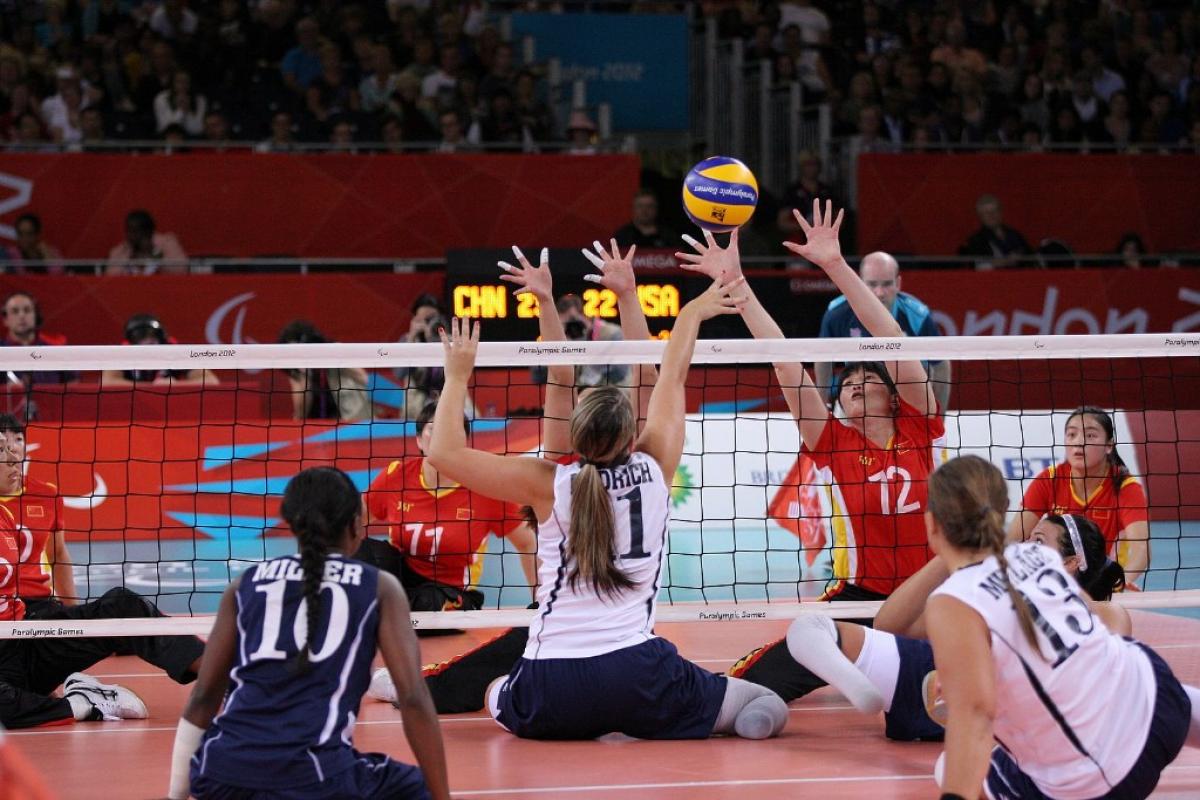 ⒸMarcus Hartmann
"We felt like we were representing the whole of China."
China continued its dominance of women's sitting volleyball by recovering from an early one-set deficit to beat USA for a third consecutive Paralympic gold medal on Friday evening (7 September).
As happened in the pool match between the fierce rivals, America took the first set and looked well placed to finally topple their formidable opponents.
But as in the preliminaries, China then found their unerring consistency, and sealed a 3-1 (22-25, 25-15, 32-30, 25-15) win in clinical style.
They again had an influential performance from their minimal disability player Yu Hong Sheng after a quiet start, but equally impressive was Yanhua Tan, who produced a series of stunning shots.
USA had a typically accomplished performance from Katie Holloway and some important plays from Heather Erikson.
But after being fully in the game during a spectacular third set that China eventually won 32-30, the unforced errors that had plagued their game last week emerged again and they were forced to settle for a third consecutive silver medal.
Afterwards, the Chinese coaching staff praised the hard work of the players, and promised them an extended break after their success.
"We felt like we were representing the whole of China," Sheng said.
USA libero Kari Miller believes that the gap is closing between the teams.
"We're neck and neck with them, and we can only carry on getting better," she said.
USA got off to an outstanding start, nullifying the power of Sheng in the opeing stages to establish a 10-4 lead. Erikson provided some impressive plays, while Holloway edged her early battle with Sheng, and although China rallied to 19-17 at one point, the Americans closed the set out to win 25-22.
The second was a different story. China made a flying start to lead by four points, and although USA did level, Tan sprung to the fore with a series of brilliant shots, and six team points in a row moved the Chinese to a 25-15 set win.
The third was to prove decisive, and after a series of brilliant rallies that thrilled the big ExCeL crowd, it was China that eventually finished on top.
Again, Tan was influential, while Sheng was coming more and more into the game despite the continuing efforts of Holloway. After both sides had squandered set points, fittingly it was Tan that produced the winner.
The momentum was now clearly with China, and they powered into the lead in the opening stages of the fourth.
Though America recovered to trail by just two at one point, five points in a row took the game firmly away from them, and a combination of unforced USA errors and familiar Sheng power saw China cruise home 25-15 to take another gold medal.
Earlier in the day, Ukraine had secured the bronze medal by defeating Netherlands, 3-0.