China get better of USA in sitting volleyball clash
In what could be a gold-medal rehersal, China defeated USA, 3-1, in preliminary play.
01 Sep 2012
Imagen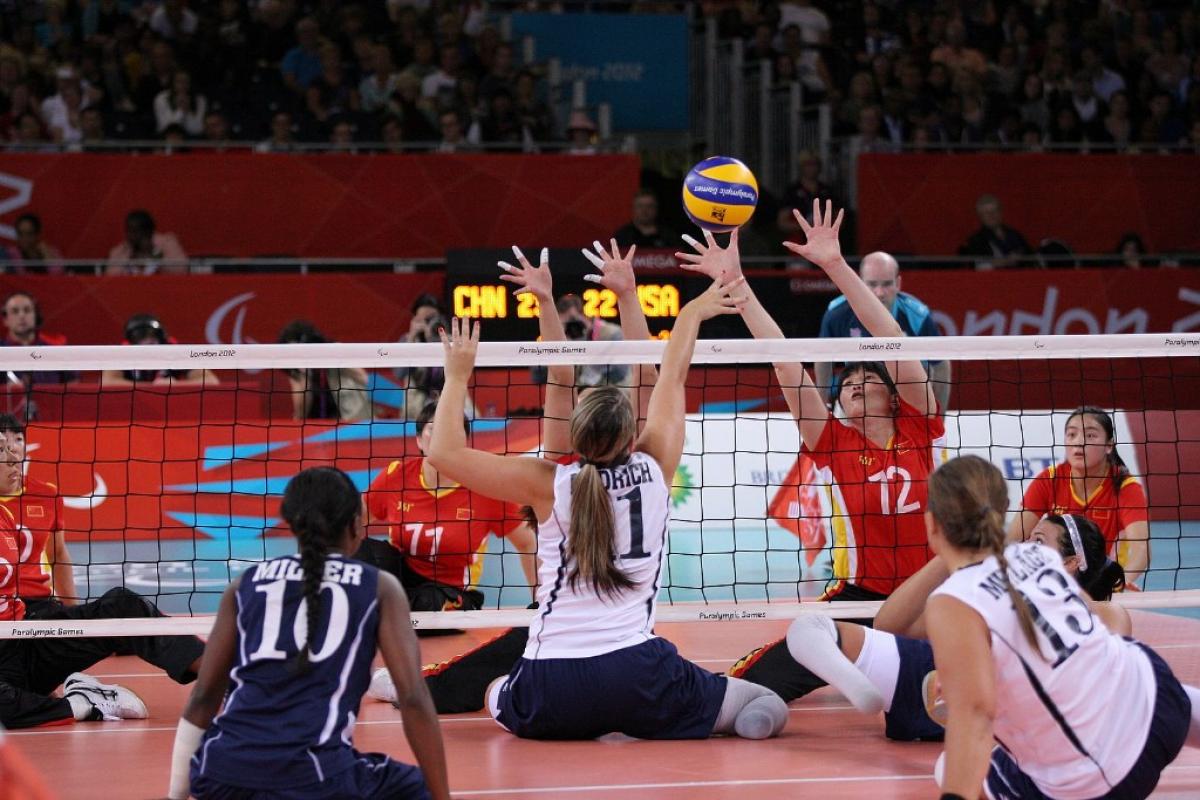 ⒸMarcus Hartmann
"We're very confident of coming out on top."
It was a match that had long been pinpointed as a potential gold medal rehearsal, and by the end of four compelling sets, it was Beijing 2008 champions China laying down an early marker with a 3-1 preliminary pool win over USA.
The Chinese side, who also beat their American counterparts in the 2010 World Championships final, were rocked by a flying start from their opponents, who took the first set 25-22 and then led 8-2 in the second.
But the consistency and balance that has long characterised China's play allowed them to gain a foothold in the contest, and after recovering to take a thrilling second set 32-30, they ground down their opponents to win the final two 25-23 and 25-17.
It was a stark reminder for the USA of China's prowess, with the country having won both the women's Paralympic gold medals since the sport's introduction in the 2004 Athens games.
They had the game's outstanding figure in their minimal disability (MD) player Yu Hong Sheng, and also had excellent performances from Xu Fei Zhang and their captain Hong Qin Lu.
"It was a tough game," Lu said. "The USA team has grown a lot, they play very well technically and they are getting better all the time."
But asked about China's prospects of winning a third consecutive gold medal, Lu was unequivocal.
"We're very confident of coming out on top," she said.
Still, there was much to be positive about for the excellent Katie Holloway and her USA teammates, most notably a host of unforced errors which, if eliminated, could prove decisive should the teams, as expected, meet again.
Holloway had been integral in her side's flying start, but admitted that their own mistakes played a crucial role in their eventual downfall.
"What we learned is that we're not there yet, but that it's all in our control," Holloway said.
"We gave them an opportunity and they took it. There were a lot of errors on our part, including miss-serves, and that is what is going to keep us from a gold medal.
"But that's all in our control. We learned in the first set that we're capable of it, and that we need to keep that confidence and capability in our own hands.
"If we put it in China's, they're going to take it.
"Today showed that it's going to be a fight, and it's going to be exhausting. The team that keeps its energy level high will win it."
Holloway and teammate Heather Erickson were prominent in a powerful opening from the Americans, played out in front of a big, noisy crowd at the ExCeL.
Nichole Millage's point secured the first set, and with Allison Aldrich and Brenda Maymon becoming more influential, the USA then raced out to an 8-2 lead in the second.
But China steadily played their way into the match, and with Sheng producing two moments of particular importance, they were soon level and then ahead.
Both sides wasted a host of set points, but three service errors from America proved crucial as the reigning champions eventually won a gripping set 32-30.
The third was just as close, with several stunning rallies, and it looked as though it could be heading USA's way when Sheng made a rare error and was penalised for lifting when on set point. But moments later she made up for it with the winning point, and the tide had now definitely turned.
The fourth and final set was the most one-sided, and with Zhang and Lu both providing telling contributions, China completed a 3-1 win.
Holloway rued allowed that promising start to slip – but promised that her teammates will bounce back quickly ahead of Saturday's game with Slovenia, hours after China take on Brazil.
"We started to relaxed – not relax completely, but kind of let our guard down," Holloway said of the early stages. "We need to keep that fight right through the game, and keep pushing.
"But we're a young team, and everybody's capable of stepping up to the plate here. Our depth will help us through this tournament."