Cooke says "life with multiple sclerosis is one worth living"
On World Multiple Sclerosis Day (31 May), Australia's three-time Paralympic cycling champion reflects on her diagnosis almost two decades ago.
31 May 2017
Imagen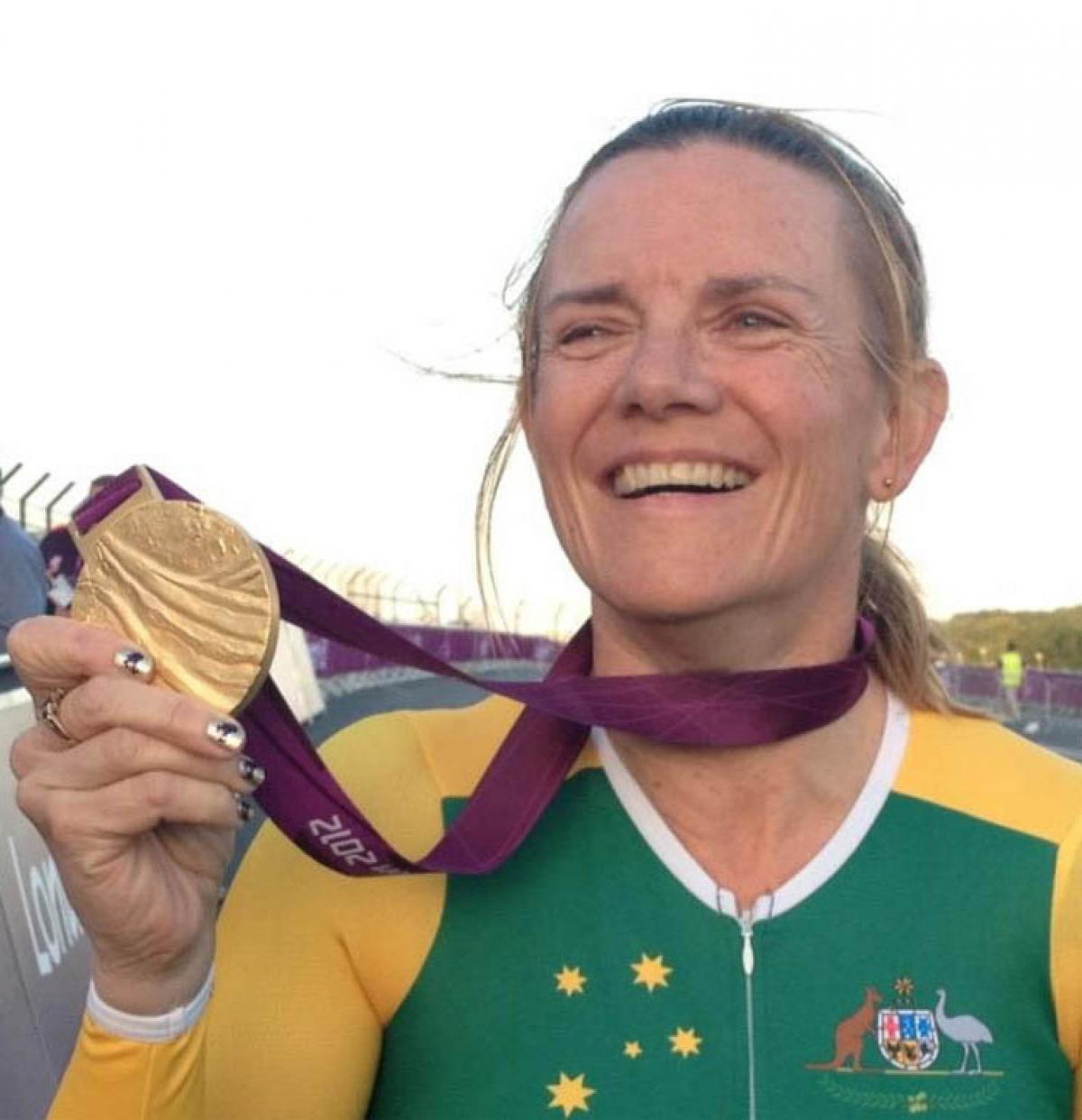 ⒸCarol Cooke
By Australian Paralympic Committee
"A life with multiple sclerosis (MS) is one worth living to the fullest," said Australia's three-time cycling Paralympic gold medallist Carol Cooke, who reflected on her MS diagnosis almost two decades ago, on World MS Day (31 May), in an extensive interview with the Australian Paralympic Committee (APC).
Australian Paralympic Committee (APC): Could you have imagined that as a self-declared 'unco-ordinated kid', you would emerge as a multiple Paralympic champion, author, motivational speaker, former undercover police officer and multiple sclerosis advocate?
Carol Cooke (CC): I have always been a sports person. From the age of six with gymnastics, turning to swimming at the age of 10 and incorporating sport at school with my elite swim training, taking part in athletics and cross country running… I loved sport. Except those that included throwing, catching or hitting a ball. My co-ordination was terrible! I later went on to dabble in triathlon when it was in its infancy.
APC: More than two million people, including 23,000 Australians, have been diagnosed with multiple sclerosis. What did you know about MS before you were diagnosed?
CC: After being diagnosed with MS, it dawned on me that my lack of co-ordination could have been the start of my symptoms of MS. Having just moved three years earlier from Canada to be with my Australian husband I began having unusual symptoms – lack of balance, major fatigue and issues with my eyesight. On the 23rd of April 1998 at 14:15 I was blatantly told that I had MS, that I would never do this 'silly' sport stuff again, I would have to go on a lot of drugs, I would never work again and to go home and put my affairs in order before I became incapacitated.
APC: Was there ever a time that you doubted MS wouldn't rule your life?
CC: No. Always being pig headed and stubborn as a child I used that trait to defy what that doctor had told me. Eventually my introduction to disability began but that never stopped my love of sport, I just needed a different way to do what I wanted to do.
APC: So how did you eventually find Para sport?
CC: Through an APC Paralympic Talent Search Day, I took up the sport of Para rowing which eventually led me to Para cycling and my trike. To be honest I had no idea where this sport would take me but what I did know was that the fitter I became the better I became at dealing with my MS symptoms. It didn't take them away but I could handle them better, especially the fatigue. There was no longer a need for a two-hour nap in the afternoon to get by, just a shorter nanna nap!
APC: You are now the proud owner of three Paralympic gold medals from two Paralympic Games, that must be unbelievably satisfying?
CC: I honestly believe that exercise, especially cycling, is keeping me walking. Not only that, but I am healthier and fitter than I was before my MS diagnosis. I have been asked in the past if I could go back in history and change the fact that I was diagnosed with MS would I? The answer is a simple 'No'. Being diagnosed with MS has made me who I am today and it has given me opportunities that I never would have had. I've been able to travel the world with cycling – racing and seeing amazing localities. It has introduced me to thousands of people from all over the world, some of whom I can call great friends and it has allowed me to fulfil a dream of representing my country at the pinnacle of sport! Do I want a cure? Of course I do but until that day comes, I will continue to cycle my way through life.
Multiple sclerosis (MS) is a condition of the central nervous system, interfering with nerve impulses within the brain, spinal cord and optic nerves.
Full interview can be found on the Australian Paralympic Committee's website.