Crockett wins judo world title on home soil
Ukraine top medals table at the 2014 IBSA Judo World Championships in Colorado Springs, USA.
08 Sep 2014
Imagen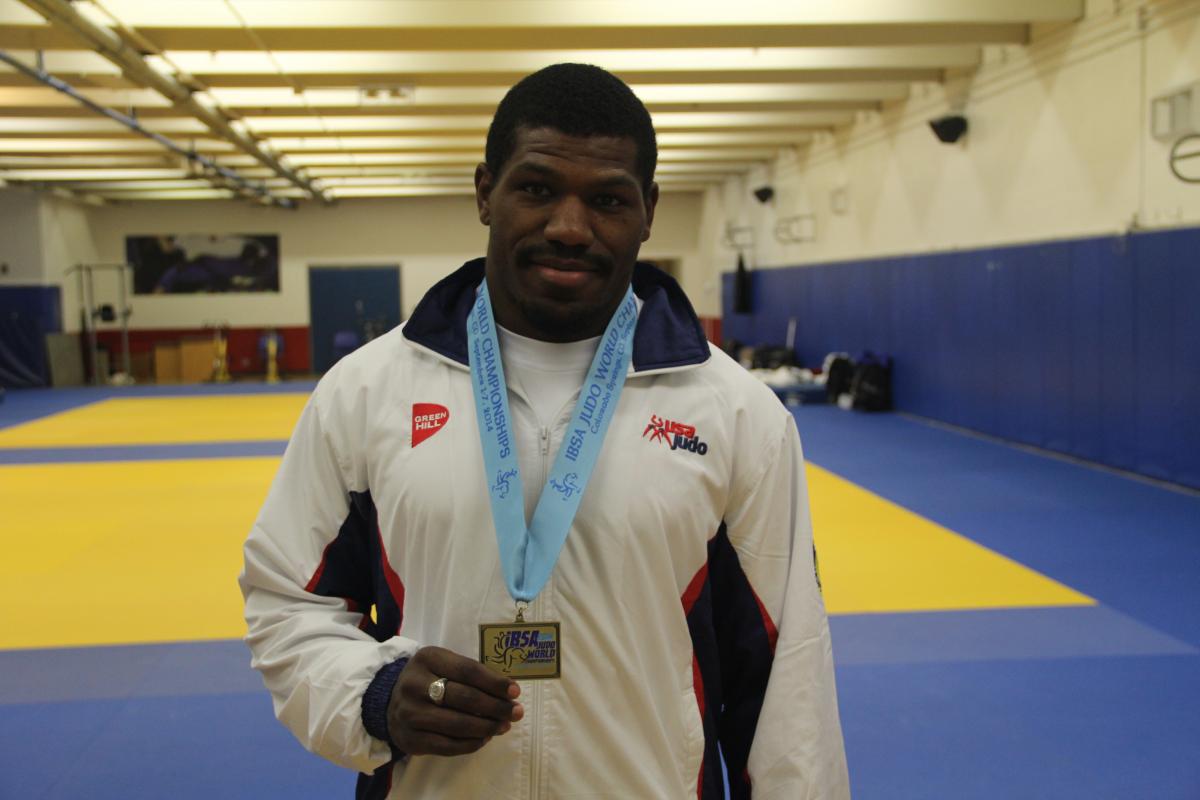 ⒸNicholas Goda
The USA's Dartanyon Crockett was crowned world champion in the men's -90kg class at the 2014 International Blind Sports Association (IBSA) Judo World Championships in Colorado Springs, USA on Friday (5 September).
The 23-year-old London 2012 bronze medallist defeated Russia's Malik Kurbanov to take gold on home soil. As two bronze medals are awarded in judo, they went to Uzbekistan's Shukhrat Bobev and Ukraine's Oleksandr Nazarenko.
"Everything was aligned. From start to execution to game plan," Crockett said. "I couldn't have done anything more or less. It was one of the very few perfect days I've had."
By winning gold Crockett also secured a qualification slot for the Rio 2016 Paralympic Games. It was the only medal won by a USA judoka at their home World Championships.
The medals table was topped by Ukraine who won three gold medals, two silver and two bronze.
The first Ukrainian gold medal was won by Natalia Nikolaychuk in the women's -52kg on Thursday (4 September). The London 2012 Paralympic bronze medallist beat Germany's Paralympic champion Ramona Brussig in the final bout. Bronze went to Algeria's Cherine Abdellaoui and China's Li Yanqing.
Inna Cherniak won Ukraine's second gold medal. She beat Azerbaijan's Sabina Abdullayeva in the final. Brazil's Lucia Araujo and China's Lijing Wang took bronze.
Iryna Husieva added the final gold medal for Ukraine in the women's -63kg by beating Cuba's London 2012 gold medallist Dalidaivis Rodriguez Clark. Bronze went to Russia's Olga Pozdnysheva and China's Paralympic silver medallist Zhou Tong.
Germany's Paralympic champion Carmen Brussig, twin sister of Ramona, had to settle for silver in the women's -48kg. China's Li Liqing beat Brussig to take the gold medal. The bronze medals were won by Brazil's Karla Cardoso and Russia's Alesya Stepanyuk.
In the women's -70kg the two London 2012 bronze medallists fought against each other in the final, with the better end for Hungary's Nikolett Szabo. China's Zhou Qian settles for silver. Mexico's Lenia Fabiola Ruvalcaba Alvarez and Olga Zabrodskaya of Russia won the bronze.
China's Yuan Yanping was the only Paralympic champion from London adding a world title to her collection. She beat Russia's London 2012 bronze medallist Irina Kalyanova in the women's over 70kg. Brazil's Deanne Almeida and Belarus' Arina Kachan finished third.
In the men's -60kg Algeria's Noura Mouloud beat Uzbekistan's Shukrat Bafoev to take gold. Bafoev's teammate Sherzod Namazov secured bronze together with Japan's Takaaki Hirai.
Bayram Mustafayev won gold for Azerbaijan in the men's-66kg, with two Uzbek judokas, Utkirjon Nigmatov and Nurbek Berdizorov in silver and bronze medal positions. The second bronze medal went to Korea's Jongseok Park.
Ramil Gasimov secured Azerbaijan's second gold medal of the championships, ahead of Ukraine's Serhii Kotenko. His teammate Dmytro Solovey, gold medallist from London, took bronze together with Uzbekistan's Feruz Sayidov.
The men's -81kg event saw somewhat of a surprise, when Mexican Eduardo Avila Sanchez defeated Ukraine's Paralympic gold medallist Olexandr Kosinov in the final bout. Great Britain's Jonathan Drane took home bronze, while Rovshan Safarov bagged another bronze medal for Azerbaijan.
No medallists from London managed to go through to the medal rounds in the men's -100kg. Gold went to Russia's Abdula Kuramagomedov against Uzbekistan's Shirin Sharipov in the final. Turkey's Ibrahim Bolukbasi and Cuba's Yordani Fernandez Sastre won bronze.
In the final men's event (over 100kg), Adiljan Tulendbaev won Uzbekistan's only gold medal beating Cuba's Paralympic bronze medallist Yangaliny Jimnez Dominguez in the final. Japan's Paralympic champion Kento Masaki had to settle for bronze, as did Brazil's Willians Araujo.
The World Championships concluded on Saturday, 6 September, with the judo team competition. Venezuela and Japan won the bronze medal, while a long and physical battle between Brazil and Russia determined the world champions in the relatively new competition format.
Five members of different weight classes comprised each team. One of the most decorated Paralympic judoka's, Brazil's Antonio Tenorio, won the final bout by a score of 112-0, winning Brazil the gold medal.
Around 230 athletes from 37 countries competed in the 2014 IBSA Judo World Championships in 13 individual events in Colorado Springs, USA.