Daniel transitions quickly in para-triathlon
The 18-year-old Canadian recently won the men's PT4 world title, making the division a tightly-contested event ahead of Rio 2016.
23 Oct 2015
Imagen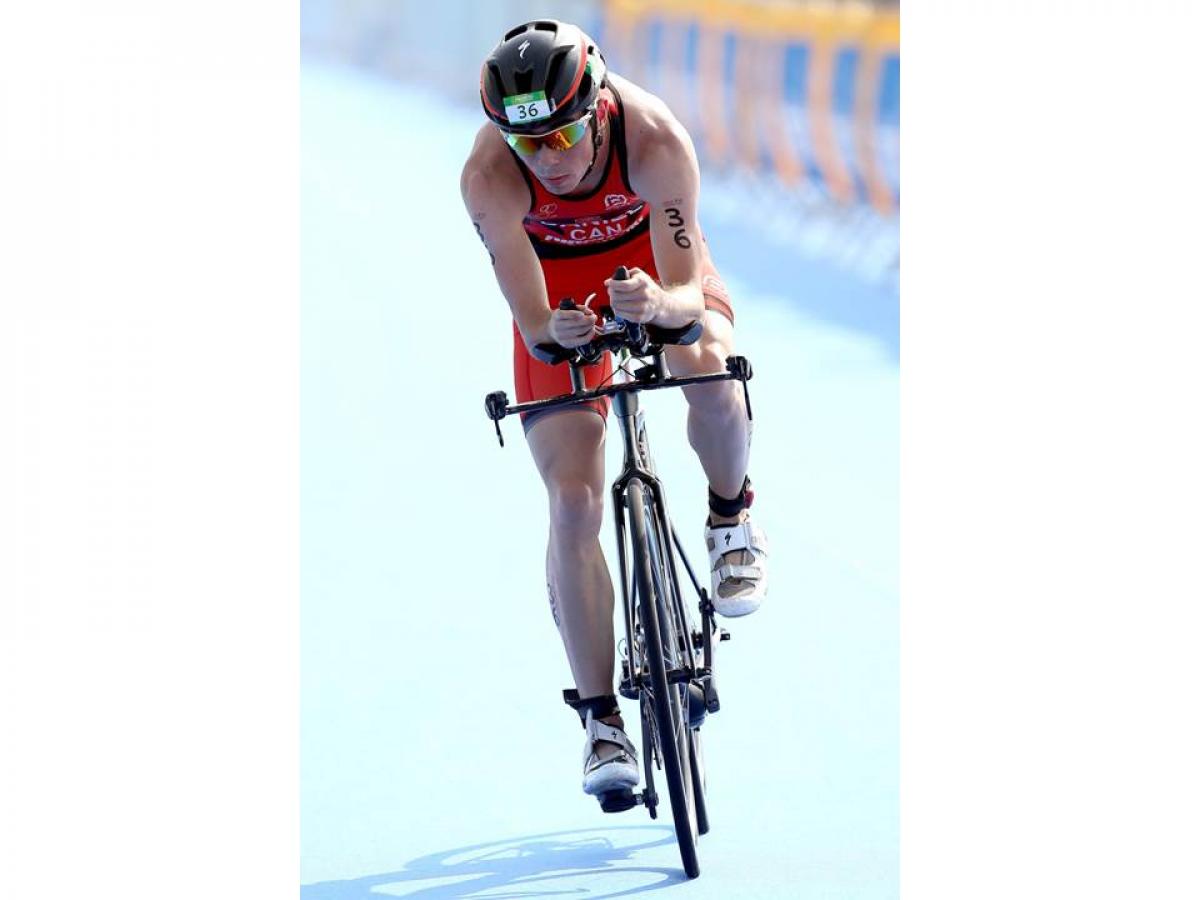 ⒸGetty Images
By Megan Mindel | For the IPC
"It's a heavy load, but the variety in the training keeps me motivated for each session."
Stefan Daniel quickly established himself as a gold-medal contender in the men's PT4 race ahead of the Rio 2016 Paralympic Games. At age 18, the Canadian capped off the 2015 season by winning his division at the International Triathlon Union (ITU) World Triathlon Grand Final in September in Chicago, USA, where countries got to collect Paralympic qualification spots.
However, the Grand Final, which included the Para-Triathlon World Championships, also showed how tight the men's PT4 race to the podium will be.
"The day of the race, I felt confident and excited," Daniel said. "Four of us came out of the transition together and I gave it everything I could for that 5km. In the last 100m I was able to enjoy the moment. It was a cool feeling finishing that race and achieving a goal I've had since I started triathlon."
Daniel shared the podium with Germany's Martin Schulz and France's Yannick Bourseaux, both who have battled for the top-three spots in the PT4 category this season.
But Daniel hopes to stand out and hold the first Paralympic title, as the sport will make its debut at Rio 2016.
For Daniel, he has only been competing internationally in para-triathlon for three seasons. Before, Daniel first competed at nationally and internationally in swimming at 12 years old. In 2013, he decided to train solely in para-triathlon with hopes of qualifying for Rio 2016.
"Swimming was my main sport, but I had an equal passion for running," Daniel said. "I had been doing triathlon as a side sport for a number of years, and once I knew that it would be debuting in Rio, I decided to give it a go. …The biggest challenge was knowing that I wouldn't see my para-swimming friends anymore."
"I attribute my success to my coaches and training partners," he added. "My coaches were able to help me develop in all three areas throughout each season."
At the moment, Daniel said he is not focused on Rio, as there are still races leading up to the Paralympic Games.
His weekly training regime includes: five days of swimming, three to four days biking, six days of running, and one to two days of strength training.
"It's a heavy load, but the variety in the training keeps me motivated for each session," Daniel said.
Chicago was not Daniel's only big podium finish for the year. He said the highlight of this year was actually winning the Canadian Junior Elite National Championship in July.
At the Junior Nationals, Daniel was not competing with other PT4 athletes. His first place finish was against able-bodied triathletes.
"It was equally as special as winning [Worlds]," Daniel said. "I've trained and raced with able-bodied athletes my whole life. I've achieved success in running because I'm not at as much of a disadvantage, but in triathlon it is much more difficult to compete with high-level able-bodied athletes. I have a significant disadvantage in the water."
The 2015 season has gone well, but ultimately he hopes to top it off with gold at Rio 2016. Other than Rio, he wants to qualify for the World Junior Elite Championships in Cozumel, Mexico.
"Anytime a new event is placed in an Olympic or Paralympic Games, the popularity of the sport ramps up very quickly," Daniel said. "The atmosphere is going to be amazing and it will be very cool competing in front of massive crowds."