A day in the life of New Zealand's tandem para-cyclists
Emma Foy and Laura Fairweather and give an insight into a typical day as they prepare for the Rio 2016 Paralympic Games
14 Dec 2014
Imagen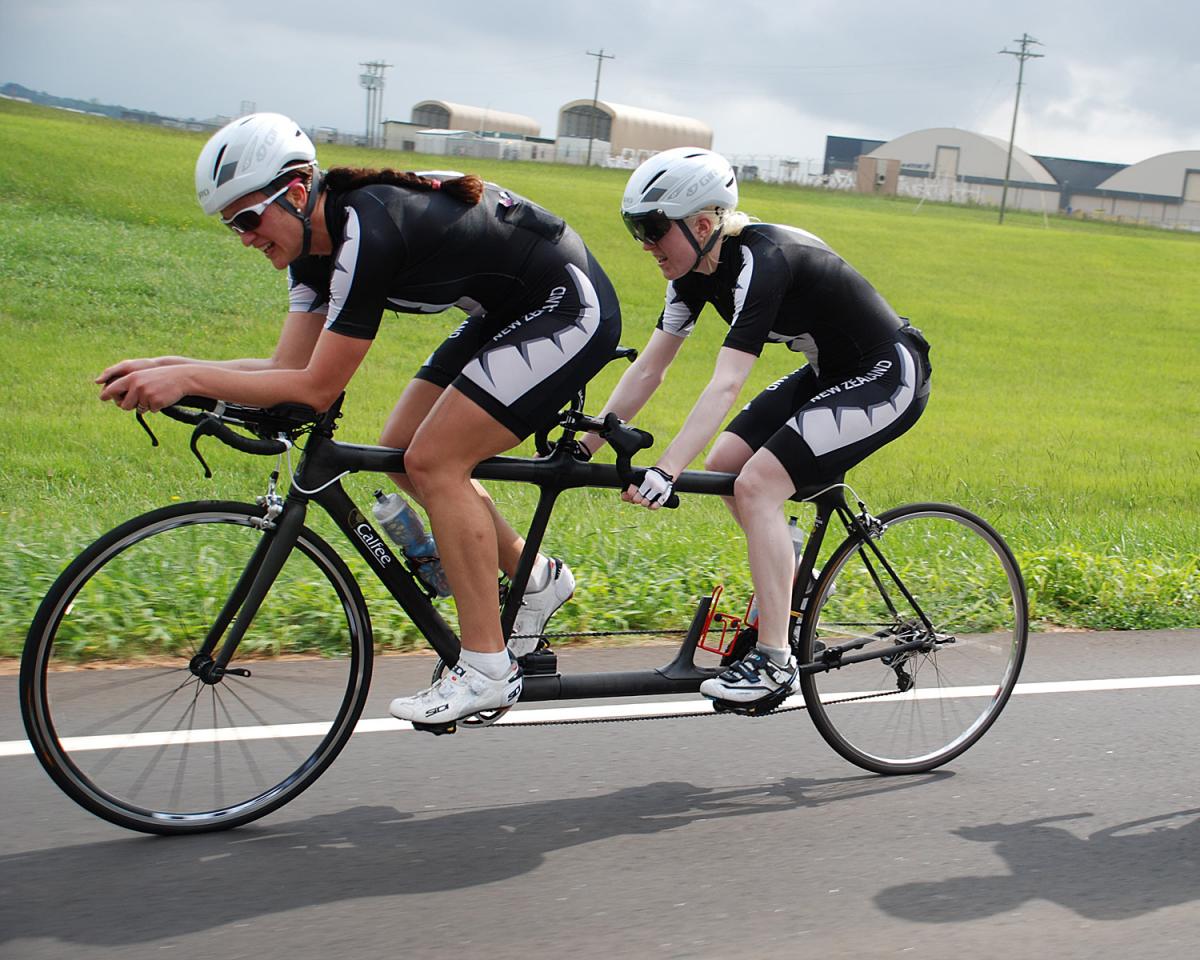 ⒸParalympics New Zealand
By Paralympics New Zealand
IPC
After winning gold in the 3km pursuit at the UCI Para-Cycling and silver in the time trial at the equivalent Road World Championships, New Zealand's Emma Foy and her guide Laura Fairweather have given an insight into their daily training regime.
Emma Foy
I wake at 7am. I'm a morning person, so I don't need an alarm. I wake up at that time out of habit. I then make sure I have a big breakfast of berries, yoghurt, cereal – usually cornflakes – nuts, seeds and dried fruit. I like a big breakfast because it sets me up for the training day ahead and it makes me feel good. I always like to leave at least one hour between breakfast and training.
In the meantime, I'll would prepare for training, check my emails and upload my training files on to the computer. My training differs depending on the time of year, but I've just gone through an endurance phase, so I would be out on the tandem for 8.30-9am for a three to four-hour endurance ride typically anywhere between 90 and 120km.
For the past month I have been putting in a big block of endurance training and I've been lucky in that either one of the two Paralympics New Zealand (PNZ) Cycling coaches- Jono Hailstone or Brendon Cameron – have been acting as pilot since I've been based out of the national training centre for cycling in Cambridge.
All pilots have a slightly different approach – some start off on a different leg, some may have a faster or slower cadence while some riders might always stand up from the saddle when climbing. I can usually quickly adapt to any differences and I can tell how fit they are at the front, although I'm sure they can tell how fit I am too!
The rides are long, so I take food with me once an hour take on board some fuel – maybe a banana or a muesli bar. I'll spend some time on my ride chatting to the pilot. We might talk about something cycle-related or it might just be we talk about what we are having for our lunch. If we didn't talk on such long training rides, I'd go mad.
I enjoy riding the roads of the Waikato and the biggest difference I've noticed is how much nicer the weather is up here compared to my former home in Wellington.
The calmer and less windy weather allows me to get in a much better ride whereas in bad weather the ride just becomes a hard slog.
I'll then return to Cambridge and hop off the bike usually feeling a full-body fatigue. I'll then put in 20-30 minutes of stretching to aid my recovery for the next session. I'm also very hungry having just put in three to four hours of effort, so I grab something to eat at the same time like an egg – I usually boil a bunch at the start of the week - or drink some chocolate milk or some leftovers from the ride. Anything for a quick protein hit.
It will then be lunchtime and a typical lunch for me would be salad with roast vegetables or scrambled eggs on toast. I'd also have a big drink of water and a tea with milk.
As a full-time athlete – without the worry of a regular job - I then often take a nap for 30 minutes or so to further aid my recovery. I'd wake up a little drowsy, so then I might have a stretch or go for a short walk in the fresh air and grab a bit of shopping.
Cambridge is a cool, little town. Everything you need is within easy reach and even my coaches – Jono and Brendon – only live a couple of blocks from my flat.
I'll then come back from the supermarket and I might do some work on a web design course that I'm studying at the moment. Dinner is often around 7pm and I often have salad. It is not a salad with just a few pieces of lettuce - it is a salad containing heaps of roast vegetables, nuts, capsicums and eggs. I do have a bit of sweet tooth, so occasionally I might also treat myself to some Whittaker's hazelnut chocolate and a cup of tea and then watch a bit of telly.
I've been watching a lot of The Block recently, but I also like my movies. I also like to read. I've been reading a few sports autobiographies recently and I enjoyed Sophie Pascoe's book. It will then be time for bed, which I am always certainly ready for from 10 - 10.30pm.
Laura Fairweather
My life is a little bit different to many other athletes in that I work at a cafe bar/restaurant (Niagara Falls) out in the Caitlins in Southland – which I own with my mum and husband, James.
I often rise at around 7am and if it is a nice day I have my breakfast - often oats - out on the deck. I live on a lifestyle block in the small settlement of Waikawa – which has a population of 16 people!
We live a very natural lifestyle. We source a lot of local ingredients, we have our own spring for water and we also don't have cell phone coverage or internet access at our home. For many people this would be a nightmare prospect, but we really like the fact that to contact someone you have do so face to face or on the landline phone.
My daily routine is very varied depending on the time of year. The work at the cafe/restaurant – which is situated about 3km away in Niagara - is very seasonal which means in the winter we might open at 11am and have five people for lunch or in the summer we might open at 8.30am and have 150.
At the moment it is early summer season, so after breakfast I will catch up on the housework and a bit of gardening and be at work by around 9.30am.
My family are very supportive in terms of my training and I tend not to work the busy service lunches or dinners, where I will be on my feet for long periods of time. My husband and I are both chefs and I often bake the bread and prepare the salad on a morning.
My food timetable is often quite skewed because I can't eat at the busy times in the cafe/restaurant. I'll often have an early lunch at around 11am - of maybe avocado and tomatoes on toast - and then prepare for my long endurance ride – which I do two or three times a week .
I usually set off around noon to ride for between three to four hours – approx.. 100km - through the bush and along the coast which to me is the nicest ride in the world. I must have done the ride hundreds of times but I never tire of the scenery and the forest meeting the ocean. It is really rugged. Sometimes I can go out on a four-hour ride and I'll have no cars pass me.
Once a week I will stop over for one night to stay with James' parents in Invercargill - which is 80km away and complete a gym session or work out at the velodrome. I like the variation in my training.
On an endurance day I might get back from training at around 4pm where my husband will kindly have a smoothie waiting for me. I'll often juggle the roster so that after a real hard day's training I might have the night off or I'll have a light night where I might wash dishes and make a few desserts. In the busier summer months we take on a couple of extra chefs to help us out.
I then might download my riding data on the work computer – we do have internet at the restaurant - and I'll then have dinner at around 5pm which might be a massive salad of fruit, nuts, seeds and feta. I would say my diet is on the high-end scale. I don't tend to eat a lot of meat unless I know how the animals have been raised and killed. I don't eat chicken but I eat a lot of fish caught by James and a lot of venison from the deer he hunts.
As I explained earlier, my work is very variable. In the winter we could finish at 8.30pm but in the summer we might not be finished until 1am. I'm used to things changing at the last minute, which often means I need to put in place each week an A, B and a C plan to cope with every eventuality.
My training is definitely hampered by my work commitments, but my family are always amazingly supportive. They'll always make sure I'm not the one scrubbing the floors at the end of night.
If I go home early, I might listen to some music. We have an old record player and we are quite into my parents' old record collection. At the moment Fleetwood Mac, Rod Stewart, UB40 and Cat Stevens are my go to records. If I watch TV - Coronation Street is my favourite.
We do like to watch the odd movie but with the nearest movie theatre 160km round trip away in Invercargill – it is not something we do too often.
By the time I go to bed I normally feel pretty good. I like my life. It is a pretty full, but is all manageable for the simple fact that I stopped socialising.