De Vries welcomes the Zanardi and van Dyk rivalry
Dutch handcycling ace is targeting further success in 2015 against his two great rivals.
22 Jan 2015
Imagen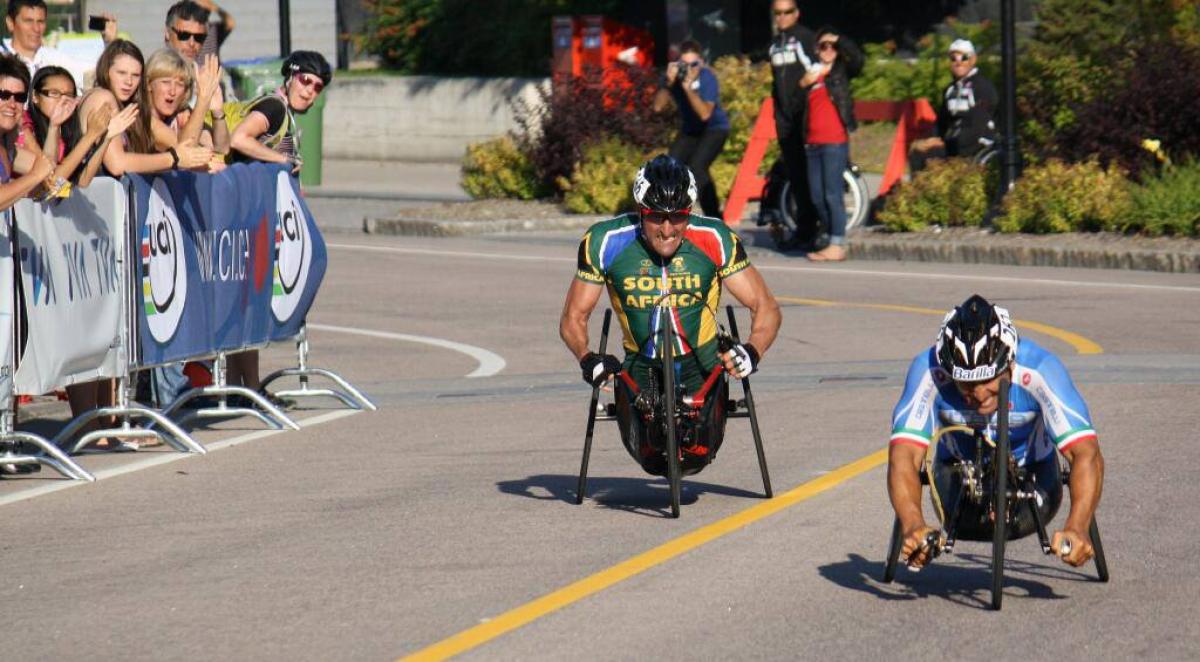 ⒸAndy Wilson | Cycling Canada
By Sean Cartell
"I am currently in third place in the world rankings and I have the intention to rise two places in the 2015 season."
Facing two of the greatest athletes in the history of a sport may be a daunting experience for some, but for Dutch handcyclist Tim de Vries it is inspiring his to even greater things.
Since emerging on the handcycling scene in 2011, de Vries has enjoyed great success and in 2014 won two bronze medals at the UCI Para-Cycling Road World Championships in Greenville, USA. Both times however, he finished behind Italy's Alex Zanardi and South Africa's Ernst van Dyk, two athletes who have dominated and set the standard in the H5 class in recent years.
De Vries believes that the rivalry between the three is only helping him to become an even better athlete.
"If the quality of your competitors is high, it gives me motivation," de Vries said. "This just helps me do that extra mile every time. In my first season in 2011, I met Zanardi and van Dyk. When I was beaten by them, I knew I had to train harder in order to beat them."
At age 36 – younger than van Dyk and Zanardi who both are in their 40s – and with his background in gymnastics, de Vries has several distinct advantages to help him make up ground against his highly skilled opponents.
"I'm 36 now and became handicapped when I was 18," de Vries said. "Before that, I was active in sports both on the trampoline and with gymnastics. Looking back, this is absolutely one of the reasons why I am doing well in handcycling. My bone density is much better than the average handcycler."
De Vries has certainly turned heads in the past year. In addition to his medals at the World Championships, last July he also won the UCI World Cup time trial H5 in Cantimpalos, Spain, beating Zanardi into third and van Dyk into fourth.
"Tim de Vries has now become a man to watch in all different circumstances – time trials or road races," Zanardi said of his rival. "I wouldn't be surprised to see him becoming even stronger in the near future."
According to van Dyk, de Vries' focus on acquiring the latest technology, along with his improvements in handcycling, have allowed him to experience great success this past season.
"Tim made big strides in the second half of last year," van Dyk said. "We are using the same bike built by Top End and he has been on the receiving end of the research and development we have been doing to get the bike to work, as well as Zanardi's carbon demon. Last year, it came together for Tim."
De Vries, who is currently third in the world rankings, says that despite his highly competitive classification, the camaraderie among the H5 class is strong and encouraging.
"Once on the battlefield, the switch goes on," de Vries said. "But outside the battlefield, there is absolutely mutual respect. We all put a lot of energy into our sport and that's why we respect each other. At all times, we are all representatives of our sport."
The 2014 season placed de Vries firmly among the elite on the international stage in the H5 class. He has now turned his focus to the top of the world standings and a spot at the Rio 2016 Paralympic Games.
"So far, I've had four seasons of handcycling," de Vries said. "Every year, it goes a big better. I am currently in third place in the world rankings and I have the intention to rise two places in the 2015 season. The goal for next season is, in any case, to qualify for the Paralympic Games in Rio."
The 2015 season will be highlighted by the UCI Para-cycling Road World Championships which will take place in Nottwil, Switzerland, between 28 July and 2 August.