Defending champions dominate Para table tennis Euros
But Ireland's Colin Judge springs singles surprise at Championships in Slovenia
02 Oct 2017
Imagen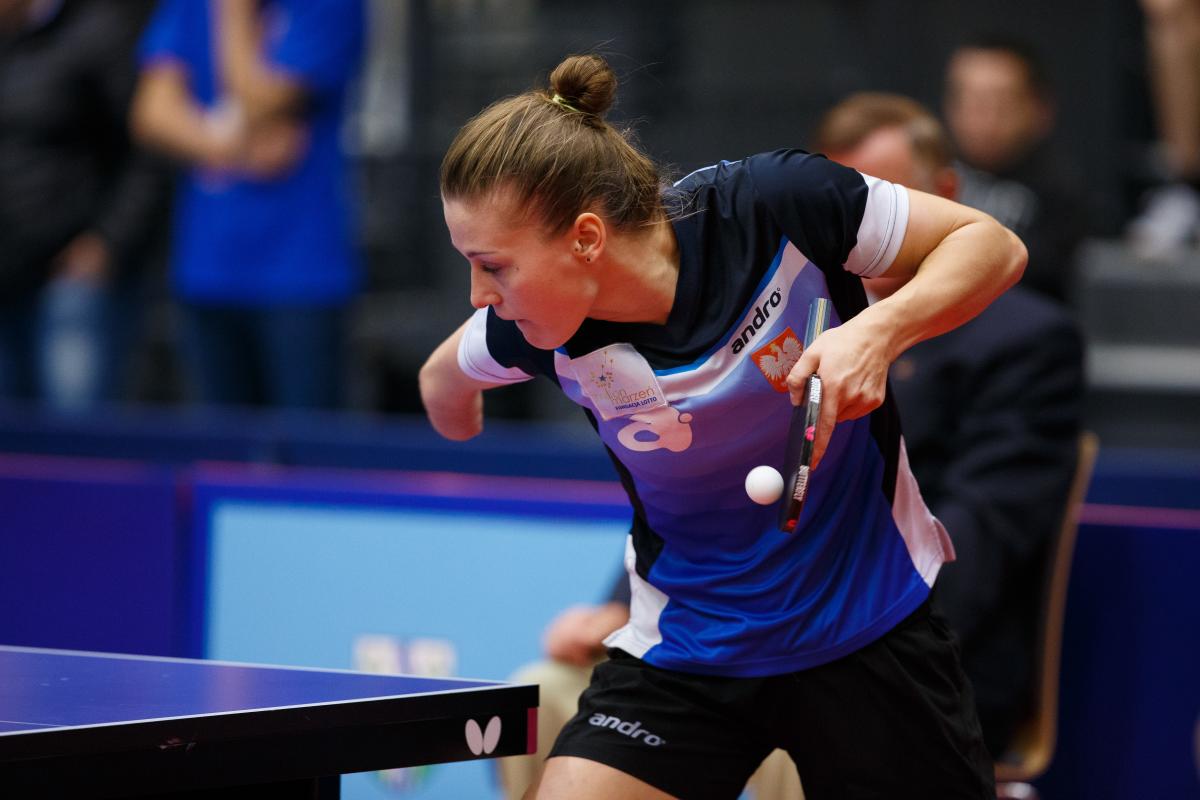 ⒸMorten Olsen
By ITTF and Connor-Craig Jackson | For the IPC
Despite many familiar faces making a glorious return to this year's European Para Championships in Lasko, Slovenia, the men's class 2 contest saw young Irish player Colin Judge shock the continent by storming to a first major title in his short career, as the singles event concluded Saturday (30 September)
Ranked 10th in the world prior to the International Table Tennis Federation (ITTF) tournament, Judge remained in control for much of the final, seeing off a late comeback to beat Poland's Rafal Czuper 3-1 and to claim a win that he admitted left him "in shock".
The competition also saw many previous continental clashes renewed this year, as France's Maxime Thomas overcame a tough 3-2 battle with France's Abdullah Ozturk in the men's class 4 to claim his third singles title, while in the women's class 8 Norway's Aida Dahlan beat rival Juliane Wolf of Germany 3-1 to secure her second title in a row.
Poland's four-time Paralympic class 10 champion Natalya Partyka was once again in dominant form, adding to her already packed medal cabinet by once again seeing off Denmark's Sophie Amanda Walloe 3-0 for her seventh European singles gold.
It was a different story for Ukrainian Natalya Kosmina, who managed to avenge her 2015 loss to Elena Prokofeva with a 3-2 victory against the Russian* to regain her class 11 title from 2013.
Defending champion Anna-Carin Ahlquist of Sweden retained her women's class 3 title by beating Croatia's Andela Muzinic for the second time in a row. It is Alquist's fourth successive title as she continues her European dominance.
Champions show class
Many more players strengthened their grip on their respective classes, with Spain's Alvaro Varela overcoming British challenger David Paul Wetherill to triumph 3-1 for a sixth European gold.
Also too hot to handle was Serbia's Borislava Peric-Rankovic, winning her fifth consecutive title with a 3-1 victory over Germany's Sandra Mikolaschek in class 4-5.
Patryk Chojnowski of Poland was also unstoppable in class 10 as he swept aside Bulgaria's Denislav Stefanov Kodjabashev 3-0 on his way to a fourth gold on the continent.
In class 7 an all-Ukraine final saw world No.1 Mykhaylo Popov secure his second European singles title, with Russia's Victoriya Safonova* also winning her second gold in the women's event.
Class 1's Tom Matthews made it to the first major final of his career, but could not live with his British counterpart Robert Davies, who won an emphatic third successive title in a 3-0 victory, with Ukraine's Viktor Didukh also beating his countryman Ivan Mai 3-0 to once again take the class 8 continental crown.
In the women's competition the world No.1s in class 1 and 2 – Russians Nadejda Pushpasheva* and Dorota Buclaw* - faced off in a thrilling contest that saw Pushpasheva claim her second European gold in a 3-2 win.
An impressive first European title was clinched by Turkey's Ali Ozturk in the men's class 5 against Nicolas Savant-Aria, with Poland's Katarzyna Marszal also grabbing her highest ever finish in the class 6 competition despite being beaten 3-2 by three-time champion Raisa Chebanika, It is the Russian's first gold since 2005.
Old glories also returned for Hungary's Peter Palos, with the 2011 champion clinching a hard fought second title after beating France's Lucas Edouard Creange 3-2 in class 11. Germany's Thomas Schmidberger then doubled his European tally in a first gold since 2009 after seeing off France's Florian Merrien in the class 3 competition.
There was one surprise package in class 9 – as Sweden's Daniel Sune Stefan Gustafsson gave world Belgium's No.1 Laurens Devos a major scare, pushing the all the way before he claimed a 3-2 win to retain his European title.
The European Championships continue until 5 October with the team events.
Full coverage can be found on the ITTF website.
*Editor's note: The International Paralympic Committee suspended the Russian Paralympic Committee on 7 August 2016 for its inability to fulfil its IPC membership responsibilities and obligations, in particular its obligation to comply with the IPC Anti-Doping Code and the World Anti-Doping Code (to which it is also a signatory). As a result of the suspension, Russian athletes cannot enter IPC sanctioned events or competitions, including the Paralympic Games.