Dylan Alcott shines on home courts at Australian Open
Quad player wins Grand Slam opener following warm up with Will Smith
24 Jan 2018
Imagen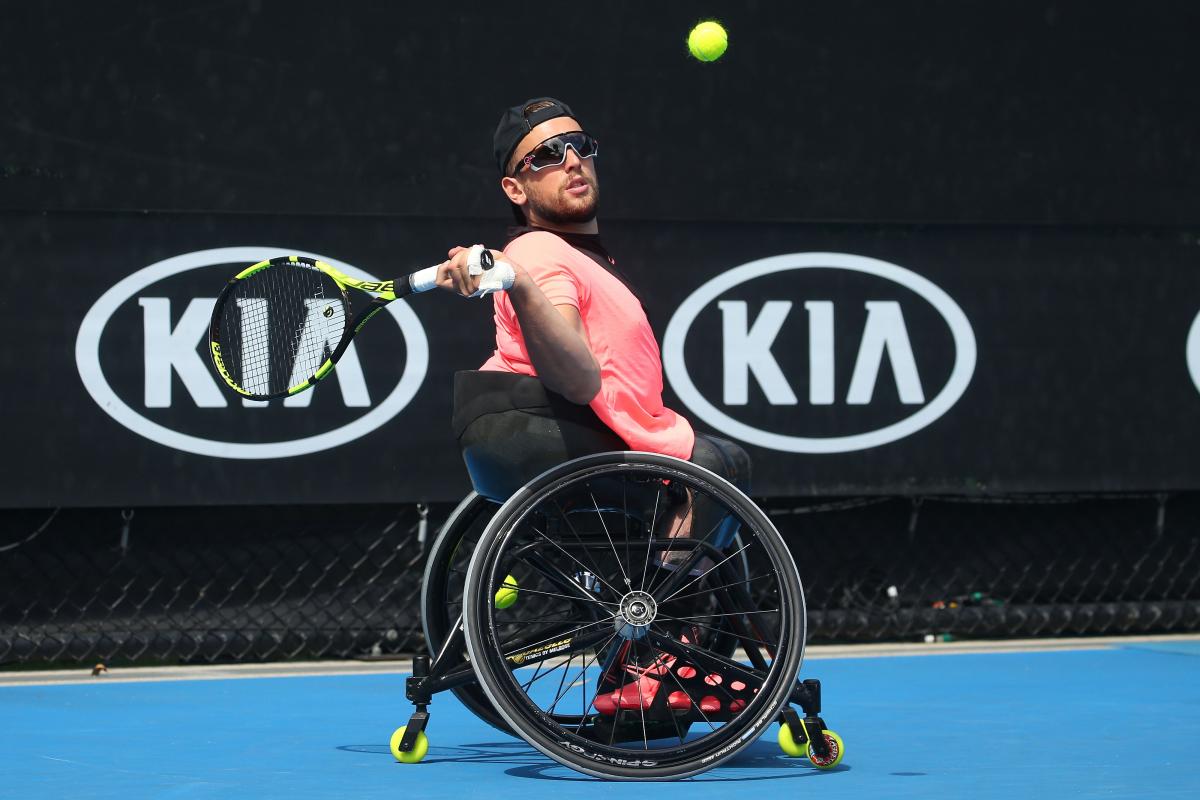 ⒸGetty Images
By Sandra Harwitt | For the ITF
If every tennis player had the personality plus of Dylan Alcott the sport would likely be the most popular athletic endeavour on the planet.
A three-time Paralympic gold medallist - he won at Beijing 2008 as part of the Australian Paralympic basketball team, and captured the tennis singles and doubles crowns at Rio 2016 - Alcott is a serious athlete and a consummate promoter of himself, wheelchair tennis and causes of disabled people.
In this part of the world, Alcott is a major celebrity. His photo is plastered in many locations around the Melbourne Park grounds, and a couple of ANZ bank commercials he stars in are frequently seen on TV.
And, nowadays, in his spare time, which is hard to imagine he has any, the Melburnian hosts his own radio show on the Triple J station.
Yet, besides for playing the Australian Open as the three-time defending quad singles champion, for the second consecutive year he's taken on broadcast duties of all things Australian Open for Channel 7, the host broadcaster.
And even with all that on his agenda, he managed to have time to go Hollywood with one of the best - actor Will Smith - here in Melbourne.
"Yeah, Will Smith was cool," said Alcott, saying he met him while watching the (Nick) Kyrgios and (Jo-Wilfried) Tsonga match. "He wanted to hit with someone the next day, He wanted Tsonga or Nick, but they couldn't do it. So I got a call at midnight telling me, '10:30 on court with Will Smith,' so I went down and had a hit."
So the scouting report on Smith and whether tennis could be his next career?
"He was better at wheelchair tennis than he was at able-bodied tennis," Alcott said, laughing. "He's like one of the top five celebrities in the world and he wanted to know about tennis, wheelchair tennis, and my Foundation.
But really, how was his tennis?
"He was pretty bad," said Alcott, of Smith's abilities in traditional tennis. "He got better as he went on. He never played before and I was like, 'What do you mean never?' He said he's never held a racket."
The two did a video that is circulating around the internet where they refer to themselves as "Willin' and Dealin.'
Oh, and by the way, in case anyone is wondering how Alcott left it with his new best friend forever, Will Smith. He told the actor he's coming to Hollywood and will be available for any movie parts proffered.
Although the discussion on Smith was fun, it was time to talk tennis.
Alcott crusises through
Alcott, in a repeat lineup of last year's final here, once again faced second-seeded Andy Lapthorne of Great Britain. And just as he did to win the title last year, Alcott posted a victory, winning a 6-1 6-0 decision over Lapthorne on Wednesday.
"It is a repeat of last year's final. I didn't think about that," Alcott said. "I played really well. I played awesome, actually. I was really happy."
Alcott was particularly thrilled that there was a full crowd watching the match at 11am, and believes his notoriety is coming from becoming the face of ANZ.
"It's changing the landscape of wheelchair tennis and what we are doing, and I'm really happy about that," Alcott added. "There was also like ten under-10 kids in wheelchairs watching and for that next generation they can say, 'I want to be like that,' instead of thinking their lives are over because they're disabled."
Alcott's win took all of 50 minutes to earn as he raced to a 5-0 lead in the first set and never lost a game in the second set. The one game Lapthorne won was when Alcott surrendered his serve on a second break point in the sixth game of the first set.
Elsewhere, the first of the three days of round-robin competition in the quad singles saw David Wagner, another three-time singles champion at Melbourne Park, defeat Heath Davidson 6-3 6-2. The top two players at the end of the round robin go forward to Saturday's final.
Big shocks in men's singles
In the biggest news of the day, defending champion and top-seeded Gustavo Fernandez of Argentina was upset by Nicolas Peifer of France 4-6 6-3 6-2. The loss was costly to Fernandez, who was named the 2017 ITF Wheelchair Champion, as he needed to retain his title to hold onto the top ranking.
There was good news and bad news for second-seeded Alfie Hewett of Great Britain. In the good news department he will be the one to step up and take over the No. 1 distinction in the next rankings. In the bad news department, he was upset by Stefan Olsson of Sweden 1-6 6-3 6-4.
Hewett was making his second Australian Open appearance and in two consecutive years here he's failed to post a victory.
Olsson missed out on playing here last year as his wife was set to give birth during the tournament.
With Fernandez and Hewett going out, Thursday's semi-finals feature only two of last year's four different Grand Slam champions. Eight-time Australian Open champion Shingo Kunieda will play reigning Wimbledon champion Olsson after beating Gordon Reid, the victor at Melbourne Park two years ago, 6-1 6-3.
The other semi-final guarantees a French finalist after current US Open champion Stephane Houdet beat Australian wild card Adam Kellerman 6-2 6-0 to earn his place in the last four against doubles partner Peifer.
Favourites dominate women's singles
Three former champions feature in the last four of the women's singles, which also promises a Dutch finalist.
Sabine Ellerbrock, the 2014 winner, was given a difficult time of it by Britain's Lucy Shuker before advancing 2-6 7-6(6) 76(4). Ellerbrock next plays defending champion Yui Kamiji, who beat her doubles partner Marjolein Buis 6-3 7-5.
Aniek van Koot, the 2013 Australian Open champion, plays her countrywoman and world No. 2 Diede de Groot for a place in the final. Van Koot's 6-4 6-3 quarter final win over South Africa's Kgothatso Montjane proved somewhat tougher than de Groot's 6-1 6-1 win over Katharina Kruger, the wild card recipient for the women's events.
The full article is available on the International Tennis Federation website.