Finland's Pyy speaks of her ambition, power of sport
The Nordic sit-skier and politics student thinks athletes can bring positivity to the world as she prepares for the World Championships.
10 Feb 2017
Imagen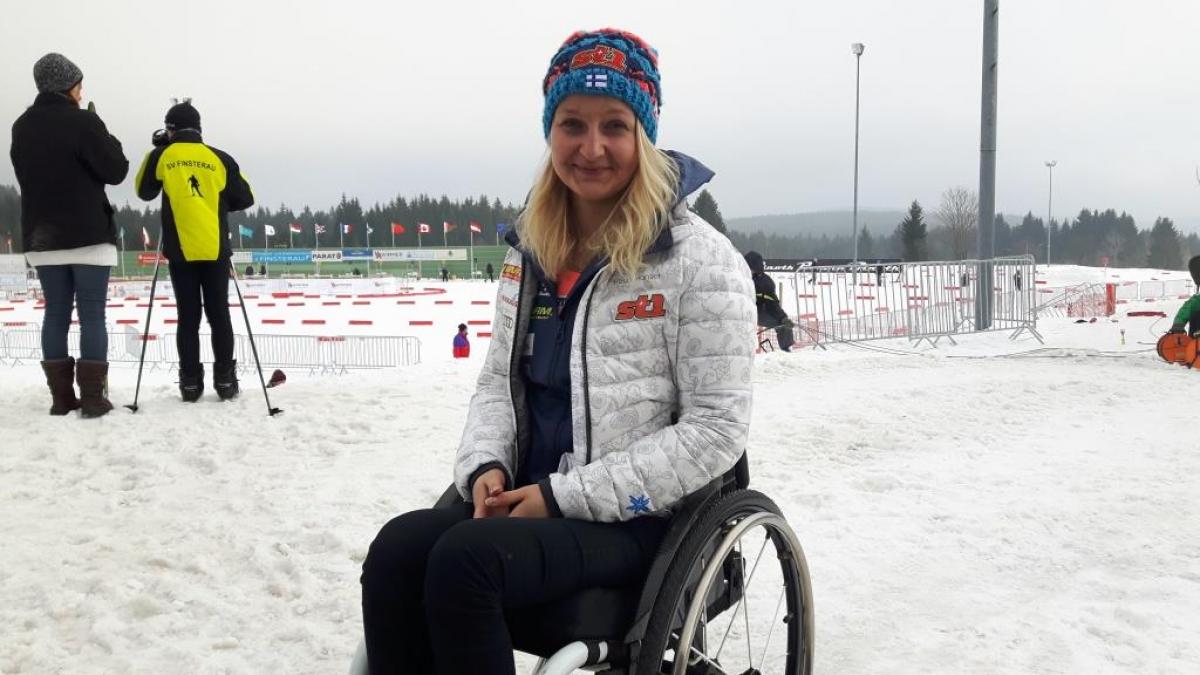 ⒸIPC
By IPC
"You should not be afraid of travelling and doing new things, and enjoy life.
As the Finsterau 2017 World Para Nordic Skiing Championships kick off in Germany with an Opening Ceremony on 10 February, Finnish sit-skier Sini Pyy reflected on the important role athletes have to play in bringing positivity to the world.
The 24-year-old politics student believes in the transformative power of sports to change perceptions and build social equity.
"We athletes need to show that there are still good things going on in the world," said Pyy. "Sometimes we can feel overwhelmed when we turn on the TV or read the newspaper and see so many devastating things happening. But athletes should show a good example and help people focus on the positive side.
"You should not be afraid of travelling and doing new things, and enjoy life.
"I really hope one day I can combine my two passions for sports and international relations and try to do something good for the world. Sports are a really good place to start making a change."
Pyy started studying in 2013 even though she considers skiing a full-time job.
She was born in the Finnish northern city of Rovaniemi, where kids learn to walk and ski almost at the same time.
"I did my first race when I was around two years old. I also tried athletics, football and a little bit of everything, but ski always came first," said Pyy, who has a spinal cord injury as a result of a car accident in 2010.
"It took a couple of years after the accident to get back to the skis because I had many surgeries. But I knew I wanted to continue skiing.
"After I was told I would have to use a wheelchair, I thought I had to move on and set new goals. Go back to real life, school and sports. It was surprisingly easy for me after the initial shock."
Pyy enjoyed her first major international experience at the Sochi 2014 Paralympic Winter Games, for which she received a wild card.
"It was a lot of fun, the atmosphere was so nice. I knew I was not going to win and had not enough training behind. But I took it as a learning experience for the next Paralympics. Being there really helped me develop as an athlete," she said.
One year later she made her debut at a World Championships in Cable, USA, but she did not make it onto the podium.
However Pyy has set higher goals for Finsterau 2017, which takes place from 10-19 February, especially after she secured her first podium finish at a World Cup on home soil in Vuokatti last December.
"When I was four years old I said I would be the world champion one day and I am working towards that goal," she said.
Live results and coverage from the 2017 World Para Nordic Skiing Championships will be available at Finsterau2017.com.
Right free pictures for editorial use are available for download at Flickr.
Broadcast quality race footage will also available on request by contacting sascha.beck@paralympic.org.
The competition can also be followed on Facebook.com/ParaNordic, Twitter and Instagram (@ParaNordic).