France lifts seventh World Team Cup men's title
The wheelchair tennis tournament featured a big rivalry between Stephane Houdet and Shingo Kunieda.
01 Jun 2016
Imagen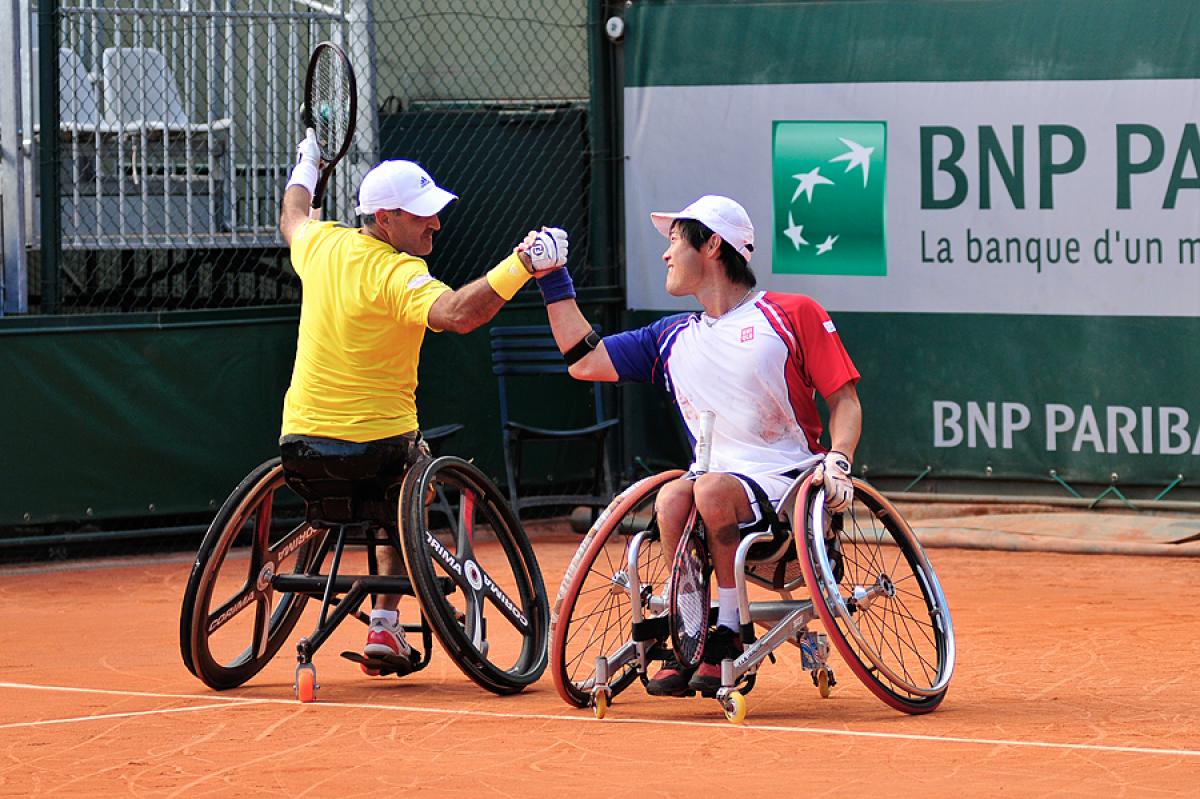 ⒸLuc Percival
By International Tennis Federation
Stephane Houdet and Nicolas Peifer broke the hearts of a partisan home crowd, as France defeated Japan 2-0 to claim the men's World Group title at the BNP Paribas World Team Cup in Tokyo on Saturday (28 May).
Houdet snapped a near three-year, nine-match losing streak against Japan's Shingo Kunieda, helping France claim their seventh men's title, and fourth in the past five years.
World No. 3 Peifer got the ball rolling, taking only an hour to defeat Japan's Takashi Sanada 6-1, 6-1 in a noisy Ariake Coliseum Centre Court, where 3,500 spectators chanted "Nippon, Nippon" to the sound of drums at each change of ends.
Next up was the match that everyone had been waiting for between Kunieda and world No. 1 Houdet.
Kunieda, the top-ranked player for much of the past decade, now stands at No. 5 after a four-month lay-off since the Australian Open, during which he had surgery on his right elbow. This was his first event since Melbourne.
The eighth game in the first set, which saw seven breaks, turned the match in Houdet's favour.
Kunieda was leading 4-3 with a break point, which Houdet saved. Then the Frenchman had four break points, converting the last to level and go on to win the set 6-4.
Houdet then shifted gears to take the second 6-2 and seal the French triumph for a seventh men's World Group title. The two men are at Roland Garros this week, where Houdet had last beaten Kunieda, in 2013.
"I'd like to dedicate this World Team Cup victory to a member of our team, Michael Jeremiasz, who is retiring as a player," Houdet said.
"I can imagine it will be a long road to recovery for [Shingo] - he's in the process of coming back, and he will - so don't worry about that.
"Still, a win against Shingo is still a good win because he's such a top player. I started the match serving too strong, then the coach asked me to ease down. Also it was just a little windy, and I was focusing on the effect of this a bit. I also missed too many shots early on."
Kunieda had hoped to raise the sport's profile in Japan by hosting the World Team Cup, as well as win it.
"Stephane was in very good form, but I can play better," Kunieda said. "Maybe I need more time to come back properly. I feel disappointed today. I felt this tournament was a good comeback opportunity for me. But my comeback event has finished, and now I can go to Roland Garros and start again. There are three months until Rio, so I'm confident I'll be in shape for that.
"I'm happy the Japanese media has been focused on the World Team Cup this week. There were 3,500 people here to support us today, which was amazing for me and Stephane.
"Now I feel confident the 2020 Games can be a success. If Stephane keeps playing, it would be fantastic for wheelchair tennis if we could play for gold."
China stunned top seed Brazil 2-0 to secure gold in men's World Group 2, winning promotion to next year's top tier. There will be no World Group 2 in the 2017 event.
World No. 66 Shunjiang Dong beat Carlos Santos, ranked 39 places higher, 6-3, 6-4. Then Zujun Wei completed the job with a 6-4, 6-1 win over Daniel Rodrigues.
The success of the Chinese men follows that of the country's women's team, which beat second seed Japan in the semi-final on its way to silver. Both were only in Tokyo by virtue of winning Asia region qualifying events.
"It had been a very long time since we played tournaments but this year the country gave us more money, because of the Rio Paralympics, and our rankings and performances are improving," said Wei.
"I was surprised when Shunjiang won so easily, and to beat Brazil is a dream, but I fought really hard to win too. This year has been very good, especially this week."
Complete results of the BNP Paribas World Team Cup can be found on the International Tennis Federations website.