French Para triathletes impress on home soil
France win five events and secure 11 podium finishes at Para Triathlon World Cup.
06 Jun 2017
Imagen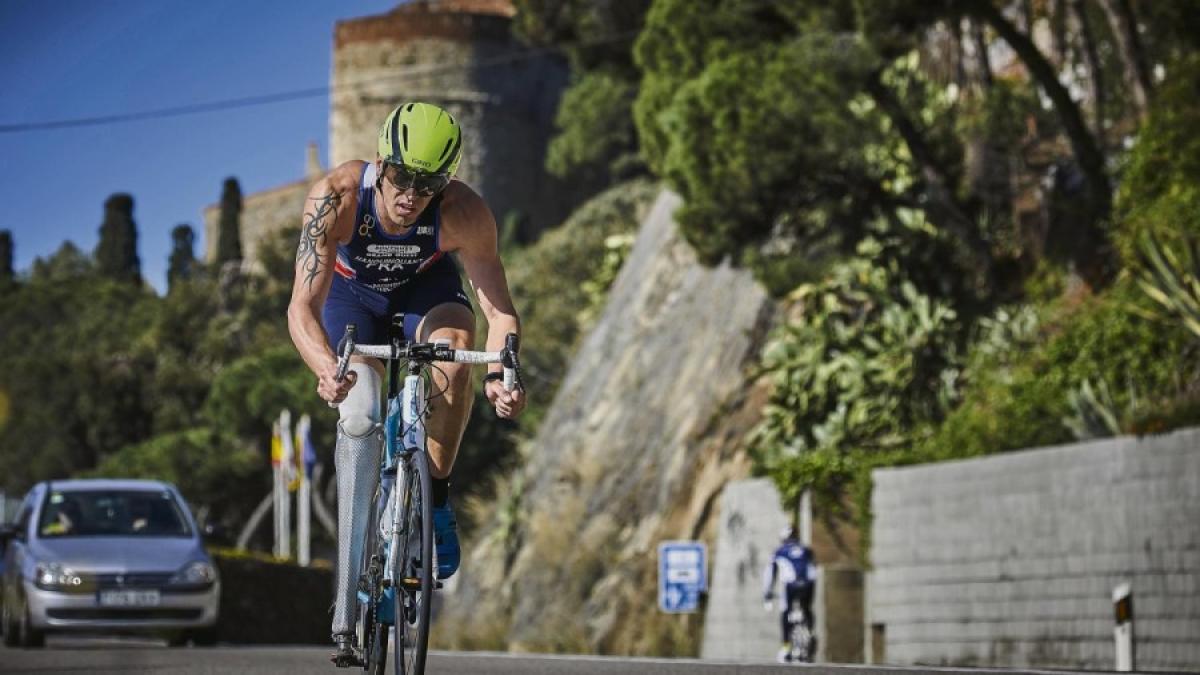 ⒸFFTRI - James Mitchell
By Adam Bailey | For the IPC
France's para triathletes impressed at the first International Triathlon Union (ITU) Para Triathlon World Cup of the season in Besancon, France, on Sunday (4 June).
The French contingent sealed 11 podium-finishes, with Ahmed Andaloussi, Mona Francis, Elise Marc, Alexis Hanquinquant and Gwladys Lemoussu all winning their respective events.
There was a French one-two in the men's PTHC, with Ahmed Andaloussi (1:13:59) finishing over a minute ahead of his compatriot Alexandre Paviza (1:15:07). Great Britain's Bret Crossley (1:16:51) ended third to reach his first international podium.
France's Mona Francis was the sole entrant in the women's equivalent and completed the course in 1:48:33.
There was further French success in the women's PTS3. Elise Marc had a 16 second advantage over Germany's Nora Hansel after transition two, but a strong run by Marc saw her defend her title from last year in 1:28:35, ahead of second-placed Hansel (1:31:12). The German champion held off the challenge from her compatriot Maike Hausberger (1:31:40), who finished 28 seconds further back in third.
Alexis Hanquinquant continued his impressive start to his Para triathlon career with victory on home soil in the men's PTS4. Last year, Hanquinquant just missed out the podium in only his second ever international race, but twelve months later he was amongst the French athletes celebrating a win.
There were less than 10 seconds between Hanquinquant and Great Britain's Steven Crowley after the bike leg. The Frenchman (1:07:16) pulled away on the five-kilometre run to finish one minute, 34 seconds ahead of Crowley (1:08:50). Luxembourg's Joe Kurt completed the podium in a time of 1:09:50.
France's Gwladys Lemoussu improved on her second place from last year as she crossed the finish line first in the women's PTS5. Lemoussu (1:18:50) ended over seven minutes ahead of Russia's Rzaeva Amida (1:26:15), whilst Ukraine's Svitlana Kirpichova (1:27:05) cross the finish line third.
Another athlete who went one place better than last year was Russia's Alexandr Ialchik in the men's PTS5. Ialchik completed the course in a time of 1:06:41, with France's Maxime Maurel (1:08:36) and Yan Guanter (1:09:25) finishing second and third respectively.
Germany secured three wins in Besancon, with Stefan Loesler, Max Gelhaar and Lena Dieter sealing victories in their respective events.
Loesler pulled clear during the swim in the men's PTS2, before extending his advantage during the bike and run to earn his first win of the season in a time of 1:16:30. Russia's Vasily Egorov (1:19:32) and the Netherlands' Maurits Morsink (1:22:03) completed the podium.
Victory in the men's PTS3 was earned by Germany's Max Gelhaar (1:18:42), with France's Yannick Barbaste (1:46:10) finishing second. There was further German success in the women's PTVI as Lena Dieter clocked a time of 1:20:28 to win, with France's Annouck Curzillat (1:29:19) and Ukraine's Vita Oleksiuk (1:30:43) completing the top-three.
There was victory for Italy's Federico Sicura in the men's PTVI class. Only one second separated the Italian and France's Antoine Perel heading into transition two.
Sicura produced the stronger of the two runs to hold off the challenge of Perel to win in a time of 1:10:34, 24 seconds ahead of Perel (1:10:58). Sicura's compatriot Manuel Marson (1:13:58) finished third.
Veronica Yoko Plebani won Italy's second race in Besancon in the women's PTS2 as she completed the course in a time of 1:49:23.