Heroic Houdet moves closer to gold
France's Stephane Houdet won his wheelchair tennis singles semi-final to set up a gold-medal match against Japan's Shingo Kuneida.
06 Sep 2012
Imagen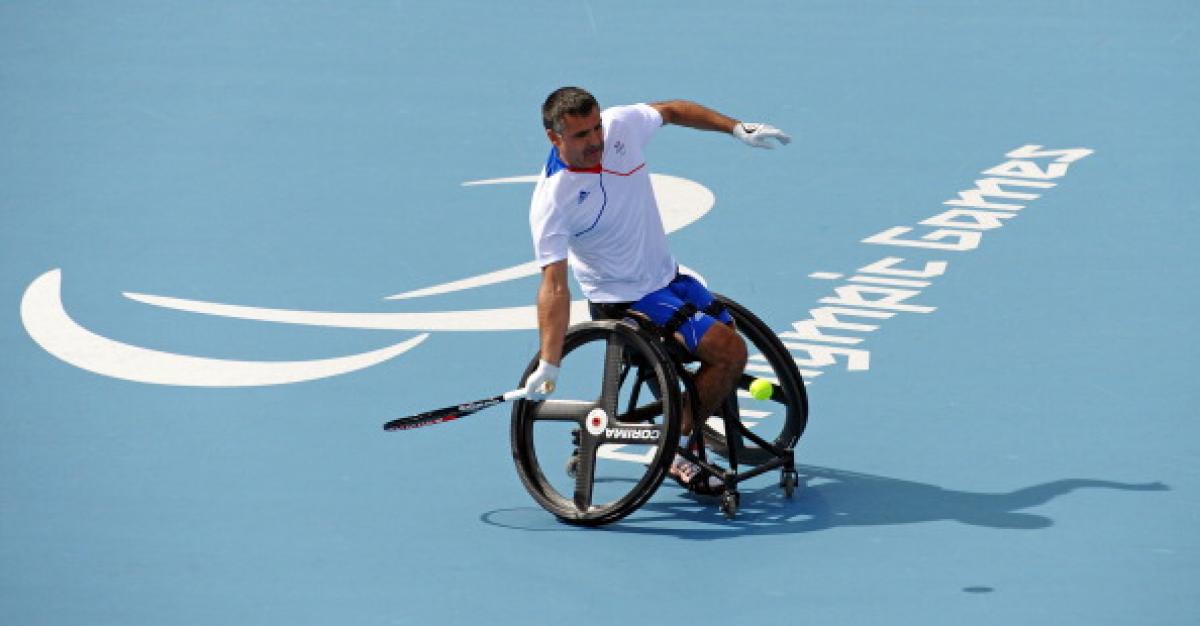 ⒸGetty Images
"I've been dreaming of this forever. You want to play in that kind of game and it's great to just live your dream."
Stephane Houdet spotted his wife out of the corner of his eye after coming off centre court at Eton Manor early Thursday afternoon (6 September).
Houdet had just advanced to the wheelchair tennis men's singles gold-medal match with a two-set (6-3, 6-2) victory over Dutchman Maikel Scheffers.
He embraced with his wife, who he had not seen in more than three weeks, as the two nearly teared up as Houdet secured a spot in his first-ever Paralympic wheelchair tennis singles final.
In Saturday's men's singles final, Houdet will now face Japan's Shingo Kunieda, who defeated another Dutchman, Ronald Vink, in straight sets (6-2, 6-2) in the other semi-final.
"It's a special day," current world No. 1 Houdet said. "I've been dreaming of this forever. You want to play in that kind of game and it's great to just live your dream."
A very consistent, speedy Houdet started the match by going up 2-0 in the first set and built his lead from their off of Scheffers' unforced errors.
He went on to win the first set by taking many of the baseline rallies and dropping aces into the service box.
"He's too good," Scheffers said. "I'm disappointed in my own level that I put out there on the court. I don't know what happened. I just don't think it was enough."
Scheffers put an end to Houdet's run by holding serve in the opening game of the next set, however, the Frenchman took the next game and then was unstoppable from then on to cruise into the finals.
"I took the ball earlier than him and I had great serves," Houdet said, also adding that his speed really gave him the advantage in the second set.
Houdet has arguably the toughest test of his career ahead of him when he now tries to dethrone Kunieda, the defending Paralympic champion a former world No. 1 who has 20 Grand Slam titles to his name.
"I'm very happy to be in the final and of course I have confidence," Kunieda said after his semi-final win against Vink. "My Japanese supporters were very loud and they gave me breath, the breath to continue."
Houdet, who was injured in a motorbike accident at 24, became the first player to beat Kuneida in three years in November 2010, ending his winning streak of over 100 matches.
At age 32, has won gold in doubles in all four Grand Slams and took the top prize in doubles at Beijing 2008, but this will be his first opportunity at a Paralympic singles medal.
"Playing Shingo is a big guarantee for a big show," Houdet said. "It will be a nice match."
Related Images