Hug makes it three from three against Weir in Nottwil
On a thrilling day of athletics, Hug beat Weir twice whilst elsewhere there were five world records brokem at the IPC Athletics Grand Prix.
18 May 2014
Imagen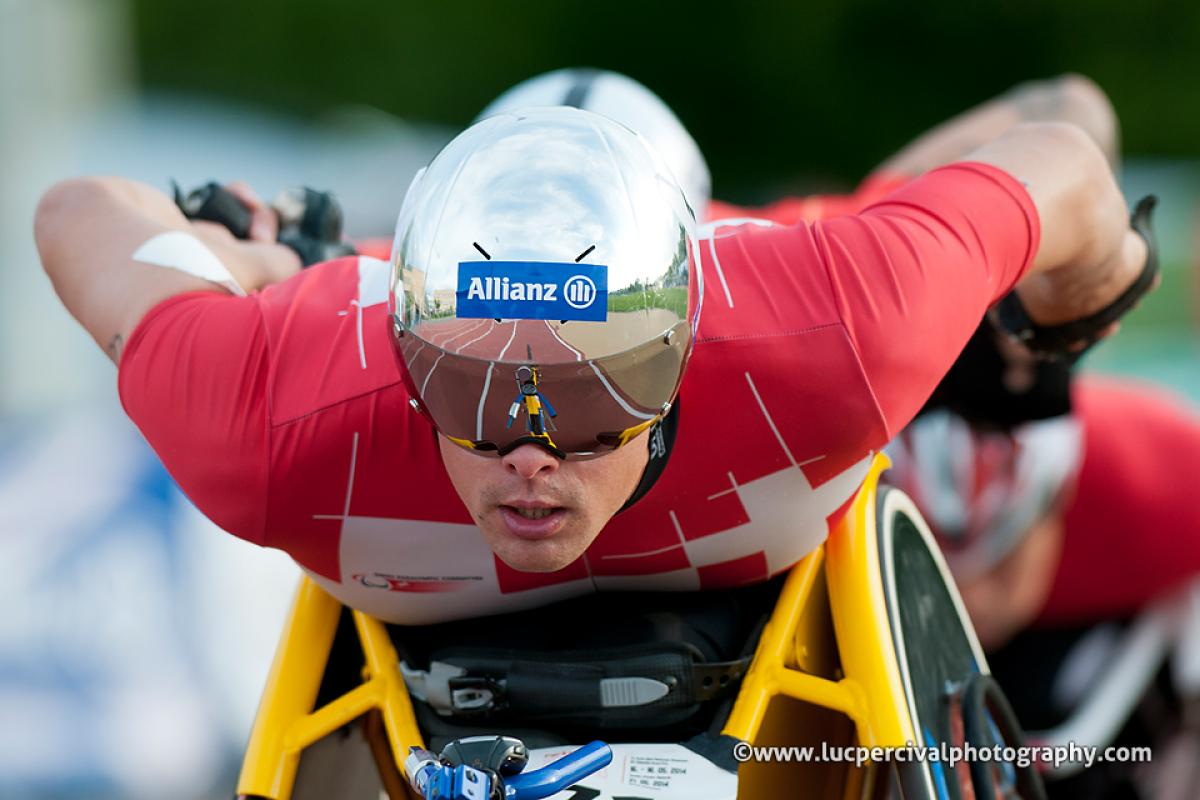 ⒸLuc Percival
By IPC
"Marcel is the man to beat at the moment. He's always in great form all year round. I don't know how he does it! He's a phenomenal athlete and a pleasure to race against."
Switzerland's Marcel Hug laid down the gauntlet to David Weir ahead of August's European Championships by beating his British rival twice at the IPC Athletics Grand Prix on Saturday (17 May), first in the 800m and then in the 1,500m, to make it three wins in a row in Nottwil, Switzerland, after Friday's 10,000m win.
At London 2012 Weir beat Hug to four Paralympic titles, whilst last year in Weir's absence Hug claimed five world titles in Lyon, France.
Since then the two have exchanged road race wins, however Nottwil is the first time the two have met on the track this season.
The 'Swiss Silver Bullet' maintained his sensational form in a very tactical 1,500m T54 which also featured Australia's Kurt Fearnley and France's Julien Casoli. Leading from the front, Hug (3:16.52) was able to hold off a late charge from Weir (3:16.70) with 200m to go to secure the win. Japan's Masayuki Higuchi (3:16.70) was third.
"It was difficult as I didn't know what the plans were from the other guys so I thought if I was leading I could try and control the race, reduce the power and save it for the sprint," said Hug who is taking nothing for granted despite three wins in less than 24 hours against Weir.
"This could all change and David could win the next races like he did in London. It always changes in this class.
"David is really good at focussing on big events and come Swansea I know he will be ready for sure as it's in his home country. It will be really tough to beat him there."
Weir was reflective mood after the loss: "I had to come round in lane three as I was boxed in and wasn't sure if he [Marcel Hug] would go or not. He's really strong on the bends and I couldn't get by. I've only been doing my speed work for two weeks so I'm happy with this performance.
"I was talking to my coach before and I am fitter at this time of the year than I was in 2012. I'm not getting any slower that's for sure, if anything I'm getting slightly quicker.
"Marcel is the man to beat at the moment. He's always in great form all year round. I don't know how he does it! He's a phenomenal athlete and a pleasure to race against."
The two will race against each other for a fourth time in Sunday's 5,000m.
Elsewhere on Saturday afternoon, the women's 1,500m T52-T34 may only have featured three competitors but it certainly had no shortage of talking points. Great Britain's Mel Nicholls (4:11.60) lowered her own year old T34 world record by 0.96 seconds, whilst Belgium's Marieke Vervoort (4:24.47) continued her amazing comeback from injury by smashing the 10-year-old T52 world record by 1.02 seconds. Australia's Rosemary Little, who at first thought she had broken Nicholls' T34 record herself, was disqualified.
Nicholls said: "I was really happy with my pushing but I didn't expect it to be a world record due to the wind, so I'm delighted.
"As my roomie [Hannah Cockroft] got a world record [in the 200m] yesterday I had to match her today. It was a challenging race, but great fun."
Not to be outdone, Hannah Cockroft was back breaking records soon after, this time in the 100m T34. With a 1.0m/s tail wind, the Yorkshire born athlete finished in 17.31, lowering her previous best time set in May 2013 by 0.23 seconds.
"I'm really happy with that as it felt really fast," said Cockroft. "I'm getting faster all the time and believe this year I can go sub 17 seconds."
Russia's Magrarita Goncharova (13.09) is the new 100m world record holder in the women's T38 class after she broke Sophie Hahn of Great Britain's time, set at last year's World Championships, by just 0.01 seconds to win the women's T37/38 race.
Other winners in the women's 100m classes included Russia's Nikol Rodomakina (12.62) in the T37-47, Australia's Angela Ballard (17.06) in the T53 and Finland's Amanda Kotaja (16:40) in the T54.
The highlight of the men's 100m races was Brent Lakatos of Canada's world record in the T53 class. Coming less than two hours after competing in the 1,500m T53/54, the world champion stormed home in 14.17, to take 0.17 seconds off his previous best set at London 2012.
"It's a complete shock," said Lakatos. "In the call room I could still feel the 1,500m in my arms and was a little worried.
"I got off the gun quicker than I have before and once I got going I soon forgot about the 1,500m."
In other men's 100m races there were wins for Switzerland's Philipp Handler (11.14) in the T12-T13, Kuwait's Ahmad Almutairi (17:42) in the T33, Tunisia's Walid Ktila (15.82) in the T34, Russia's multi world and Paralympic champion Evgeniy Shvetcov (12.89) in the T36-36, Finland's Toni Piispanen (21.42) in the T51, Mexico's Salvador Hernandez (17.07) in the T52 and Finland's Leo-Pekka Tahti (13.86) in the T54 class.
South African athletes also enjoyed 100m success. Paralympic bronze medallist Arnu Fourie (11.13) won the men's T43-47, Dyan Buis (11.44) the men's T37-38 and Ilse Hayes (12.01) tweeted: "Feel blessed, best season of my career so far" after a personal best time and victory in the women's T11-13.
Over 1,500m there were wins for Hungary's Ilona Biacsi (4:48.53) in the men's T20/T20, home favourite Manuela Schar (3:37.20) in the women's 1,500m T53-54, Russia's Artem Arefyev (4:40.57/971 points) in the men's T36-T46, Austria's Thomas Geierspichler (4:03.61) in the men's T52 and Germany's Stefan Strobel (6:27.90) in the T51 class.
Mexico's Estela Salas (10.80m/924 points) won the javelin F33-47, Latvia's Ingrida Priede (27.01m/817 points) the women's F37/38 discus, Canada's Pamela LeJean (4.21m/884 points) in the women's shot put F33/53/56/57 and Luxemburg's Tom Habscheid (41.68m/906 points) the men's discus F42-46.
Russia success in the field came through Ivan Botvich (1.75m) won the men's high jump F46, Stanislav Kashaev (8.35m/750 points) in the men's shot put F32/33/52/53 and Russia's Alexey Ashapatov (13.44m/936 points) the men's shot put F54-57.
Competition at the IPC Athletics Grand Prix in Nottwil will conclude on Sunday.
For the latest results, please click here.